Who are the top 5 localization companies? This question is undeniably difficult to answer, but it's a topic worth exploring to help those who are seeking the best choices when it comes to having their content localized for a specific region.
This post is part of our localization series, wherein we present insights and useful information about the different aspects of localization. We also feature the best services and tools that will help make your website, marketing materials, and other content more suitable for the new market you are targeting. To know more about localization, visit our Ultimate Guide to Localization.
Here's the list of the best companies that can help you with your localization needs. We ranked them according to the range of services they offer, expertise, experience, and to some extent, customer service.
1. Day Translations

Highlights:
Provides translation, interpreting, and localization services in more than 100 languages
Employs more than 20,000 remote translators in different parts of the world
Has bases of operations across major US cities and in dozens of global locations including Australia, India, Brazil, China, Canada, Saudi Arabia, Israel, Kuwait, France, Qatar, South Korea, Japan, Turkey, and the UK.
Fast turnaround and available 24//7
Fire a Google search for "localization services" and expect to find Day Translations, Inc. on the top 3 search results. Existing for more than a decade, Day Translations has established itself as one of the most reputable names in language solutions. There's a ton of references about it you can find online. It's not some run-of-the-mill organization you can hardly identify and contact. This New York-based private independent company provides excellent services to make sure that your content achieves its intended purpose.
Day Translations Inc. offers a full range of language services. These include translation, interpreting, transcription, and of course localization in over 100 languages. The company also has related web services such as search engine optimization, content creation, web development, and digital marketing. Over the years, Day Translations has worked with individuals, businesses, and organizations in the automotive, finance, healthcare, manufacturing, retail, travel, technology, legal, and gaming industries. The exposure to a wide variety of clients has made the company thoroughly-acquainted with an extensive range of requirements and an in-depth understanding of what effective localization means.
Sean Hopwood, the CEO of Day Translations, has an inspiring story in making the company the esteemed business it has become today. In an interview with the business blog and podcast SweetProcess.com, he highlighted how he worked to improve his company.
Key Features
Hopwood wrote over 2,000 pages of manuals to systematize Day's business processes not only when it comes to translations but also for marketing, sales, and personnel management.
He takes advantage of technology in making sure that everything works efficiently, particularly by establishing an intranet for the company's business.
He also emphasizes the need to provide good customer service while hiring only the best people and managing them effectively.
Too much can't be a good thing. The excessive search engine optimization of his company's website, specifically, led to penalties from Google, so changes had to be made.
Day Translations provides free localization service quote in 10 minutes or less. The service is intended for a wide variety of media, from apps to video games, websites, and other digital platforms. You can use the company's official mobile (text and speech) translation app to get a quote for your localization project.
2. Tomedes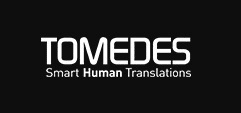 Highlights:
Provides services in 182 languages
10,000-strong network of expert translators
Has served more than 50,000 business customers, including Fortune 500 companies
Serves clients worldwide with operations bases in the United States and Israel
Available 24/7
Tomedes has been in the translation business for around a decade. It serves individuals, businesses, and organizations with a host of language services for a wide range of purposes. It has experiences not only in written translations but also in audio transcriptions, video translation, and the localization of different kinds of media.
Key Features
Despite being "younger" compared to the other companies in this list, Tomedes stands out for its clients and the distinction of being one of the official translators for Google and various YouTube content. Tomedes mentions in its About Us page that it supports more than 90 languages, but the interface for getting free quotes lists 182 languages.
When it comes to localization, the expertise of Tomedes goes beyond websites and online content. It also handles user interfaces, user guides, help files, device manuals, and software. The company has language experts who are knowledgeable in working with different file formats, from PDF to FrameMaker and IDML.
Tomedes provides a one-year guarantee, which comes with post-completion project support and meticulous quality assurance. The company promises responsive support in case there are issues discovered in the submitted output.
3. One Hour Translation

Highlights:
Provides services in 75 languages
Has a network of around 17,000 translators worldwide
Operates in 4 countries, namely the United States, Ukraine, Romania, and Singapore
Serves clients 24/7 and has average to fast turnaround
Regarded by some as the world's biggest online translation agency, One Hour Translation serves translation, interpreting, and localization needs in 75 languages through its over 17,000 certified translators in around a hundred countries. This company touts speed as its main advantage. However, don't expect a translation project to be completed in just an hour unless it's for a small document or multimedia content. Just like other language service companies, One Hour Translation follows the usual processes to ensure the accuracy of its output.
Key Features
One Hour Translation provides a dedicated team of suitable language experts to work on a project to ensure consistency and quality. Clients get to have access to this team of translators, interpreters, and other language professionals. The company usually works at a pace of approximately 200 words per hour or 1,800 words per day. To enable faster turnaround, the company can provide more than one translator for every language. The company commences projects within minutes after the project has been finalized with the client.
One Hour Translation's localization service is primarily offered as an enterprise solution. The main clients are businesses and organizations. Prices range from $0.087 per word to $0.192 per word depending on the type (classic or exclusive) of translation needed. The company offers free trials for its services.
4. Lionbridge

Highlights:
Translates in more than 100 languages
Has operations in 28 countries
Maintains a network of more than 100,000 translators
Serves clients 24/7 for all language service needs
Lionbridge Technologies Inc. is a multinational company centered on software and professional services. This privately held business, however, specializes in language translation, interpretation, localization, e-learning translation, software testing, and content development. It was ranked as the top language service provider of the world in 2016 and 2017 by CSA Research. The company has been providing language services to business, organizations, and individuals in the life sciences, finance, gaming, automotive, technology, industrial manufacturing, legal, travel, and hospitality industries.
Key Features
The full range of services offered by Lionbridge are as follows: document translation, app localization, DTP file translation, video translation, digital marketing, technical line art, and software testing services. Localization may not appear as a major service but the company actually covers almost all kinds of localization needs. The Lionbridge website is a little cluttered but if you need localization services, you just have to click on the App Localization option.
The company actually offers localization solutions for websites and software (including desktop and mobile applications). The details are presented in the App Localization page. The service rate starts at 20 cents per word with a minimum turnaround of three days.
Lionbridge claims to have more than 100,000 language experts to handle translation and localization needs in various industries. The company supports more than 100 languages.
5. Rev

Highlights:
Provides translations in 34 languages
Operates like a platform for freelance translators
Available 24/7
Translation made simple: this is the slogan used to market Rev's language services. The company has been providing transcription, caption, subtitling, and translation solutions to more than 100,000 clients worldwide with "99% accuracy" and a "100% guarantee."
Key Features
Rev distinguishes itself from other translation service providers as it presents its rates upfront. You don't have to request for a quote or do some research for the corresponding prices of the services available. The company charges $33 per page for certified translation and 10 cents per word for business translations with a 24-hour turnaround. There's the option to for rush delivery, which obviously costs higher.
Rev can handle translations and localization in 34 languages. It relies on a network of select freelance translators across the globe to deliver high-quality output speedily. The issue with Rev, however, is that it does not have a fixed program for its localization services. For the most part, localization projects will depend on the plan, objectives, and format set by the client.
Wrapping Up the Top 5 Localization Companies Roundup
These are just some of the best companies that provide localization options. If you need to convert your websites, apps, software, video games, videos, marketing materials, and other multimedia content converted to a different language to become more suitable for a new target market, it wouldn't be a bad decision to choose one of the options listed above.
Make sure you are getting localization from the best language service company.
There's no room for mistakes when it comes to localization. A simple error can result in serious unintended consequences. That's why you need an LSP with the expertise and experience for the job. Choose a company like Day Translations Inc., which has been providing various language services to thousands of satisfied clients. The company has a global network of language experts who provide guaranteed contextually accurate translations. Send us an email at Contact us or dial 1-800-969-6853 for your inquiries. We are open 24/7 to address your language service needs.
Image Copyright: maxxyustas / 123RF Stock Photo