The translation industry is big business, and finding the right translation company for your unique needs can be a challenge. When it comes to getting the best language services, TransPerfect, Lionbridge, and Day Translations are three of the best translation companies worth comparing.
The Common Sense Advisory estimated the global language market at $40 billion in 2016, increasing to $45 billion by 2020. In fact, translation and localization are among the top five fastest growing industries today.
Services offered by the best translation companies include:
General Translation Services (Legal, Medical, Business, etc.)

Certified Document Translations

In-person Interpreting Services

Over the Phone Interpretation (OPI) Services

Localization Services (Website, App, Software, etc.)

Government Translation and Interpreting Services

Subtitling, Dubbing and Voice-Over Services

Scientific and Technical Translations
Due to exponential growth in the industry, there are a lot of language service provider choices. This can make finding the perfect translation company challenging, especially if you don't know what to expect.
There are differences in the services provided, quality of work, professionalism, and client support. When choosing a translation company, association credentials are also important. For instance, checking the American Translators Association member list for the company is a great first step.
The best translation companies will continue to be innovative, and knowing what to expect is essential to making the right choice for you or your business. To make your search easier, we compared three major language providers offering services on a global scale.
From the executive suite to customer reviews, let's take a look at how TransPerfect, Lionbridge, and Day Translations stack up.


TransPerfect
Helmed by Co-Founders and Co-CEOs, Elizabeth Elting and Phil Shawe, TransPerfect has been in the translation industry for 25 years. Headquartered in New York, Elting and Shawe have grown their dorm room startup into a multi-million dollar company.
With 86 global locations, TransPerfect has over 4,000 employees. They offer translations in over 170 languages, servicing 12 main industries, from technology to travel and tourism.
Their core services include website localization, translation, interpretation, multimedia services, and more. According to industry research, TransPerfect translation services cost clients on average $0.25 per word.
A recent TransPerfect customer review via ConsumerAffairs explained their translation service. . .
"They have all the languages you might need and it is very easy to do business with them. The program is very easy to use. Out of around 25 different jobs that we gave them, there were no mistakes, no errors. I would say that their accuracy is 100% even in specific phrases and local sayings. Their price is fair. It is not the cheapest but you get what you pay for. The quality of the job is amazing. This service is very valuable for us as we deal with people from all over the world. This service helps us to communicate better and do better business."


On the other side of the coin, TransPerfect has received mixed reviews from employees. The Glassdoor company review of TransPerfect has compiled 689 reviews with a combined rating of 2.5 stars from employees past and present.
Since happy employees make for happier customers, with improved service and better delivery, if TransPerfect wants to stay on top of the game, the company will need to improve conditions for its workers.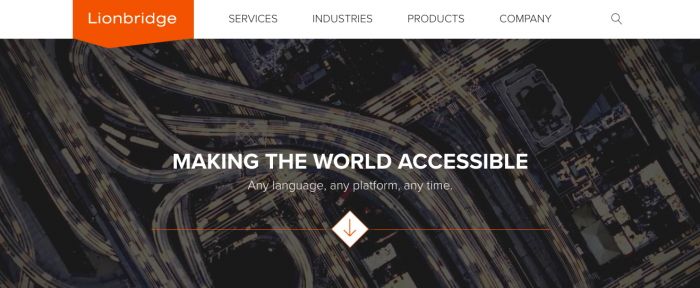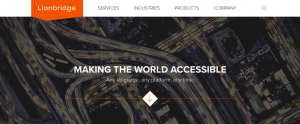 Lionbridge
Founded in 1996 by Rory Cowan, Lionbridge is now helmed by newly appointed CEO, John Fennelly. The company is headquartered in Waltham, Massachusetts with 39 global locations and more than 6000 employees.
With 21 years of experience in the translation industry, Lionbridge was recently acquired by H.I.G. Capital, an investment company with $21 billion in equity capital. Lionbridge offers eight core services, including translation, localization, global content management, application testing solutions, among others.
Their translation services are available in more than 350 languages, serving nine industries, from banking and finance to life sciences. According to industry research, Lionbridge translations cost clients $0.23 per word on average.
It proved challenging to find a customer review for Lionbridge, but a testimonial from their website stated . . .
"Having a reliable translation partner made us think realistically about what we could achieve. Multilingual to us means providing a reliable translated solution for the viewers. This also gives the in-country reps a site they could handle. The great thing about working with Lionbridge is that we no longer have to maintain 500 page websites in multiple countries around the world."


Lionbridge has a Glassdoor rating of 3.1 stars decided by more than 1000 employee reviews. Despite the less-than-impressive stats, it would appear that employees are pleased with the new CEO, giving him a 76 percent approval rating.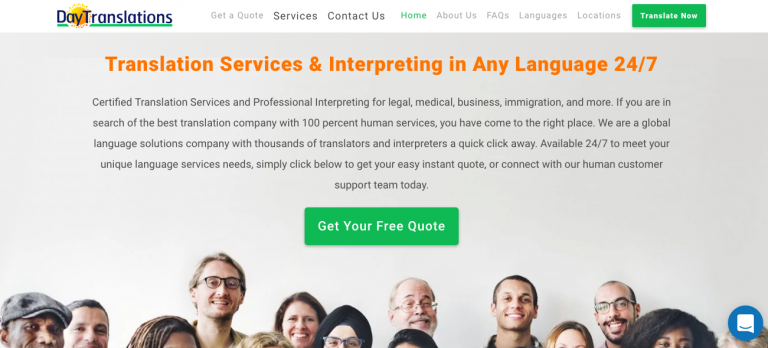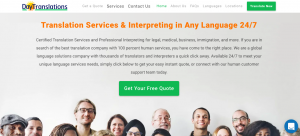 Day Translations
Day Translations is a global translation company helmed by Founder and President and CEO, Sean Patrick Hopwood. The company has just over 10 years of experience in the industry, with Hopwood, a polyglot himself, infused with a passion for languages.
Day Translations is headquartered in New York, alongside TransPerfect. The company serves more than 60 global locations in North America, South America, Asia, Asia Pacific, Europe, Africa, and the Middle East. They also recently opened offices in Shanghai, China, New Delhi, India and Tel Aviv, Israel.
With thousands of translators and interpreters available worldwide, they provide 13 core services, including translation, interpretation, localization, application testing, government services, online marketing, and more.
Day Translations can translate and interpret into more than 270 languages. They provide professional language services to 12 main industries, from entertainment/media to legal and medical. Their average translation cost is $.0.19 per word, depending on the target language needed.
If you're looking for online customer reviews, TrustPilot is a good place to go, as there is no shortage of (mainly positive) comments here, like this five star review below . ..
"I've had great experiences with Day Translations. They completed a translation of a German document for me very quickly. Years later when I needed the electronic version, and did not have it because I was overseas, they sent it to me, again very quickly. I only use Day Translations when I need translation related services."


What's more, Day Translations appears to be one of the few language service providers whose employees are satisfied with the conditions and company culture.
The continual theme with Day Translations is that employees love the company and the CEO, with no problem sharing their experiences. They have a 4.9 star Glassdoor rating with a 100 percent approval rate for Mr. Hopwood, which is rare for any company CEO.

What are the Best Translation Companies?
When it comes to your translation needs, it is important to carry out proper due diligence to find the best translation companies for you or your business. TransPerfect, Lionbridge, and Day Translations are three of the best translation companies offering multilingual services on a global scale.
Not all language service providers are equal. Ensure your translation or interpretation project receives the quality and professionalism it deserves every step of the process. From accurate translations, to accessible 24/7 customer support, every little detail counts. Have you used any of the above company's services? Tell us about your experience.