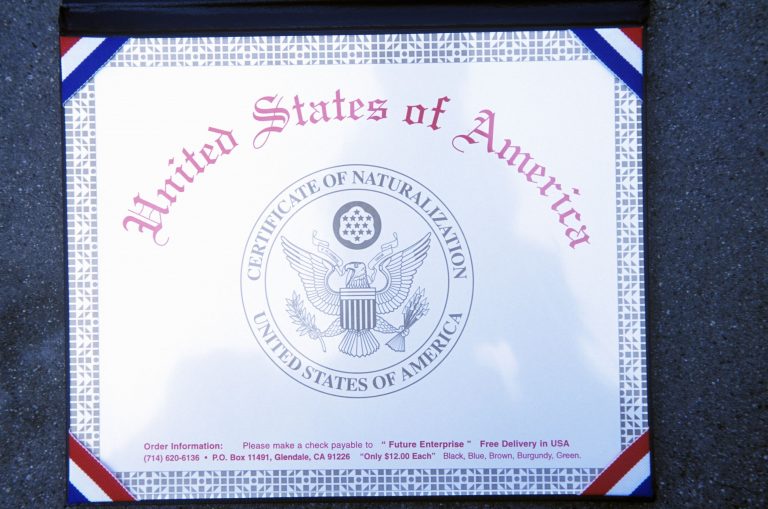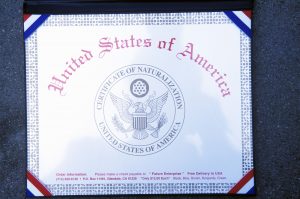 Each year the United States naturalizes several thousand immigrants. From 2001 to 2014, the country naturalized more than 675,000 people on the average.
By definition, naturalization means that a citizen from one country becomes another country's citizen through legal process. Generally, the person must stay in the adopted country for a minimum of five years.
The naturalized citizen makes the adopted country her or his permanent residence. He must also be of good character; there should be no immigration law violation in his record; has local language proficiency and has taken an oath of allegiance to the country he had adopted.
In the United States, a foreign citizen is granted U.S. citizenship by naturalization after the foreign national has fulfilled the requirements of the Immigration and Nationality Act (INA), also called the McCarran–Walter Act, which the U.S. Congress had established in 1952.
ROLE OF USCIS
The United States Citizenship and Immigration Services (USCIS) takes charge of the citizenship and naturalization law and policy of the country by providing all the pertinent and accurate information to naturalization and citizenship applicants; promoting understanding and awareness of U.S. citizenship and deciding naturalization and citizenship applications accurately and fairly.
The USCIS reviews the benefit request for applicants to see if foreign-born children of U.S. citizens, by naturalization or birth, fulfill the eligibility requirements before the agency recognizes their citizenship. The agency likewise checks if naturalization applicants who have been lawful permanent residents qualify for U.S. citizenship.
Moreover, the USCIS reviews the naturalization applications of spouses of U.S. citizens; ensures that members of the armed forces of the United States and their families who are qualified for naturalization are processed efficiently; and that those persons working overseas for particular entities including the government of the U.S., qualify for the eligibility requirements for specific exceptions in the general naturalization requisites.
A MILESTONE
In an immigrant's life, the decision to become a U.S. citizen is a significant milestone. The road to naturalization is not easy, but it will provide the person with several rights and privileges as a U.S. citizen.
Naturalization requires immigrants to show a commitment to the principles that unify all Americans. A person may only be naturalized if he or she has been admitted to the U.S. as permanent resident under the law.
As a naturalized U.S. citizen, the person is granted the right to:
Apply for and travel using a U.S. passport

Be a jury participant

Vote

Run for elective office

Be eligible to work for Federal and selected jobs in law enforcement

Get certain Federal and State benefits

Get citizenship of minor children born outside the U.S.

Speed up and expand the ability to bring other members of the family to the U.S.
OVERVIEW OF THE NATURALIZATION PROCESS
Generally, a person who is 18 years of age or older who wishes to become a U.S. citizen has to apply for naturalization using Form N-400 (Application for Naturalization). To be eligible, the applicant must satisfy the eligibility requirements of the Immigration and Nationality Act (INA).
General eligibility requirements:

At least 18 years old

A green card holder (lawful permanent resident)

Has resided in the U.S. as a green card holder for a minimum of 5 years

Physically present in the U.S. for a minimum of 30 months

Possesses good moral character

Able to understand, speak, read and write in English

Knowledgeable in U.S history and government

Able and willing to take the Oath of Allegiance
Some exemptions:
There are certain naturalization applicants who are exempt from the general requirements, especially the wives or husbands of U.S. citizens and members of the military. In their cases, their U.S. residency requirement is reduced to 3 years after being a green card holder.

A husband or wife of an overseas-stationed U.S. citizen may not need to meet the physical presence or residency requirement.

Members of the military who honorably served the country during specific conflicts may already be eligible for naturalization even if they are not yet green card holders or they are younger than 18.

Likewise, those who have served honorably for a minimum of one year who wish to apply for naturalization after their military service, are exempt from the physical presence and residency requirements.
INA exemptions for children under 18
The Immigration and Nationality Act has certain provisions for children under 18 to acquire U.S. citizenship, especially for children of military personnel in active duty abroad. If the child is already a lawful permanent resident and is staying in the U.S. under the physical and legal custody of a parent who is a U.S. citizen, may automatically be granted U.S. citizenship.
On behalf of the child, the parent must submit Form N-600 (Application for Certificate of Citizenship) to get evidence of U.S. citizenship of the child.
If a child, who is residing overseas but is temporarily staying in the U.S. lawfully, may also be eligible to apply for naturalization even if he or she is not yet 18 years of age if one parent is a U.S. citizen and the parent or qualifying grandparents meet specific requirements of physical presence in the United States.
After the submission of the Naturalization Application and the required documents, the USCIS will provide a schedule of interview.
If everything is in order, the qualified applicant will be scheduled for an oath ceremony before a USCIS-delegated officer or a judge who has been given the authority to administer the Oath of Allegiance. If the applicant has not taken the Oath, he or she will not be considered a U.S. citizen.
APPLYING FOR NATURALIZATION
Completing the Application
The first thing you need to do is to file a completely filled-out Form N-400 (Application for Naturalization). If it is incomplete, the USCIS may require you to submit additional information that could delay the processing of your application. Keep a copy of your application form as a USCIS officer will ask you questions based on your application during the interview.

Include two identical passport style color photographs with your application. The photo should have a white background with enough white space in the photo's margin where you will sign your full name once it is approved. Your photo must be unmounted and printed on thin paper. It should be taken within 30 days of the filing of your application form and must show your face in full, facing the camera. Unless required due to your religious beliefs, your head should be bare of any head covering. Print your full name and Alien Registration Number (A-number) lightly with a pencil at the back of each photo.

If you are a lawful permanent resident (green card holder), include photocopies of the front and back of your Permanent Resident Card (Form I-551). You should also include copies of the following:
a. Original copy of completed Form G-28 (Notice of Entry of Appearance as Attorney or Representative) if you are using one to act on your behalf.
b. Copy of the document if you legally changed your name (the name is different than the one that appears on your Permanent Resident Card), which could be a court document, a divorce decree or a marriage certificate.
If your naturalization application is based on your marriage to a U.S. citizen, you have to submit 4 types of documents:
a. Proof that for the last 3 years, your spouse is a citizen of the U.S., such as your spouse's birth certificate; certificate of naturalization; certificate of citizenship; the inside front cover and signature page of the current U.S. passport of your spouse or Form FS-240 (Report of Birth Abroad of a Citizen of the United States).
b. Latest marriage certificate.
c. Proof of termination of spouse's previous marriages such as divorce, annulment or death certificates.
d. Documents that refer to your spouse and you such as birth certificate of children, mortgages, leases, bank accounts or tax returns; copies of IRS-certified income tax forms that you and your spouse filed for the past 3 years; or last 3 years' IRS tax return transcript.
If you are the one who were previously married, submit proof that your previous marriages have ended, such as a divorce, death or annulment papers.

If you are currently in the U.S. military service (naturalization based on military service), provide the original completed Form N-426 (Request for Certification of Military or Naval Service).

If you left the U.S. for 6 months or more since becoming a green card holder, show proof that you are still living/working/or have ties to the U.S., such as tax returns or IRS-certified tax return listing for the past 5 years or rent/mortgage payments.

If you have dependents (children or spouse) who are not living with you, submit any government or court order to provide financial support and evidence of your payment of financial support such as letter from parent or guardian of your children; proof of wage garnishments; agency or court printout showing payment of child support; money and receipts or cancelled checks.

If you have an arrest or detention record from any law enforcement body, show evidence whether charges were filed or not, including original or court-certified copy of all documents pertaining to your arrest.

If you have been convicted, placed in a rehabilitation program or alternative sentencing program, submit the original or court-certified copy of each indictment and proof that you have completed the sentence, which could be the original or court-certified copy of your parole or probation record or completion of your rehabilitative or alternative sentencing program.

If you have any conviction or arrest expunged, sealed, set aside, vacated or removed from your record, provide the original or court-certified copy of the court order.

If you failed to file an income tax return after getting your green card, submit all the correspondence you've had with the IRS.

If you have overdue taxes (local, state or Federal), submit a signed agreement from the local or state tax office or from the IRS showing that you have filed taxes and will pay the overdue taxes and an IRS, state or local tax office documentation showing your repayment program's current status.

For disability exception to the test, send the original copy of Form N-648 (Medical Certification for Disability Exceptions) issued by a licensed medical practitioner.
Important!
All documents that are not in English should be translated and must include the certification from the translator that he or she is qualified to do the translation.
Send the completed Form N-400, all the required supporting documents – translated into English where relevant — and the application fee to the designated USCIS Lockbox Facility.
2. Fingerprinting
After the USCIS has received your application, it will send you a letter informing you of when and where you have to go for fingerprinting. Bring the USCIS notice letter with you to the Application Support Center.

You should also bring your Permanent Resident Card, another ID card with your photograph (State identification card, passport or driver's license).

Depending on the facility, your fingerprints may be taken electronically or manually. Your fingerprints will be sent to the FBI for a criminal background check. If the FBI rejects your fingerprints (due to poor quality), the USCIS will send you notice and schedule you for another visit.

A second FBI rejection of your fingerprint will require you to provide police clearance from every place you have lived for the last 5 years.

The USCIS will be checking your immigration record and may require you to send additional document before your interview schedule. Once everything has been checked, the USCIS will send you a letter informing you of your interview location and schedule.
3. The Interview
The USCIS will only send you one interview notice. If you cannot go to the interview you have to write a letter addressed to the office where your interview is going to be conducted to explain your situation and to request for a reschedule. If approved, you will be sent the new notice of interview by the USCIS.

Go to the office where you will be interviewed at least 30 minutes before your appointed schedule. It is best that you arrive alone as it is usual for the USCIS office to be crowded.

Failure to appear during your interview without informing the USCIS beforehand will prompt the agency to "administratively close" your case, and if you fail to contact the USCIS within one year to have your case reopened, your application will be denied.

Bring your Permanent Resident or your Alien Registration Card, your passport (even if expired) and your State Identification Card and any Re-entry Permits. Likewise, bring all the documents the USCIS included on your appointment letter to avoid delays or denial. You should also bring two more passport style photos with you.

The USCIS officer will explain the purpose of the interview. The officer will then look at your identification cards and place you under oath before asking you questions about your background, your place of residence and length of your stay there.

You will also be asked about your character, your attachment to the U.S. Constitution and your willingness to take the U.S. Oath of Allegiance.

The officer may also ask you about other things to ensure that you meet all the requirements. You should also be able to explain any discrepancy between your application and your submitted documents.
Important!
If you have a representative, Form G-28 (Notice of Entry of Appearance as Attorney or Representative) should be sent together with your application. If you cannot speak English, you may bring an interpreter with you. The interpreter has to be qualified.
If you have any disability, you may be allowed by the USCIS to bring a legal guardian or family member with your during the interview.
Your English language skills will be tested during the interview and you will be given a civics test (also in English). The civics test is about your understanding and knowledge of U.S. government and history. The test on the English language includes:
Reading (one sentence out of three) in a manner that indicates that you fully understand the sentence's meaning.

Writing (one sentence out of three) that will be deemed by the USCIS officer to be understandable as written.

Speaking – your ability to speak English when you answer your interview questions.
The Civics test is done orally. You will be asked by the USCIS officer 10 civics questions. To pass, you should answer at least 6 of those questions correctly. A total of 100 civics questions are prepared and publicly released by the USCIS. Thus it is your duty to study them before your interview.

After your interview, the officer will give you Form N-652, which will show the results of the interview. It will indicate whether the USCIS will grant, continue or deny your application for naturalization.

If granted, you may receive it right after the interview or even take the Oath that same day or be informed when and where the ceremony will be held.

If the result is 'continued' it means that your case is placed on hold, which can be due to failure to provide the USCIS with the right documents, failing in civics and English exams or any other reason based on the findings of the USCIS officer.

In this case, you will be told to come back for another interview (within 60-90 days). If you fail again during the second test(s), your naturalization application will be denied.

If you are given Form N-14, it means that you need to submit additional documents.

If you receive a denial, the USCIS will send you a letter explaining the reasons why your naturalization application was denied. However, you have the chance to appeal this decision and request a hearing with an officer of the USCIS.

The letter the USCIS sends you explaining the reasons for the denial will also include a guide on how to request for a hearing as well as Form N-336 (Request for Hearing on a Decision in Naturalization Proceedings under Section 336 of the INA). You should pay the right fee and file the form within 30 days with the USCIS after receipt of the denial letter.
4. Oath-taking
The approval of your naturalization application by the USCIS means you will be attending the ceremony for the Oath of Allegiance and the agency will send you notice of when and where this is going to happen. The notice you will receive is called Form N-445 (Notice of Naturalization Oath Ceremony).
If you are told to take the oath right after your interview, you will be told to come back to the agency at a given time. After you have taken the Oath you will be issued the Certificate of Naturalization right away. 
Arrive at the ceremony venue 30 minutes before the actual time of the ceremony so you can check in early with the USCIS. If, for some reason, you will not be able to attend the ceremony, you should return Form N-445 to the USCIS, accompanied by a letter of explanation and a request for a reschedule.

The oath-taking ceremony is a solemn event so you must dress formally.

When you check in with the USCIS for the naturalization ceremony, you have to return your Permanent Resident Card.

If your oath-taking ceremony happens more than a day after your interview, take a look at the back of Form N-445 where several questions, which be asked from you, are written. Study them carefully and remember what your answers will be.

It will be a good idea to learn the Oath of Allegiance beforehand. You will be asked to recite the Oath in front of a USCIS officer. After that, you will receive your Naturalization Certificate, which is your proof that you are now a true citizen of the United States.

It is recommended that you immediately update your Social Security record after the ceremony. You have to present your Certificate of Naturalization to update your record with Social Security. You should also apply for a U.S. passport so you can travel abroad.
There are many requirements needed to support your application for naturalization. But if you want to truly become a U.S. citizen, it is important that you understand and follow the guideline to the letter. Doing so assures you that you will soon enjoy all the benefits accorded a citizen of the United States.
Image credit: americanspirit / 123RF