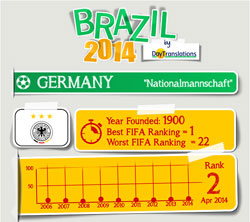 Following the announcement of the qualifiers in late 2013, ESPN's James Horncastle placed Germany among a group of four favorites to win the Cup in a December 28, 2013 tweet. Now that it is June 2014, the Bleacher Report maintains the momentum sparked by Horncastle, as they have named the national team as not only the strongest European side at Brasil 2014, but it also predicts that Germany will prevail from within Group G ahead of Portugal. Coach Joachim Löw has selected a youthful team, as he did in 2010, but veteran striker Miroslav Klose has been included in what will most likely be his last World Cup finals event. With less than two weeks to go, German fans will be hoping that the unfortunate incident at the squad's pre-Cup camp in Italy, in which two people were injured, will not be enough to shake the players' confidence.

Embed the Germany Full Infographic
Medium JPG – 600×2000 (946k)
Instruction: Please copy the code below and paste it on your website.