It's possible to enter the United States without a visa if you're privy to the Visa Waiver Program of the US. Designed for member countries to facilitate entry, eligible travelers to the US can stay for up to 90 days for tourism or business purposes. How? Through the ESTA (Electronic System for Travel Authorization) program.
Who Can Apply for ESTA?
The ESTA program was established on 12 January 2009 for the 38 countries that participate in the Visa Waiver Program.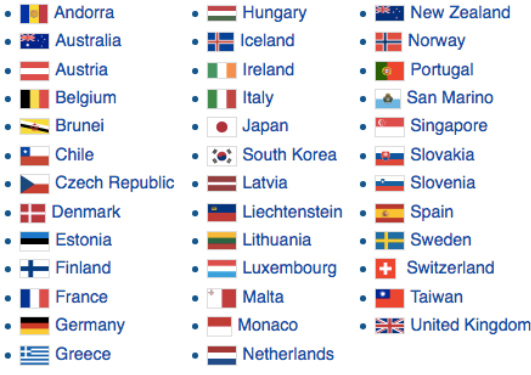 SOURCE: https://en.wikipedia.org/wiki/Electronic_System_for_Travel_Authorization
ESTA application must be submitted at least 72 hours before departure to be guaranteed, although in fact, sometimes approvals are granted within a few minutes. If you're planning to enter the US by air or sea under the Visa Waiver Program, you must have a valid ESTA permit. This means that if you have not previously applied online, you may not be granted access upon arrival.
What's The Purpose of ESTA?
The purpose of ESTA's is to prescreen all travelers from participating countries. The US Department of Home Security (DHS) applies the necessary checks in advance to expedite entry upon arrival. You don't have to go to the US consulate or embassy to apply, as all applications are now done online. You can even download an application guide from the site.
What Are The Requirements?
Anyone who qualifies for and wishes to travel to the United States under the Visa Waiver Program must meet the following requirements:
Be a citizen of a participating country in the US Visa Waiver Program

You currently do not hold a visitor's visa

Your stay will be for 90 days or less

Your travel to the US is for business or pleasure only
You'll Need The Following:
A valid passport from a participating country, at least six months prior to expiry

A valid credit card or a PayPal account (There is a US$14 fee per application)

Full and detailed contact information

Employment information, if applicable
Eligibility Conditions
The ESTA program establishes your eligibility to travel to the United States under their Visa Waiver Program. But even if you have the ESTA that does not necessarily mean you will be automatically granted entry to the United States. Only the officers of the US Customs and Border Protection (CBP) can decide who will be allowed to enter upon arrival. So, be prepared for some possible further questioning about your travel plans.
The Customs and Border Protection recommends submission of your ESTA application prior to making travel plans or purchasing your travel tickets. As it is the ESTA application that collects the answers to the eligibility questions of the Visa Waiver Program and biographic information.
In fact, all airline companies now require passengers to display their ESTA permit when they're checking-in. ESTA doesn't just apply to adults – even babies must have been granted an ESTA, permit before arrival or travelers may be denied entry. This is even applicable if you have no plans to enter the United States, but are just transiting through.
Sometimes, though, it may be possible to get a last minute ESTA in the departure section of your home country airport. As if you forget to request your ESTA, you wouldn't be the first. If you're arriving by land from Canada or Mexico, an ESTA is not required.
ESTA Validity
Once you have been issued with an ESTA, it is valid for two years, except for citizens of Greece, whereby it is only valid for one year. If you are entering by land, you may still be asked to complete an I-94W paper form, which is effectively the Visa Waiver Arrival/Departure Record.
ESTA Conditions
The maximum stay under the ESTA program is 90-days in the US. This includes any time visitors may spend in certain Caribbean islands, Bermuda, Mexico or Canada, if they arrived passing through the US. The ESTA is required only if arriving by cruise ship or by air. ESTA is not necessary for visitors arriving by ferry between Washington State and British Columbia (Victoria and Vancouver). If you exceed the maximum 90-day period, your status in the US may be considered

unlawful presence

.
If you are not eligible to travel without visa, then you will not be eligible for ESTA and you will need to apply for your visa at your nearest US consulate or embassy.
There are some stipulations to ESTA holders who have previously traveled to certain countries including Yemen, Sudan, Syria, Somalia, Libya, Iraq or Iran on or after 01 March 2011. They will not have their ESTA revoked, but these travelers may be denied entry upon arrival. Each case will be examined individually by the US Customs and Border Protection Granting on a case-to-case basis. A visa waiver may be granted to people who have traveled to the above countries on a reporting assignment or as a journalist; a representative of a humanitarian organization in an official capacity; or to representatives of regional organizations, sub-national governments or international organization on official duty.
ESTA is valid for two years for a Visa Waiver program traveler. If the ESTA holder is issued a new passport or changes country of citizenship, gender or name, he or she must apply for a new ESTA. If any of the previous answers to the ESTA application eligibility questions change, the traveler needs to apply for a new ESTA as well.
Remember that under the US Visa Waiver Program, any ESTA holder can only stay for a maximum of 90 days. There are no extensions available under this program. If you plan to stay longer on US soil, you'll need to apply for a US visa.