Some people think that being a translator is an easy job when it fact it is no joke, since the job itself is already difficult and at the same time, they can be faced with some of the toughest languages to translate.
Language translation right now has become more time consuming and complex as many companies are going global. More written documents have to be translated in many more languages. They demand accurate translation that perfectly imparts the document's intent.
Translation work is something that not many people understand. Basically, they know that translation means changing the content from one language into another. What they do not know is that the translation process is quite complex. They are not in a position to realize that direct word-to-correlation is not present in languages. Rather, the manner by which people express themselves and the rules of grammar are different among cultures. A translator has to fully understand the subtleties of meaning and the nuances in a language. Words in one language may have several meanings and connotations in another language; therefore, a translator has to carefully choose the words to use so as not to slant the message of the translation.
These are just some of the things that human translation can do that cannot be replicated by machine. It's also one of the major reasons why you should only work with a reputable language translation service.
Number of languages in the world
According to the 21st edition of Ethnologue, about 7,097 languages are used to date around the world. The number changes because language is a dynamic and living thing that is spoken by different communities and used to define their identity.
Despite the large number of languages, only about 23 of them are spoken by more than half of the population of the world.
The world languages could be segregated into five major groups based on their origin, as follows:
| | | | | |
| --- | --- | --- | --- | --- |
| Language Group | Number of Languages | Percentage | Number of Speakers | Percentage |
| Asia | 2,300 | 32.4% | 4,015,367,857 | 59.2% |
| Africa | 2,143 | 30.2% | 980,437,811 | 14.5% |
| Pacific | 1,306 | 18.4% | 6,884,098 | 0.1% |
| Americas | 1,060 | 14.9% | 49,208,280 | 0.7% |
| Europe | 288 | 4.1% | 1,725,890,007 | 25.5% |
Source: Ethnologue.com
Because of the larger populations of specific regions, about 86% of the world's population speaks either European or Asian languages. Interestingly, the Pacific languages, as well as some of the languages of South and North Americas, only have an average of 1,000 speakers for each language.
Amazingly, a few countries have quite a number of languages, regardless of their size. Topping the list is Papua New Guinea with 841 while its neighbor, Indonesia, has 710. Nigeria in Africa ranks third with 526 languages. Close at its heels is India, where the population speaks 455 languages.
Are you surprised that 334 languages are spoken in the United States? China speaks 302 languages and residents of Mexico speak 292. Another African country, Cameroon, speaks 275 and the continent of Australia has 250. About 228 languages are spoken in Brazil.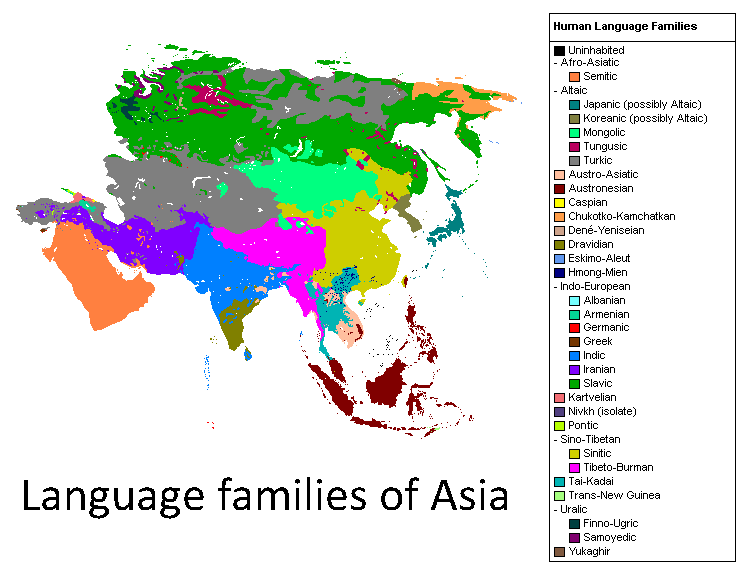 What is a language?
We have been discussing language for a while, but we have not defined what language is. Language is a system of conventional written or spoken symbols which human beings use to express themselves according to their culture. Language is used for emotional release and imaginative expression, as well as to express identity and to communicate.
Language is made up of words to create sentences in order to communicate, whether it is oral or verbal communication. Normally, a person acquires a single language, their native tongue or their first language, which is used by the people who are the closest to them since they were young. They learn second languages in different levels of fluency as they grow up. They could grow up to be bilingual if both parents speak different languages.
Languages in the context of translation
A good translator has a genuine love for languages; however, it would not make you a translator overnight. You can however find the required education and professional background and qualifications on how to become a professional translator right here.
Translators work with a language pair, the language that is used in the document and the language to translate the content into. They are used to handling various kinds of translation work, from general translation to specific translations that make use of their skills and professional expertise.
While translators are used to easy and difficult languages to translate, the global conditions right now cause more languages to surface for translation. What constitutes the higher level of difficulty or toughness of the languages is the lack of commonality with the languages most translators are familiar with.
Many of the languages that are tough to translate are those spoken in Asia, such as Thai, Japanese and Mandarin Chinese, especially for translators who are from North America or Europe.
1.  Mandarin Chinese
In itself, Mandarin Chinese is difficult to learn if the language learner is from the West. Mandarin Chinese is composed of over 80,000 characters, with their unique pronunciations and sounds because it is a tonal language. Most words have several meanings. The tone of the word makes its meaning different. It requires a high degree of interpretative skills and creativity in order to convey the true meaning of the source document that would fit the purpose of the content and the intellectual level of the intended readers of the translation. As such, the translator has to fully understand the document's context.
2.  Arabic
Modern Standard Arabic is the official language but it could be influenced by numerous dialects. The wide vocabulary of the Arabic language makes it difficult to translate. It is one of the other languages where words can have multiple meanings. The flow of the sentence is from right to left, adding to its complexity. The dialectical influences on the language based on the location makes translating Arabic difficult because it affects the pronunciation of the words. The intended target audience of the translation must be carefully considered in order to provide an accurate translation. Translators must choose the right words because a single concept can be described in different words, which can affect the context when the end-user is using a different Arabic dialect.
3.  Thai
Thailand is a country that did not come under foreign rule thus its language was not influenced by Western languages. Although English is mandatory in schools, very few people are fluent in English, except in Bangkok. Thai is written in a form of Khmer script, which is not related to any other language outside of its sphere. Like Chinese, Thai is a tonal language and each tone conveys a different meaning.
It is challenging because of the number of letters in its alphabet – 44 consonants alone and 18 vowels.
In Thai, all the letters are the same – no lower case or upper case and sentences do not end in full stops. There are no spaces between words either. A space is added to identify the end of a sentence. Translators have to watch out for the context of the sentence and the adverbs, which indicate the tenses instead of verbs. It is difficult to identify adverbs and adjectives, which becomes more complex because they are positioned at the back of the verb or noun they are referring to. Thai does not have plural and gender forms.
Standard Thais has several unique forms or registers, which require a different set of pronouns, verbs and qualifying nouns. The registers are used in different settings. Street Thai is informal and used among relatives and friends while elegant Thai is the one you'll find in newspapers. Elegant Thai uses respectful terms for addressing other people.
For public speakers, what they use and need is rhetorical Thai. The language also has a religious form which is used when addressing monks or discussing the country's main religion – Buddhism. It is very important to use the royal Thai register when the content describes the activities of royalty as well as when someone is addressing any member of the Thai royal family.
4.  Korean
Korea was isolated for many years. Likewise, Korean is a language isolate and very different from any of the world's languages because it does not have any common root with any other language. Pronunciation makes it tough for translators to translate Korean. The grammar rules of the language are also very different. Outside of the Korean Peninsula, the language is only spoken in immigrant communities.
5.  Japanese
Just like Chinese, Japanese also has thousands of characters. Its sentence structure and grammar are different from Western languages. Japanese translation depends much on context. The translator must have a full grasp of the language to understand the many nuances of Japanese, aside from its different writing systems. Kanji is based on Chinese characters. It is traditional and quite complex. The use of Kanji, alone or combined provide different meanings.
The translation of Japanese into English for example, takes more steps than other translation work. The translator has to break down the sentences into smaller chunks to get the nuances and the meaning correctly in order to have text that sounds naturally.
Translation is a difficult task and involves many steps to accomplish. A language has many features, such as grammar, vocabulary and syntax as well as cultural influences that affect the way users communicates. Translation is not just putting the equivalent words together. It is transferring and recreating an idea from one culture to another to facilitate communication.
We understand the intricacies of translation work, which is why the translators of Day Translations, Inc. take every care necessary to ensure that each translation project we do is accurate. We understand how tough some of the languages are to translate and we assign translation projects to native speakers who have the right experience and knowledge in a specific language.
All languages are difficult to translate and the level of difficulty varies. To ensure that you get the perfectly accurate translation of a difficult language, trust the professional translators of Day Translations, Inc. Request a quick quote by calling 1-800-969-6853 or sending an email through Contact us at your convenience. We are open 24/7, all days of the year in order to serve you whenever you need translation work. Our rates are competitive and our turnaround time is one of the fastest.
Image Copyright:
icenando / 123RF Stock Photo
Kwamikagami at English Wikipedia [CC BY-SA 3.0 or GFDL], via Wikimedia Commons