Except for Antarctica, all continents of the world have millions of video gamers. Video games, after all, have a universal appeal that people of all ages, races, and genders are into them. Featured below are the most popular video games for the six continents.
Since there have been no recent comprehensive studies on the popularity of video games on a country-by-country basis, the information on this post is largely based on the statistics gathered by CableTV.com. It does not represent the latest figures but it offers a good glimpse of the popularity of certain games in different parts of the world. Also, this post will feature several of the most popular games in different continents, instead of citing just one "top" video game for each.
North America
It is Fornite? Is it PUBG? How about Minecraft? Millions are hooked on video games in the United States, Canada, Mexico, and the smaller countries that make up North America, but which title best represents the majority of gamers in this region?
For 2017, CableTV.com's survey found that the most played game in the United States was Call of Duty: Infinite Warfare. It was not the top choice for Canada, though, which reportedly preferred Overwatch, and Mexico, which was said to be keen on Persona 5 at the time of the survey.
Call of Duty: Infinite Warfare
This is not exactly a critically acclaimed video game. Most critics give it lukewarm or average reviews. However, thanks to its massive marketing budget, it managed to grab the attention of millions of gamers. The creator of the game, Activision Blizzard, reportedly spent more than $100 million for its marketing.
Overwatch
This another highly popular video game in North America. This team-based FPS game from Blizzard Entertainment is known as a "hero shooter" game and has fans playing on the PC, Xbox, and PlayStation platforms. The game has a number of modes centered on squad-based combat.
Persona 5
This is the Japanese roleplaying game that enamored gamers in Mexico, Dominican Republic, and other parts of North America. It is a single-player non-online game, which may explain why it is the top video game in the aforementioned countries. Internet connection speed and reliability are not the best, to say the least, in places outside Canada and the United States. Well, internet reliability in the US and Canada is not impressive, but the situation is slightly worse in other parts of the region.
Fortnite and Minecraft
These two  are also worth mentioning when it comes to popular video games in North America. Did you know that in 2018, Fortnite tutors became a thing? Yes, some American parents wanted to provide the "best" for their children that even getting top video game scores became a concern for them. Minecraft, on the other hand, is also a highly successful video game in the United States, North America, and other parts of the world. The game has already sold 176 million copies (globally) as of May 2019, that it now claims to be the best-selling video game of all time.
Fortnite is an online video game with a cooperative shooter-survival theme. Here, players have to build things (buildings and weapons) and fight zombies or undead creatures. Minecraft is similarly about building things and surviving, but it features several gameplay modes including the creative mode that provides unlimited resources for building as well as the ability to fly.
South America
Down south, the most popular games according to CableTV.com are League of Legends, Persona 5, World of Warcraft, and Counter Strike: Global Offensive.
Persona 5
This is the top game for Venezuela, Colombia, Ecuador, and Peru.
League of Legends
Also known as LoL, this is the most popular game in Brazil and Chile. It is a free multiplayer online battle arena game inspired by Warcraft III: The Frozen Throne. Created with the freemium model in mind, LoL is notable for its widespread and highly active competitions. This game is also popular in North America and Europe. In fact, the creator of the game organizes the annual League Championship Series (LCS) wherein 10 professional video game teams compete.
World of Warcraft
Also called WoW, this is the most-played game in Bolivia. No, this popular game you may have encountered in your college or high school years has not succumbed to the competition yet. The game was hailed as the most popular MMORPG of the world in 2009 and it continues to be a frequently-played game in some countries.
Counter Strike: Global Offensive
Also known as CS:GO, it takes the lead as Argentina's most-played video game. This multiplayer FPS game is the fourth installation of the Counter-Strike series developed by Hidden Path Entertainment and Valve Corporation. Favorably received by critics, CS:GO is praised for its exciting gameplay and coherence with the styling and theme of its predecessors.
Africa
Don't think Africa is way behind when it comes to video games. The countries in the world's second largest continent may not show homogeneity when it comes to video game preferences, but FIFA and Counter Strike: Global Offensive, and Horizon Zero Dawn have a significant presence in this region.
CS:GO
This is said to be the top video game in Algeria.
Horizon Zero Dawn
This is the top game in South Africa based on data from CableTV.com.
FIFA series
This is well-loved in Morocco, Nigeria, Egypt, Ghana, and Kenya. The rest of the continent are into minor games.
The FIFA video game series, also known as FIFA Football or FIFA Soccer, is one of the EA Sports' most popular titles. With an annual release of new iterations (hence the FIFA 2017, FIFA 2018, FIFA 2019, etc. naming), this game series enjoys excellent following among gamers who are into sports. It is regarded as the most polished and most popular football video game in the world.
Horizon Zero Dawn
This is a creation of Guerrilla Games published by Sony Interactive Entertainment. It is a role-playing game with a post-apocalyptic future setting featuring the story of the character Aloy, who needs to survive a world overrun by menacing machines. She also seeks to learn about her past.
Europe
The top video games in the European continent can be characterized as highly diverse, but a number of titles stand out. These include Battlefield, World of Tanks, Horizon Zero Dawn, FIFA, and Counter Strike: Global Offensive.
Battlefield
This is the preferred video game in Sweden, Finland, Norway, and Poland. Developed by EA DICE and published by Electronic Arts, this first-person shooter online multiplayer video game is characterized by vehicle warfare and large playing maps. It is an online multiplayer game that features a class system within the game, with each class presenting different types of primary weapons, equipment, and battlefield roles.
World of Tanks
This is the prominent video game in Russia, Ukraine, Belarus, and Estonia. As the game's name implies, World of Tanks is about tanks and combat vehicles including light tanks, heavy tanks, tank destroyers, and main battle tanks. It is a massively multiplayer online game (MMO) created by Belarusian gaming software company, Wargaming.
Horizon Zero Dawn
This is a popular video game in France, Germany, Austria, and The Netherlands.
FIFA series
This series of video games dominate in Italy and Ireland.
Counter Strike: Global Offensive
This enjoys the popular patronage of gamers in Romania and Slovakia.
Australia/Oceania
Australia, New Zealand, and other territories in Oceania may not have that many people, but a good number of video game enthusiasts in this region are into Horizon Zero Dawn and Battlefield.
Mortal Kombat 1
It's also worth mentioning that  Mortal Kombat 11 is notably popular in Australia. This game from Warner Bros. Interactive consistently ranks high in popularity lists for video games across different platforms. It still carries the fun and excitement associated with the iconic Mortal Kombat arcade games of yore, but with much more improved graphics and effects.
Asia
Indubitably the biggest video gaming market of the world, Asia is home to countless video games. Japan, China, and South Korea are among the biggest markets for video games and predictably dictate the trends as to which games end up becoming the most popular.
Similar to the European market, you can't find homogeneity in the Asian video gaming scene.
The largest markets, namely Japan and China, are dominated by Horizon Zero Dawn.
The rest of the region are enamored by Persona 5 (Malaysia and Indonesia), Overwatch (South Korea, Vietnam, and Taiwan), Call of Duty: Infinite Warfare (India and Iran), Battlefield (Pakistan, Saudi Arabia, Iraq, and Turkey), World of Tanks (Russia and Kazakhstan), and DOTA 2 (Philippines, Mongolia, and Myanmar).
DOTA 2
This is the successor to the Defense of the Ancients community-generated mod for the game Warcraft III: Reign of Chaos. It is a multiplayer online battle arena game played in battles between teams that consist of five players each. The players must establish and defend their bases. DOTA 2 is one of the most well-received video games ever. It received the coveted "universal acclaim" on Metacritic.
PlayerUnknown's Battlegrounds or PUBG
It also bears mentioning the game PlayerUnknown's Battlegrounds or PUBG developed by Bluehole's subsidiary, PUBG Corporation. It is a massive video game hit that recorded a peak number of players of up to 3 million in one hour, thrice that of DOTA 2's 1 million according to GitHyp. The mobile version of the game allowed Chinese company Tencent to soar outside of China, doubling its revenues. PUBG is an online multiplayer battle royale game inspired by the 2000 Japanese cult classic Battle Royale.
The Takeaway
Many of the video games mentioned above have became the most popular games in countries that are not their origin. World of Tanks, for example, was created in Belarus but it is popular in Puerto Rico, Kazakhstan, Hungary, Estonia, and Moldova. The success of video games manage in penetrating and becoming the top video games in other countries can be partly attributed to thoughtfully-done localization for video games.
Gamers love trying out new games, but they could only be more immersed and engaged if the games are in the language they can understand or they are accustomed to. In Africa, for example, it's understandable why FIFA is popular because it's a relatable game. However, as shown in CableTV.com's video game popularity map below (most African countries are in gray indicating "Others" instead of some popular video game title), African countries tend to lean less towards the same popular games as compared to other countries. This could be because not many video game publishers pay attention to localizing for the players in these countries.
The most popular games across the world are usually those from large international game publishers that pour in resources to market their products to their target markets. Unfortunately, not many target African countries possibly for two reasons: the wide variety of languages in Africa and lower profitability. Localizing in unpopular languages and doing marketing campaigns for markets that are unlikely to yield the desired profits is a big risk for any business.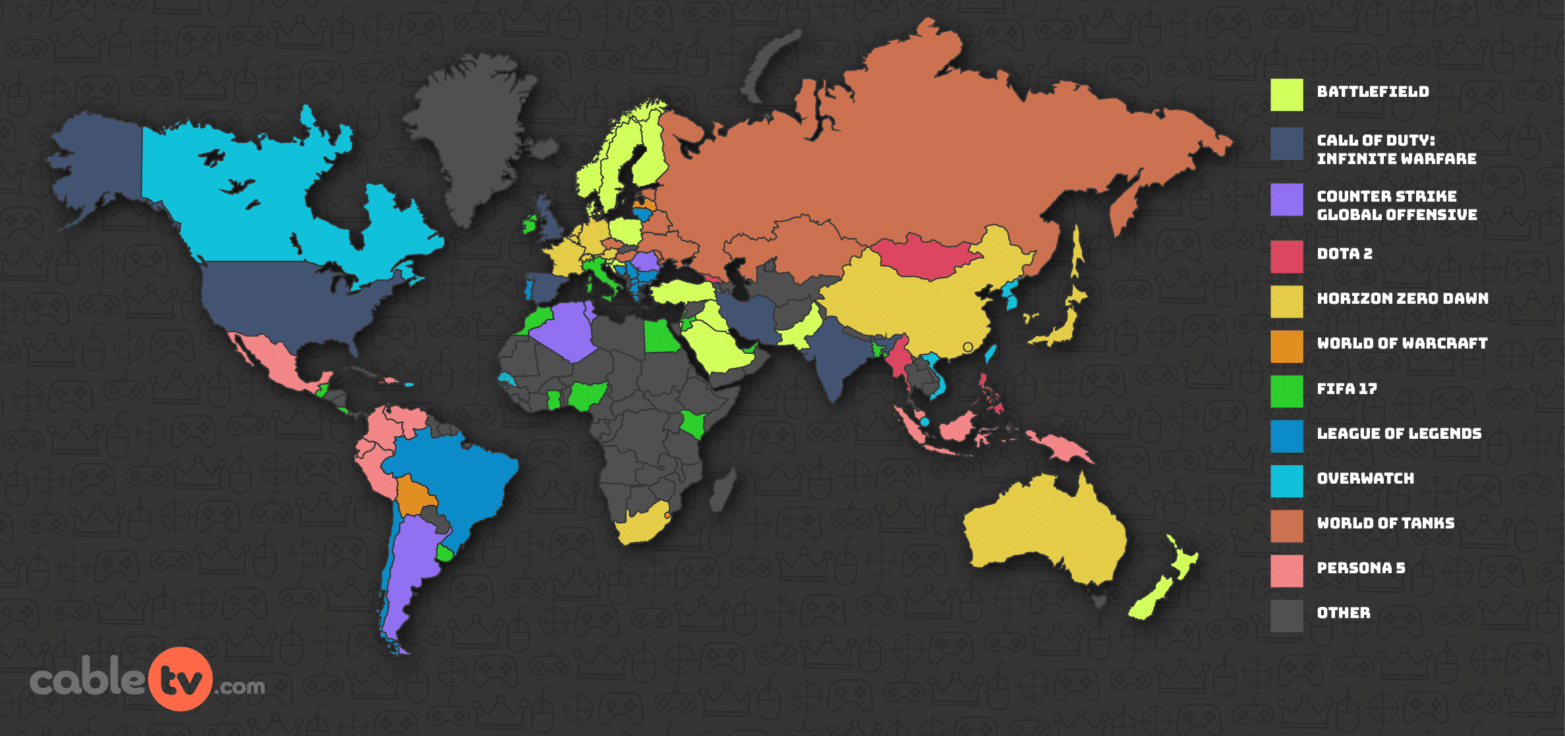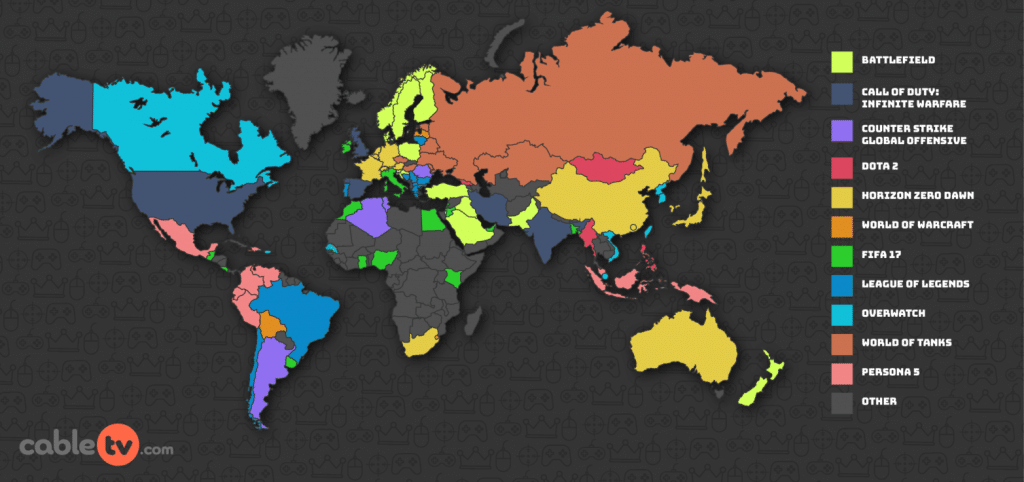 Image source: Game Popularity Map – CableTV.com
REMEMBER: A popular game in one country can be equally or even more popular in another
With optimized localization (specially localization in the gaming industry), hit games in one country can become similarly or even more successful in another. There's no reason to keep a game geographically restricted when it can generate more revenues when introduced to new gaming market overseas. All it takes is proficient localization, something we expertly provide at Day Translations, Inc. Our global network of interpreters and translators have native proficiency in the respective languages they specialize in.
Don't Limit Your Video Game's Potential for Success – We Can Help You.
Consider the opportunities of making a hit game overseas with the help of our localization services. You can contact us any time of the day, year-round by dialing 1-800-969-6853 or by sending us an email at Contact us.