The Internet has opened up entire frontiers where foreign audiences can be easily reached, but to achieve a global reach, there's some work you need to do. This consists of properly localizing your website so that foreign users can engage with you in their native language.
In the coming years, only those who are smart enough to localize will be able to successfully communicate with foreign audiences.
A lot of companies still obsess over DNS issues and believe that speed and Internet performances are great obstacles to an optimal user experience. We contend that having continued faith in the power of the English language to engage with all native populations of the world is the bigger obstacle. Yet, localizing your website is vital.
The fact is, even in nations where English proficiency is common, there is a marked preference for websites that are available in the local tongue. As a result, a lot of users in the foreign country will not connect with your site if it is only available in English.
So what benefits can localizing your website bring to you business? What is the current price of entry for directly engaging with markets that speak other languages?
We'll explore the top benefits of localizing your website in this article. Read on to learn how localization is the no-brainer path to take as a business owner looking for profit success in 2020.
On the Use of Language and the Internet
Check out the following chart for facts and figures on the ratio of English-to-foreign-language users on the Internet: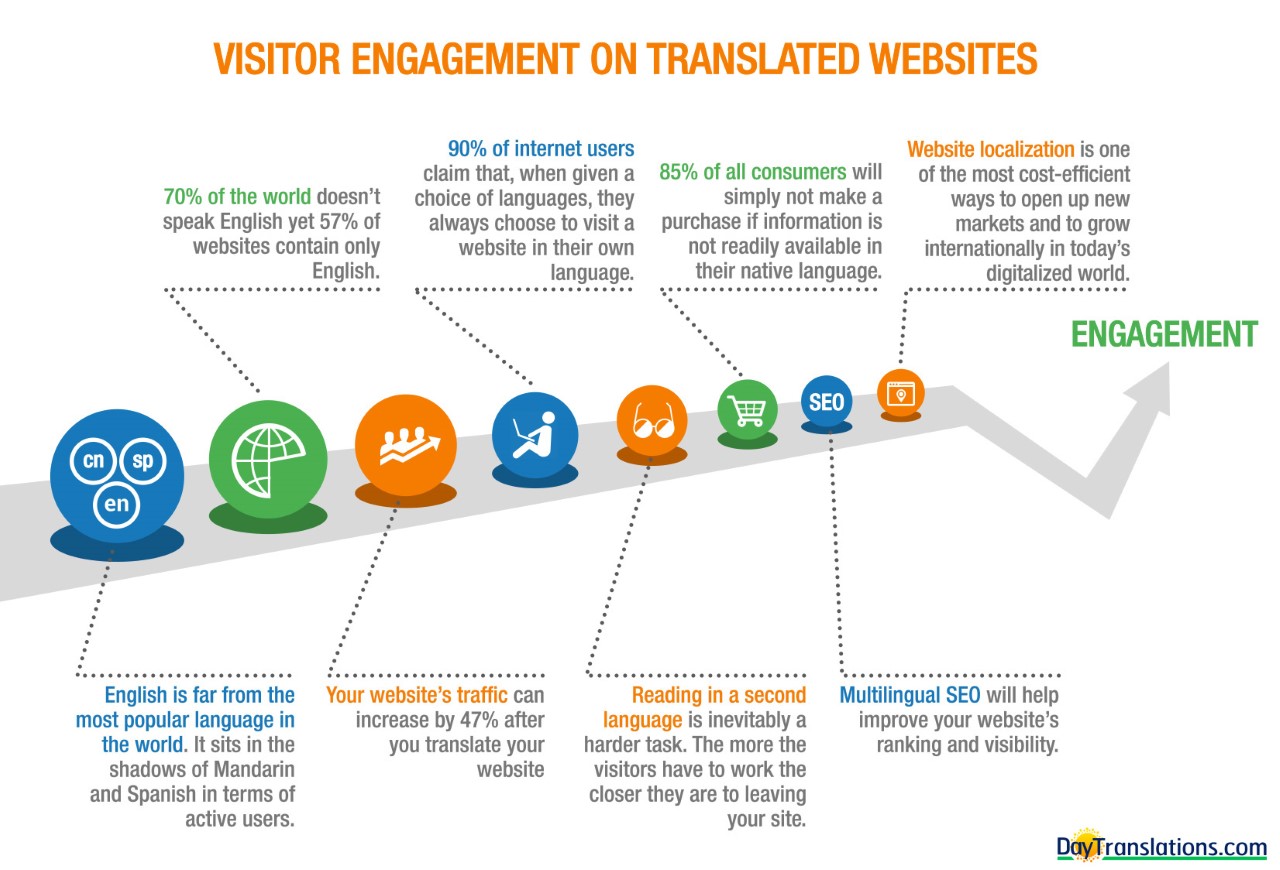 EMBED THE VISITOR ENGAGEMENT FOR MULTILINGUAL WEBSITES CHART
Medium JPG – 1280×870 (134k)
Instruction: Please copy the code below and paste it on your website.

As you can see, the facts and statistics indicate that Internet consumers want to engage with sites that are available in their own tongue. Tapping into this desire would reap multiple dividends for your company, so long as you're smart enough to consider localizing your website.
localizing your website and SEO
"Never impose your language on people you wish to reach." – Abbie Hoffman
The surest path to boosting traffic to your website is localizing your website.
In the first three weeks following the localization of his blog, famed Internet marketer Neil Patel reported that his traffic had leaped by 47%. The move paid off for him in a major way.
In the long-run, Mr. Patel found that impressions for search queries increased significantly, meaning his prospects for future growth were highly favorable, showing that localizing your website pays off.
If you expect that search queries in Chinese show your website in the SERP rankings, then it simply will not happen. Doing so requires that you have Chinese content on your website. Even if your site pops up for a query, most Internet users strongly prefer to engage with a site in their own tongue. Localizing your website is profitable and smart.
Website Conversion and Localization
"If you talk to a man in a language he understands, that goes to his head. If you talk to him in his language, that goes to his heart." – Nelson Mandela
Setting aside the search engine factor, you will find that localizing your website vastly improves users' experience on your site.
Language is a major obstacle when it comes to your site's capacity to convert, that is, make a sale, obtain a lead, and capture data. You're asking your users for a lot when you ask them to read in a second language. If users are made to work hard, they will simply quit your site and move on.
According to the above chart, users are less likely to move forward with purchasing a product or service from a company that does not speak to them in their own tongue. It's not that the end user can't literally read English, they simply are turned off by the hard work in having to internally translate your content. Localizing your website is the key.
As Nelson Mandela said, your site's users may figure out what is being said — it just doesn't speak to their hearts.
Website Localization and Translation
"The language of friendship is not words but meanings." – Henry David Thoreau
The success you could reap by localizing is, therefore, large, but how difficult is it localizing your website?
Multiple tools for automatically translating your website exist. However, this is not recommended despite being inexpensive and relatively simple to use.
Have you hired a professional writer to write attention-grabbing copy for localizing your website? How long did it take you to get the content of your site just right? If you had invested a lot of time and money in getting your copy to sing, then you're not a candidate for a machine-based translation of your site.
The truth is it's not just about showing up on the SERP rankings, it's about pulling off effective website conversions of your incoming traffic. Doing this requires you hire a professional localization team to translate your content.
To forge trust with your end user, your site should communicate meaning rather than just translated words. You need translators who are able to understand the cultural and language nuances of the target audience and its language.
This is what sets localization apart from mere translation. Localization is the process of culturally translating a website's images, colors, structure, and content so that the target market feels comfortable with the site.
Localizing your website is not word-by-word translation. It's about creating calls of action that connect with your target market rather than a translation of words.
Is investing in localizing your website worth it? The answer is yes. There simply is no other option if you want to reach different audiences across the world. The facts and figures back it up.
However, expect to see a large return on your investment in localization. Studies indicate that for every dollar you invest in localization, you'll receive $25 in return.
The Takeaway
"Every language is a world. Without translation, we would inhabit parishes bordering on silence." – George Steiner
The Internet has indeed made it easier for any business to reach a global audience. Localizing your website allows you to tap into the incredible potential of all these new audiences.
Those who continue to believe in the power of English to gloss over language obstacles will be leaving huge profits on the table as they talk into a formidable wall of silence.