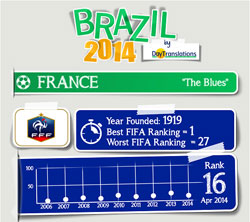 Les Bleus ("The Blues") coach Didier Deschamps may well be tired by now of the Samir Nasri-related controversy that erupted in the media following the announcement of France's provisional squad. Matters were not helped by the comments of former French player and current head of Manchester City's development squad, Patrick Vieira, who described Nasri's performance with the Premier League-winning club last season as "fantastic". Interestingly, the Bleacher Report revealed odds of 22-1 and a "dark-horse" status on May 29, stating that the French team "should be easily through to the knockout stage" with "dynamic scorers like Franck Ribery". Furthermore, Bleacher's position was published after Bloomberg placed France well ahead of the other Group E nations; although, the latter only gave France a 4-percent overall chance of winning the event.

Embed the France Full Infographic
Medium JPG – 600×2000 (946k)
Instruction: Please copy the code below and paste it on your website.