Today, more than 100 countries celebrate International Women's Day each year on March 8. It is a day when women are honored regardless of their political, economic, cultural, linguistic and ethnic background. The institution of the International Women's Day is the result of the activities of the labor movements of women workers in the 1900s across Europe and North America.
The International Women's Day promotes equality between women and men. It affirms the rights of women and their participation in economic and political fields. The event has a unique theme each year. For this year, 2019, the theme for the campaign is #BalanceforBetter. It's a call-to-action to boost gender balance around the globe.
The international movement of women in developing and developed countries is strengthened by the conferences hosted by the United Nations.
Brief history of International Women's Day
It was believed that the precursor of International Women's Day was the march of New York garment workers in 1907. Around 15,000 women joined the march. They were campaigning for women's suffrage, better pay and shorter hours at work. They likewise wanted to commemorate the police brutality received by women demonstrators in 1857.
But did you know that there was a National Woman's Day? It was held on February 28, 1909 in the United States, organized by the Socialist Party of America.
In 1910 about 100 women from 17 countries attended the general meeting of the Second International Conference of Women in Copenhagen. During the conference the establishment of the International Woman's Day was suggested, although no specific date for the celebration was set.
By 1911, the event was celebrated in the United States as well as in Switzerland, Germany, Denmark and Austria on March 19. The widespread appeal of the movement attracted a million women as well as men to participate in global rallies.
The demonstrations and rallies by women continued even through WWI. Women from Europe campaigned against the war. They also held rallies to show their solidarity. Right before the start of WWI, Russian women held a large demonstration to express objection to the shortage of goods, lack of food supplies and degenerating living conditions. A Russian feminist, Alexandra Kollontai led the demonstration, which occurred on February 23, which falls on March 8 in the Gregorian calendar.
In 1922, Lenin made the commemoration of the women's demonstration as official.
After WWII ended in 1945, the International Woman's Day became International Women's Day. The United Nations started celebrating the event annually on March 8.
Observance around the world
Several countries around the world celebrate International Women's Day. And it's great to know that the day is an official holiday in some countries, including:
Zambia
Vietnam
Uzbekistan
Ukraine
Uganda
Turkmenistan
Tajikistan
Russia
Montenegro
Burkina Faso
Cambodia
Belarus
Azerbaijan
Eritrea
Laos
Kyrgyzstan
Moldova
Armenia
Afghanistan
Cuba
Guinea-Bissau
Kazakhstan
Georgia
Mongolia
In China, Nepal and Madagascar, only women enjoy the holiday.
Some countries grant day offs to their women employees while other present flowers to their female staff.
In the United States, the entire month of March is declared as Women's History Month, which includes the International Women's Day as part of the month's activities.
Italians call the day La Festa della Donna and mark it by giving the women in their lives yellow-colored Mimosa flowers, which symbolize women's sensibility and strength.
Female workers in Berlin enjoy a day off on International Women's Day. It is only in Germany's capital city that the day is recognized as a public holiday.
In the United Kingdom, several groups join hands with influential people to hold gigs and events to raise funds for women's rights charities.
In Spain, the day is typically marked with huge demonstrations to bring awareness regarding sexual discrimination in the workplace, domestic violence and gap in gender pay.
Espousing gender equality and diversity
According to a news report by Fortune.com in 2018, General Motors (GM) was chosen as the best company when it comes to gender equality, being the only company with a female chief executive officer and a board with an equal number of men and women members.
Other companies in the top 10 (in random order) are L'Oreal, the top company in 2017, Kering, StarHub, Westpac Banking, Merck, Tele2, Swedbank, JPMorgan Chase and National Australia Bank. The report was created by Equileap.
Several successful companies today are run by women, such as Boston Consulting Group, Salesforce (cloud-based software company), Deloitte (professional services), outdoor apparel brand Patagonia and Automatic Data Processing (ADP).
It is a matter of corporate will and professional outlook of company owners that make them successful in turning their organization into a company supporting gender equality and diversity. Comparably.com, which studies market compensation and company cultures, awarded Day Translations, Inc. with a "Company Best for Women" award in 2018.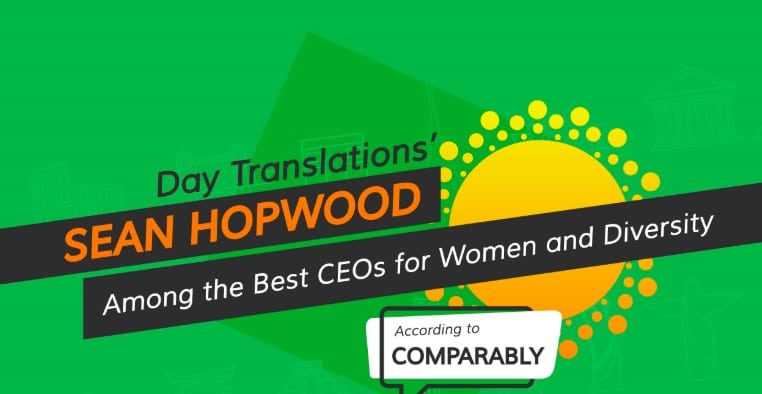 Espousing gender equality and diversity is not confined to women executives. Several men holding top positions in companies have also been recognized for their committed support for workplace diversity and equality, such as Sean Patrick Hopwood, the President and CEO of Day Translations, Inc.
We at Day Translations, Inc. would like to wish every woman in the world
Happy International Women's Day!
Image Copyright: nito500 / 123RF Stock Photo