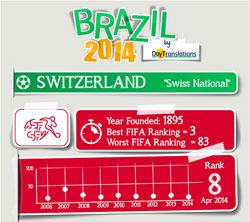 It only seems fair to focus upon Switzerland's coach Ottmar Hitzfeld prior to Brasil 2014. With Switzerland since 2008, Hitzfeld was described by the Guardian last month as "one of the great managers of the modern era"—a period that will end for the German after he bows out of the game following the World Cup finals this year, bringing a 31-year career to a close. Hitzfeld believes that his 2014 team is superior to the 2010 squad and has identified an "excellent team spirit" that will need to be accompanied by on-field discipline as part of Switzerland's Group E campaign. Swiss media expert Jill Zimmerli has described Switzerland's first game against Ecuador as "crucial", so it seems that the 124-million-euro team will need to perform as soon as the whistle blows to improve on its low-scoring performance during the qualification stage, which might have been caused by the injured state of numerous key players at the beginning of the year. After more than three decades executing strategies in the world's football stadiums, even a Swiss berth in the second round would be a healthy addition to World Cup history for Hitzfeld.
Embed the Switzerland Full Infographic
Medium JPG – 600×2000 (946k)
Instruction: Please copy the code below and paste it on your website.