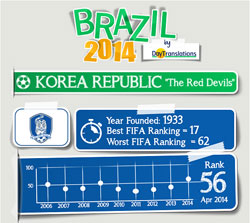 We must admit that we did not identify any East Asian players in the Guardian's list of the 100 greatest World Cup players of all time, released at the end of May—please correct us if we have overlooked anyone. However, the Brasilian legend in the top position, Pele, previously released his own list that consisted of 125 football players and the current South Korean coach was one of them. In Brasil over the next month, Hyong Mong-bo will manage a team valued at 46 million euros after having represented his nation on four occasions. This is the Warriors' eighth consecutive appearance in a finals event and, while the team's two heavyweights are both over six feet in height, the Koreans seem to be unable to get past the halfway mark in other areas: the team was ranked 42 on the Elo table on June 2 and Goldman Sachs has given the team a 49.1 percent chance of reaching the second round. Korean fans will be pleased that captain Lee Chung-Yong is not hindered by any injuries; but, as the Guardian expressed on the weekend, the team's weak defense may not be able to support the force of the warriors at the front.

Embed the South Korea Full Infographic
Medium JPG – 600×2000 (946k)
Instruction: Please copy the code below and paste it on your website.