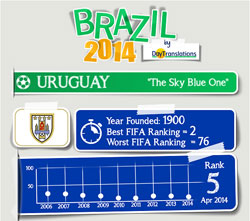 While Luis Suárez, who underwent keyhole surgery on his knee last month, impressed observers at a training session yesterday, the overwhelming concern for the world's football fans—especially those in Brasil—may actually be the continuing wake of what the Guardian described this week as "the saddest day in Brazilian football". When Uruguay won the World Cup finals in 1950, against the host nation, at Brasil's Maracanã stadium, attendees who are still alive to tell the story speak of the innumerable Brasilians who openly wept at the final score of 2-1. Football writers unequivocally explain that Brasil remains haunted by the Uruguayan victory on July 16; however, the media leading up to this week has mostly focused upon the other Group D contenders, Italy and England, even though the Los Charrúas is in the top 10 of the Elo rankings and also has the second-round support of Goldman Sachs; furthermore, Bloomberg Sports has forecast greater success for Uruguay in its group, ahead of Hodgson's England. It is appropriate that our Brasil 2014 World Cup series comes to a close with Uruguay, who will agitate persistent spirits if the world is delivered a truly remarkable replay of 1950 at the Estádio do Maracanã in July 2014. Let the global contest of the "world game" begin, and thank you kindly to anyone who has shown their appreciation for our infographics on social media!!
Embed the Uruguay Full Infographic
Medium JPG – 600×2000 (946k)
Instruction: Please copy the code below and paste it on your website.