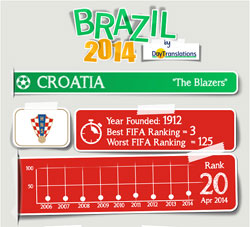 It seems that every World Cup event has its foremost "dark horse," and in the "Year of the Horse," it is very apt that the Brasilian festival of football has a definite contender set to fly into the country next month. But not only is the Croatian national team in the spotlight for its "dark horse" status, which has been taken from Belgian hands, but its generosity is also in the headlines, as it will donate 130,000 euros (US$180,000) to flood victims in the Balkans, taken from its paycheck for earning a place in the finals. Furthermore, both Croatia's players and fans have been given a boost by the appointment of Niko Kovac as coach; although Kovac is inexperienced as a coach, the former captain is highly revered and in Brasil he will apply the 4-2-3-1 formation that he has become known for.

Embed the Croatia Full Infographic
Medium JPG – 600×2000 (946k)
Instruction: Please copy the code below and paste it on your website.