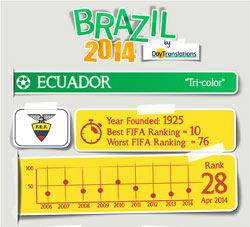 World association football is much more than a sport, as the "stories" of national teams are also an important part of their respective World Cup journeys, equivalent to their performances on the field. Events such as the tragic, deadly cardiac arrest of Ecuadorian striker Christian Benítez last year also influence a team's prospects, so they often need to be taken into account. Bloomberg Sports has given Ecuador a 47.8% chance of reaching the round of 16 in Brasil, making them the third-best in Group E, above Honduras. Depending on whom you ask, either midfielder Antonio Valencia or forward Jefferson Montero ("Baby Jeff") is Ecuador's key player; but, Reinaldo Rueda's team will be looking to replicate the excellence of their previous home-game performances, regardless of who turns out to be their star player.

Embed the Ecuador Full Infographic
Medium JPG – 600×2000 (946k)
Instruction: Please copy the code below and paste it on your website.