The global pandemic recently sped up the pace of localization and globalization. As technological advances keep connecting people worldwide, organizations are searching for innovative solutions and tools to overcome the ever-present language barrier. This has inspired the development of numerous machine translator apps and machine translation software in a bid to try and make communication easier between people that speak different languages.
While it's true that the market is flooded with free and paid-for translating and interpreting apps and tools, some designers of machine translation software have simply reigned supreme since their inception. So where can you start your search for the best machine translation app? Here's a look at 5 of the most popular translation apps currently available in the market!
Top 5 Machine Translator Tools
Google Translate
As the brainchild of the world's internet giant, it comes as no surprise that Google Translate ranks as one of the most popular and best machine translation software options out there. Available for free on your web browser and your mobile (iOS and Android), this tool is excellent for situations where you need quick translations. Keep in mind that you'll need to download the additional language packs if you plan on using the app offline.
This free machine translation software can be used for informal and formal speech and also comes with an extensive collection of features that can come in handy whenever the language barrier becomes a problem.
You can use the power of Google Translate's neural machine translation to translate text in more than 100 language pairs, and even if you have no internet connection, it can still perform translations in offline mode for 59 language pairs. Need text or numbers on a photo translated from, let's say Spanish to French?  Google Translate is up for the job!
It also boasts an intuitive conversation translator technology that allows two people to communicate through their smartphones (if they both have the app installed) even if they speak different languages. Keep in mind that you'll need to be online to use these services. When installed on an Android device, the Google Translate platform can perform quality translations across all your other apps. To use it, just tap the app's icon on the right-hand side of your screen!
Microsoft Translator
Available online and offline, the free Microsoft Translator comes in as another heavyweight in the roundup of the best machine translation engines. Similar to Google Translate and designed with neural machine translation technology from Microsoft at its core, this machine translation service can translate text, voice, conversations, and images. The app from Microsoft is also capable of doing quality offline translations, although you'll have to install the language packs to use the tool in offline mode.
An exciting feature of the Microsoft Translator machine translation engine is that it allows you to analyze images taken by your phone's camera and provide translations for any text that appears in the picture.
Just like Google Translate, Microsoft Translator has a proprietary conversation translation feature that allows people to communicate through the app and have their voices automatically interpreted in multiple language pairs.
The phrasebook and pronunciation guide within the platform are great for anyone looking to learn the basics of a foreign language. While most of the app's online services offer premium support, the offline functionality is also great for when you're in a remote location with no internet access.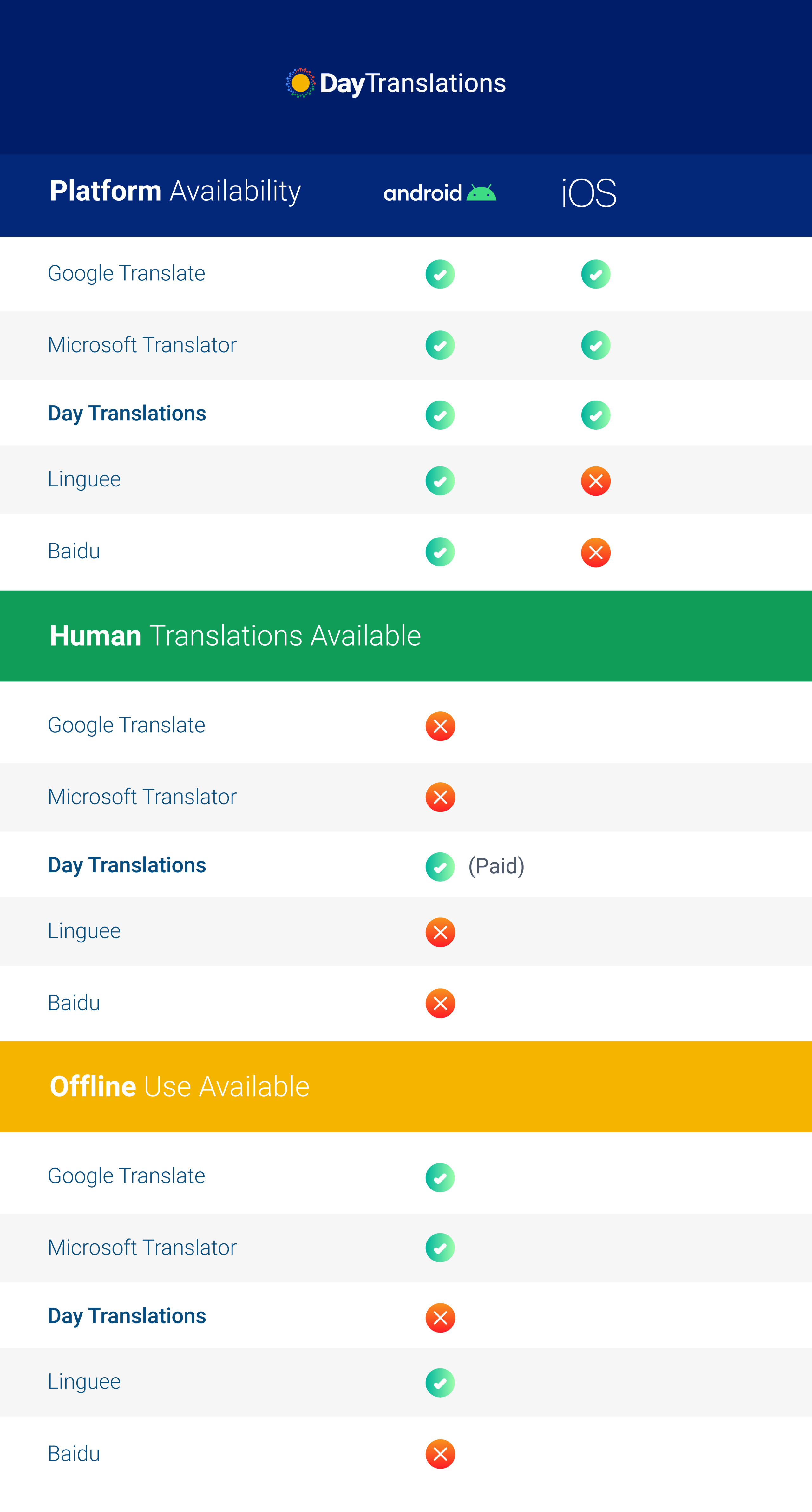 Day Translations
The Day Translations app is one of the best free translation machine options out there, and it stands out from the crowd because it offers more than just a machine translation service: it's also your go-to for on-demand quality human translation services, all neatly packaged into one intuitive, easy-to-use app. This puts the power of a translator in your pocket! Keep in mind that the service is only available online at the moment.
Users have the opportunity of generating instant translations via the app, or when you need help with a larger translation project, simply request human translation services from a qualified translator to receive contextually accurate and culturally appropriate translations.
Additionally, you can make the app verbalize the pronunciation of words so you can hear and emulate the correct way of saying words you are not familiar with. It is supported by one of the leading machine translation engines. The Day Translations app also features an interpreting function. This enables the app to provide its users with speech-to-speech translations.
With the ability to translate into 100 languages, this Freemium language app is available to anyone that uses an iOS or Android device. And the translation process couldn't be easier to use: simply select your source (origin) language and target language, enter the phrase you need to be translated, and view the translation in the results field.
The VRI feature on the platform also makes it easier than ever to access video or phone interpreting services where and when you need it most. The VRI feature, however, does not form part of the free service offered by this app. To gain access to it, you'll need to register a profile (on the paid version of the platform) and pay for the interpreting services as and when you use them.
This machine translation engine and on-demand human interpreting app seamlessly integrates the convenience of machine translation and the accuracy of human translation into a single
interface. Developed by one of the world's top translation companies, the app is backed by a team of industry professionals that work with certified translations on a daily basis.
Linguee
Linguee is a free machine translation engine tool for iOS devices that mainly serves as a dictionary as it was developed with input from more than 400 lexicographers. It is one of the best in its category when it comes to machine translation engines. This app is renowned for its fast and reliable free translations. Although it is limited to supporting just ten languages (English, French, Japanese, Dutch, German, Russian, Spanish, Polish, and Simplified Chinese), it offers offline support for all its languages.
The app's Quick Search feature is similar to Google's auto-suggest, so the app predicts what words and phrases you're searching for when you start typing. Furthermore, it features a pronunciation guide for each of its supported languages. Professional dubbers recorded all guides, so you can rest assured that you hear the proper pronunciation.
Linguee uses the 3D Touch technology from iOS, so users can merely lightly press on an entry in the Quick Search list, and the app shows them a preview of the details. You can also use 3D Touch to view translations of a word within an article without having to actually read the article.
Baidu Translate
Planning a trip to China and don't know how to bridge the language barrier? Baidu's machine translation engine might become your new best friend! Baidu Translate is one of the most popular machine translation engines and is essentially the Chinese version of Google Translate. It's one of mainland China's most popular machine translator options and is available for all desktop users. It's also available across all iOS devices.
The app allows users to translate specific words, images, and conversations from Chinese to English and vice-versa. It also boasts a Conference feature where you can translate and record a speech in Chinese.
The app makes learning Chinese a little more fun and easier for English speakers, and with its plethora of features and tools, it's easy to understand why it's such a popular tool. The Object & Menu tool lets you translate…well, objects and items listed on a restaurant's menu. It also has a Notepad where you can note down any new phrases you've learned, and you'll receive daily readings to help you grasp this complex language a little better. Machine Translation Engines vs Human Translators
The Advantages and Drawbacks of Machine Translation Software
The main benefits of machine translations come down to two things: speed and cost. But is it really worth risking accuracy for the sake of these two factors when it comes to your business? The cost of potential mistakes is the main thing to consider with any kind of machine translations and tools, although there are times when it is acceptable to use machine translations instead of a human translator.
Advantages of Neural Machine Translation
Many translation system products, tools, and apps are readily available and often offer free translation
They offer quick turnaround times
One machine can translate between various languages
There's constant development in the field of machine translation technology
Drawbacks of Neural Machine Translation
Accuracy is always an issue with machine translation and is very inconsistent across different languages
A machine cannot translate the context of natural language, even when neural networks are at play
Small mistakes can have significant financial implications
The Advantages and Drawbacks of Human Translation
Human translation offers a much higher standard of accuracy compared to a translation system, but it takes longer and costs more than machine translation. However, this investment outweighs the potential cost of mistakes that are easy to make with machine translations.
Advantages of Human Translation
Professional and highly skilled human translators always ensure the highest accuracy
Humans can interpret the context of natural language and translate the meaning of an idea instead of just translating word-for-word, as done in neural networks
There's a quality assurance process involved in human translation services
Professional translators understand the creative use of language in puns and metaphors, and they also understand idiomatic differences between languages
If a literal translation isn't possible, professional translators will find the most suitable alternative
Drawbacks of Human Translation
Turnaround times are longer
Professional translators do not work for free
When to Use Which Translation Option
If you're translating something that will never read the final audience (translating something from an external resource as part of research for a project), it's perfectly acceptable to use machine translators. You can also use it to partially translate chunks of content for PEMT (Post Edited machine translation), which a human translator will improve during the editing process.
However, when accuracy is essential for your documents (and business), it's always safer to steer clear of machine translation tools and systems and turn to professional translator solutions instead. Whenever your translated documents will be received by a consumer audience, human translation service is the only way to go to ensure accurate and professional results.
Machine Translators Are Great, But the Human Touch Reigns Supreme
Even though the five intuitive machine translators and tools we've just explored all place the power of translation in the palm of your hand, machine-generated translations are nowhere near as accurate as a professional human translation service.
These systems, apps, and tools might be great for casual use and quick translations, but they cannot be used for formal business documents, localization projects, or academic documents. Machine translators are also not culturally competent, so they cannot translate humor or get around cultural nuances that differ from one language to the other.
A human translation service, performed by experienced and highly skilled language experts, will always be indispensable, especially when it comes to any content that will be used for official and formal purposes, and that is what we thrive on providing our clients with here at Day Translations, Inc.
Our team of expert linguists work across a multitude of languages from all over the world to ensure we can meet the language needs of all our clients. We also use a wide range of professional tools and systems as part of our quality assurance process. Get in touch with us today to learn more about our groundbreaking app and range of professional localization, interpreting, and translation services that are breaking down the global language barrier! We want to help you get your brand's voice heard, and through our range of innovative solutions, we can help promote you on the world stage!