Hey! We have a full Global Marketing Guide designed to give you the toolkit of tutorials, videos, and step-by-step guides that will help your business expand abroad!
Every year, millions of companies invest millions of dollars in online advertising campaigns. That's because pay-per-click campaigns are a proven method for businesses of all sizes to increase brand awareness and be found by new clients. For businesses expanding abroad, the need for international PPC ads carries several challenges. For instance, our PPC ads should target new keywords – so, locale-specific keyword research will be needed. On the other hand, we need to adapt our message, not only to our audience's language but also to our audience's expectations. Is our ad in the right tone? How can our ad help us stand out from our competitors in this new market?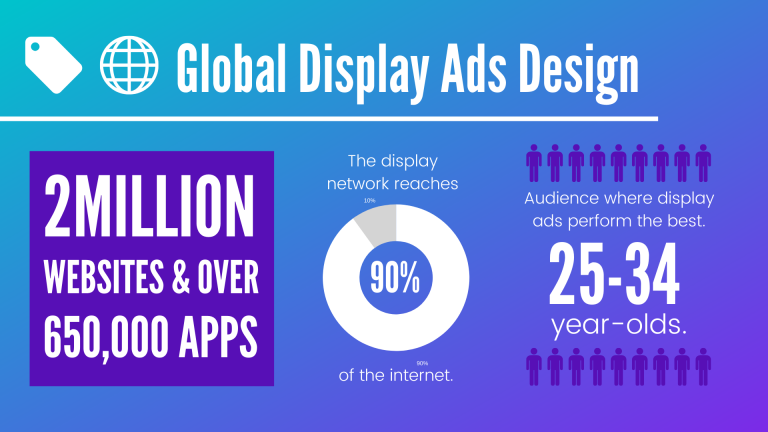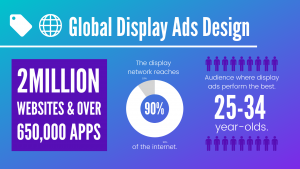 If we're going to use display ads (not just search ads) for our international PPC campaigns, one of our main challenges will have to do with design. Our ads will have to be eyecatching – but also easy to understand.
Our culture manifests in us in numberless ways. For instance, in the language we speak, our general worldview, and our everyday behavior. But it's also deeply engrained in less obvious ways. It also affects the way we consume information. 
We've gotten used to a certain way of presenting, organizing, and accessing information. And what we might consider as an obvious, convenient layout that's second-nature to navigate, might be an indecipherable maze for someone from another culture. When it comes to designing for the web, cultural awareness is vital.
As Senongo Akpem explains, writing about International Design for A List Apart:
 "People visit sites that offer them no cultural mental models or visual framework to fall back on, and they end up stumbling through links and pages. Effective visual systems can help eliminate that guesswork and uncertainty by creating layered sets of cues in the design and interface."
In this post, we'll take a look at some key concepts to have in mind when designing display ads for international audiences. 
International PPC Campaigns & Design 
Internationalization
Localization is a process through which a product, platform or document is adapted to meet the linguistic, cultural,  and regulatory standards of a new locale. While translation is a very important part of localization, localization aims to go beyond language. But, before we can localize a piece of content, we need to internationalize it. Internationalization is the process of stripping a  product of all the elements that make it appealing to a particular culture, getting it ready for localization. Internationalizing properly ensures our localized versions will be consistent with our brand. 
Internationalization is a vital first step when it comes to international PPC campaigns. We need to make sure that our ads can be consistent and on-brand across locales. This involves, for instance, making sure our typefaces can be used for foreign alphabets, and defining the characteristics our imagery should have, so it can adapt to different locales while remaining consistent. 
Designing for RTL Languages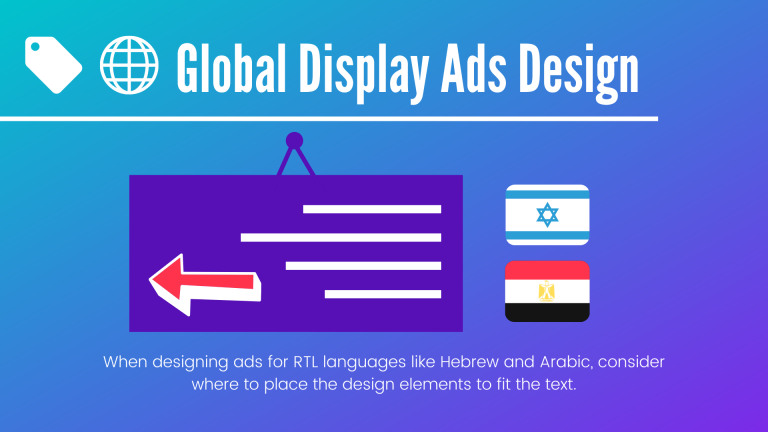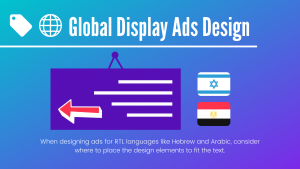 Designing for RTL languages, such as for instance Hebrew or Arabic, requires that we mirror certain structures and elements, while others remain the same. 
Consider that the ads will be read from right to left, and structure them accordingly. If your ad features a button with a call to action and an arrow, consider that the arrow should be to the call to action's left, pointing to the left. 
Structure & Visual Density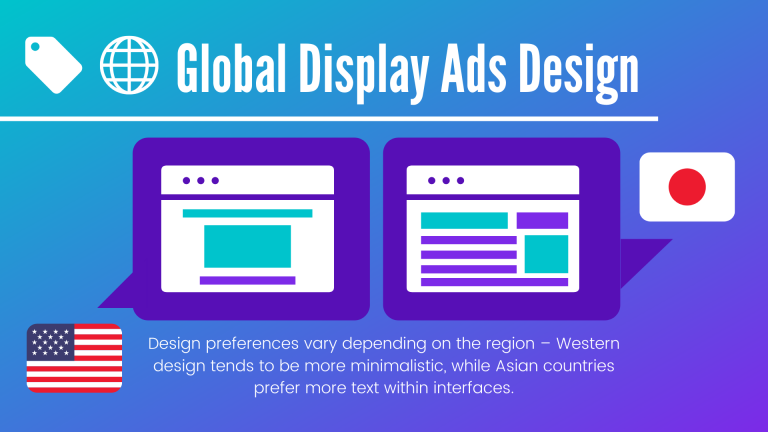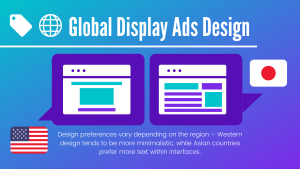 If we're assigned the task of designing for a Japanese audience, we may carry out the exercise of looking at the English and Japanese versions of the same company website. One of the first things we'll notice is that, while the English-language version aspires for minimalism, sleekness, and has an economic approach to copy, its Japanese counterpart looks very crowded and text-heavy. 
We perceive Japanese websites this way for three reasons:
We may not be used to seeing full paragraphs written in Kanji logograms.

Japanese consumers tend to request far more detailed and extensive product descriptions than their Western counterparts. 
On the other hand, for performance's sake, images on Japanese websites are often very small. This results in a very crowded layout with not much negative space. 
When designing for Japanese users, you can intelligently use intense colors and contrasts to set visual hierarchies and attain balance. Not all Japanese ads are text-heavy. But regardless, we might want to take a copy-first approach to the ad.
It's also worth noting the aesthetic preferences of the Japanese public. If it fits your brand, you shouldn't be afraid of cuteness (kawaii). Japanese audiences are all about playful color palettes, illustrations, and mascots. 
It All Begins with a Great Translation
Our display ads might be beautifully designed and irresistible to click. But if our copy is poorly translated, our PPC campaign is unlikely to meet our expectations. For expert cross-cultural marketing insight, and flawless translations, it's best to reach out to a seasoned multilingual PPC ad services company.