CTAs play a crucial role in digital marketing. A call-to-action invites the user to take the next step towards getting to know your product and making a purchase. They're key elements in your landing page, email copy, social media posts, and ads. But they're so small and taken for granted that marketers often overlook them. Your CTAs can be far more than just buttons with generic text like "submit" or "learn more". Poor CTAs can create a break in the brand's communication style and fail to persuade the user. While good CTAs can increase conversions by incredible percentages. Today, we'll take a look at how to write calls to action for an international user base.
_____________________________________________________________________
Hey there! We have a full Global Digital Marketing Guide – with advice on international SEO, multilingual PPC advertising, Cross-cultural design, and much more!
_____________________________________________________________________
While a skilled copywriter might be quick to understand how to write calls to action that match a brand's communication style and goals, things might get a little bit confusing when the brand has decided to expand abroad. Should this change the style of the CTAs? How can we write CTAs that will engage our new customers?
How to Write Calls to Action for International Users
When dealing with a linguistic barrier in your ad campaigns, it's always best to contact a reputable multilingual ppc services provider for quality linguistic assistance. Likewise, if you're translating your website, you'll probably want to reach out to a localization company.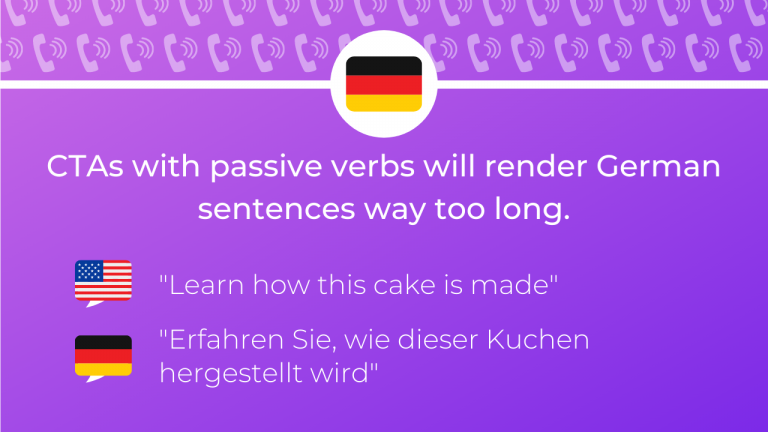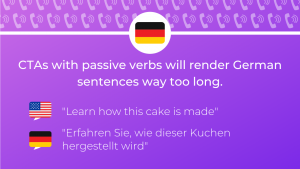 Trying to reverse-engineer the translation process and write CTAs that can sound natural in another language might not be the best option. Regardless, an expert localization company will be able to handle your source material and convert it into a natural-sounding copy in your target language. 
But it can be very useful to learn when certain wordplay or phrasing might be hard to translate directly. For instance, you'll never see the literal equivalent of "Learn how our product can change your hair forever" in German. Why? Because it would probably sound unnatural and odd for a German user. For starters, in the translation process the word "learn" will probably disappear, and then the sentence will be restructured to fit the patterns of the German language so it can be more engaging. Likewise, CTAs with passive verbs might be especially tricky to translate, sounding clumsy and becoming far too long in the German language. 
Aside from complications arising from the target language itself, when leaving our CTAs in the hands of a localization company, we'll need to be able to welcome changes based on cultural preferences.
For instance, Japanese customers are very price-conscious but they're willing to pay a premium for a high-quality item. As a consequence, Japanese customers will want to know as much about the product as possible. This often results in Japanese websites being a little more crowded with information than we might be used to.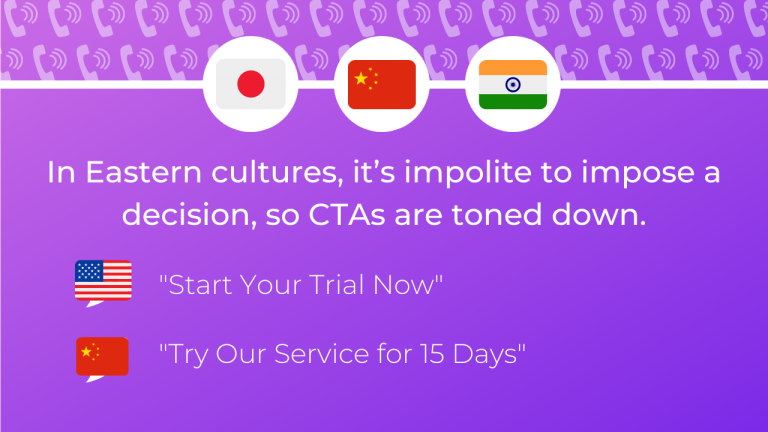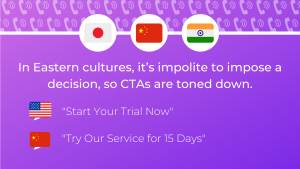 In Eastern cultures, it's impolite to communicate in a way that might be interpreted as imposing a decision. So copy that might be read as way too direct might be toned down. "Start the trial" might be replaced with "Try [the service] for 15 days". Meanwhile, precision is a must. A call-to-action that reads "Submit" might become the equivalent of "Submit your answer" in Japanese or Chinese. 
If we're going to market to a South Korean audience, it's important to understand two things: Korean customers are used to getting freebies, and FOMO is a strong driving force. So our CTAs will probably perform better if they tackle these two aspects. 
Latino audiences, on their part, tend to enjoy trying out new products, especially if they're exotic and luxurious. They're often very brand-loyal while appreciating flexibility and autonomy, and being aware of their favorite brands' competition. If you want to catch the attention of Latino customers, give them options and flexibility, and use language that evokes authenticity and warmth. A sense of humor is also appreciated.
When comparing English CTAs and their Spanish translation, side-by-side, one often notices that what was originally a "your" becomes a "mi" ("my") in Spanish. This makes the customer identify with the CTA when they read it in their mind. It also creates a sense of closeness, a sense that the brand is talking to them.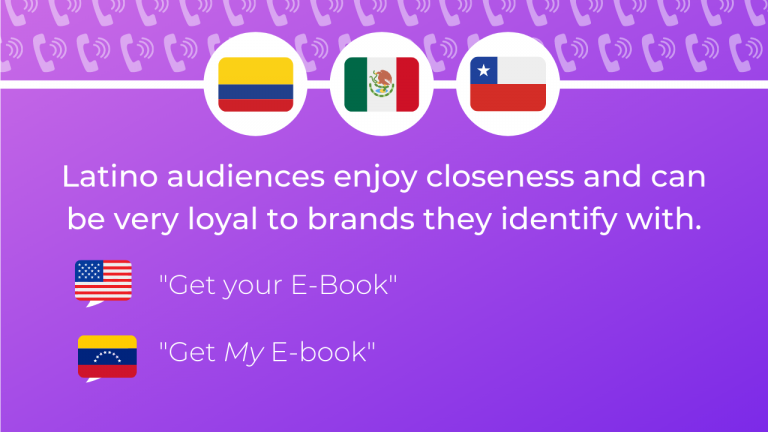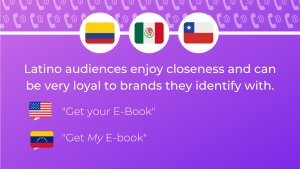 International CTAs, in a Nutshell
The tone and focus of your CTAs aren't just an expression of your brand, but of your brand within a certain cultural context. When expanding your presence overseas, it's vital to understand that changes will have to be made to fit cultural and linguistic standards and trends. You don't have to change your brand's identity, just like you don't change your identity when you speak in a foreign language, you just adopt a different communication style.
It's also important to note that this will happen to all your brand's content. And, when it comes to advertising campaigns, you'll probably need to conduct new keyword research to know which keywords are trending in your target locale and adapt your copy accordingly. 
All these changes might be subtle. But added up, they make for a culturally-appropriate communication style that's engaging and effective.