The Hispanic population in the U.S. reached 59.9 million in 2018. This makes them the second–largest ethnic group in the United States. The Selig Center for Economic Growth at the University of Georgia's business school determined the total buying power of the US Hispanic population at $1.53 trillion in its annual report, and this amount is expected to grow to almost $400 billion more by 2023. Does your business understand the Hispanic consumer behavior and considering it when developing a marketing strategy?
Since Hispanics buying power sits within the trillions, it's crucial for brands to acquire enough data to address these costumers with a clear understanding of their needs, wants and purchase tendencies.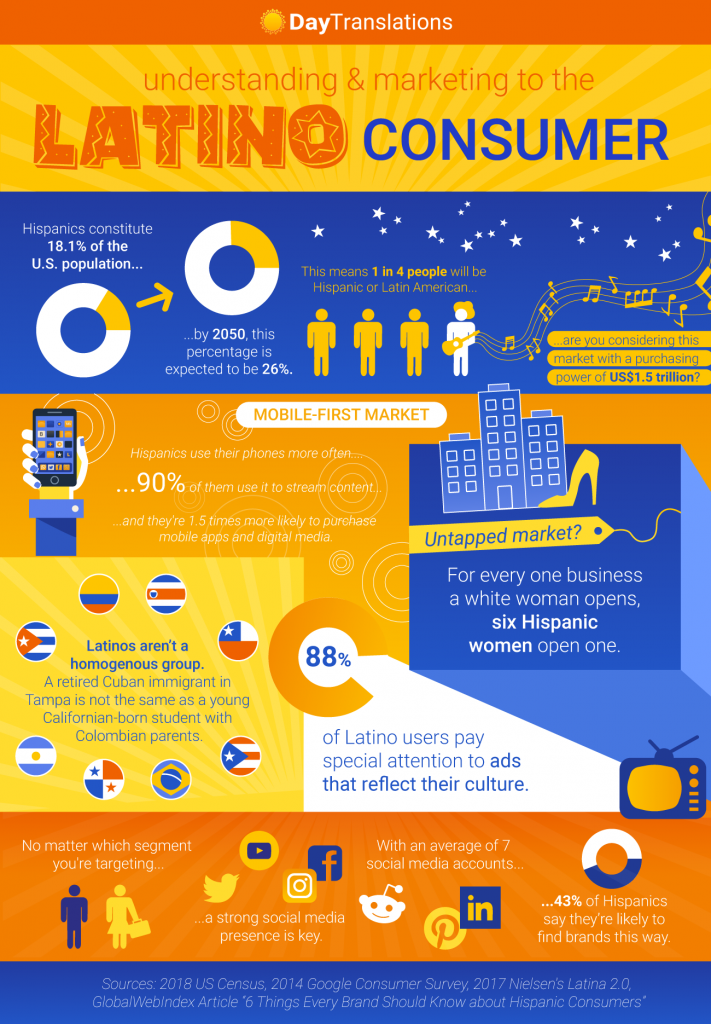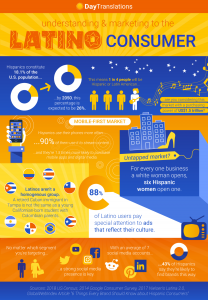 Now, no rushing. This sort of analysis takes time and special attention to detail. It would be a mistake to assume we´re talking about a homogeneous group when actually there are several factors that make it complex and diverse.
This article is intended for U.S. businesses and brands that are looking for a way to satisfy the demands of the large faction of Hispanic consumers. Let´s take a look closer at their buying behavior, keeping in mind that we´ll merely make certain generalizations for the purpose of marketing.
Latin America Buyer´s Club
First of all, we need to define the term "Hispanic"  as it relates to consumer behaviour. For the purpose of this article, we´ll use the term Hispanic to refer to Spanish-speaking people who descend from Spanish-speaking populations, such as Latin America, but live –and might have been born in– the U.S.A. 
We will not be discussing any other ethnical factors or studying a specific set of biological or cultural elements. Our aim with this piece is to analyse some behavioral patterns of consumers in order to help companies reach out to this fruitful market. 
Let's begin. For one, Hispanics are ambicultural, which means that they can easily transit between Hispanic and North American cultures almost without thinking. This makes them a unique group in the consumer landscape. A 35% of Hispanic households speak both English and Spanish at home, which is something marketers can easily exploit by communicating through both languages!
Another quality of this group is the use of technology. Hispanics tend to have a longer acculturation period than other demographic and ethnic groups since the stay connected to their roots and technology helps them to keep interacting with friends and family back home. This refers to a line of products that will always find huge demand and it's constantly expanding.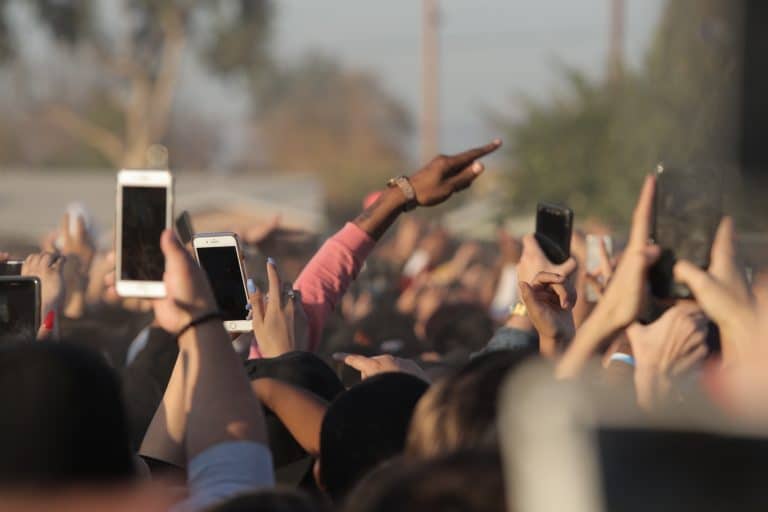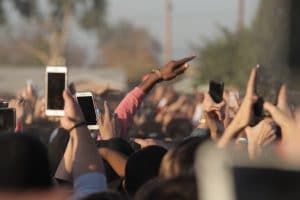 An example? 41 million Hispanics have a mobile phone and they spend 42% more than other consumers on mobile devices like tablets. 
But then again, as mentioned before, this group is also diverse. The main subdivision we´ll consider is ascendancy. There´s a difference in terms of marketing and demands between U.S.- born Hispanics and foreign-born Hispanics. It may seem like a simple demographic distinction, but it certainly reflects across purchasing behavior, and there can be found significant contrasts between these groups.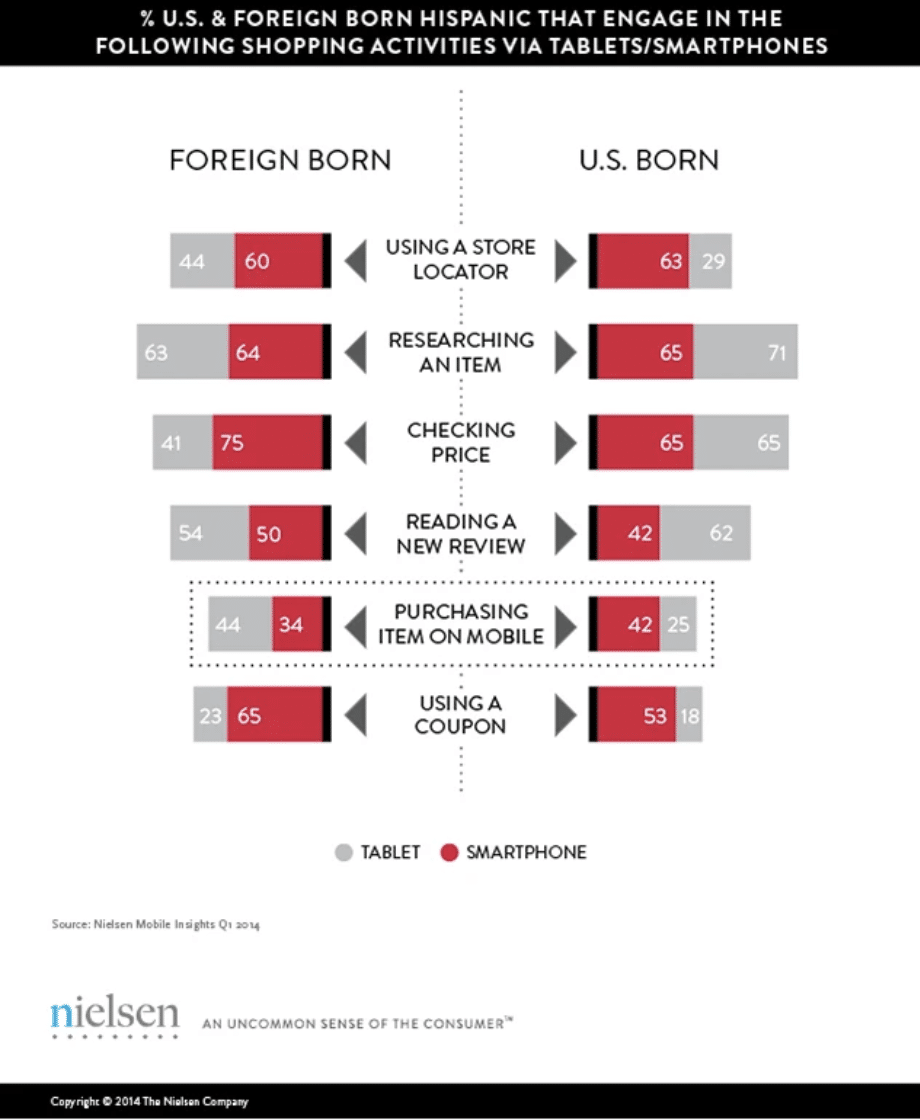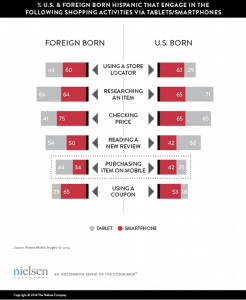 Among Hispanics, 64% of the total are U.S born Hispanics. They differ from foreign-born Hispanics in three main attributes: income (usually, they earn more money), household size (U.S-born Hispanics have smaller households), and age (they are younger). Also, U.S.- born Hispanics shop with a much higher frequency in terms of CPG (consumer packaged goods), fundamentally because of their higher incomes compared with foreign-born Hispanics. 
Standing out in their radar
Understanding what we´ve seen so far, the target becomes clear. That leaves us with a crucial question: the channel. Marketers will be able to efficiently connect with the Hispanic audience by taking a deep insight into social media usage. 
Media consumption is one of the key factors that will enable businesses to reach Hispanic buyers. Their main tool to learn about new brands is social media: 30% of Hispanics in the U.S. are more likely to buy a product advertised on a social media site since they spend a lot more time in online stores than the rest of the population.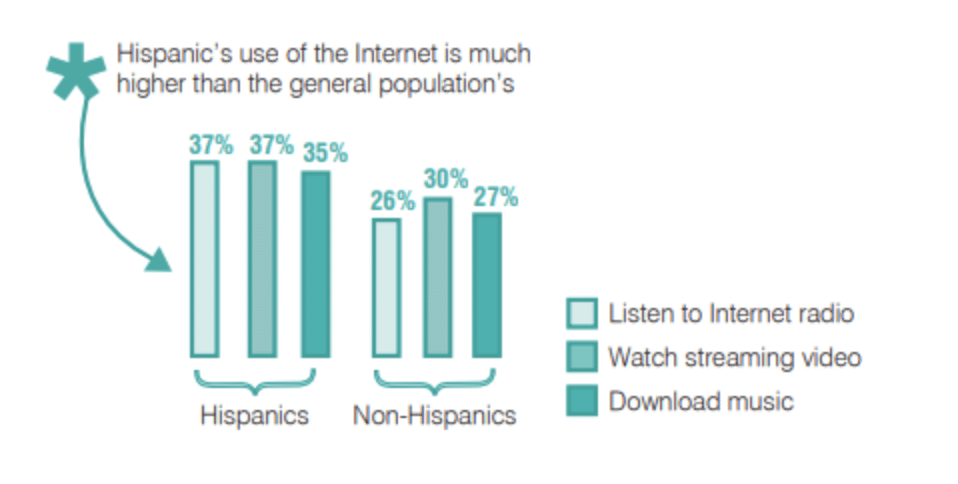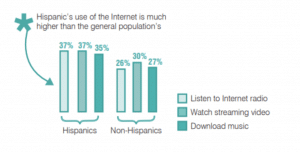 77% of the Hispanic population is engaged or registered in Social Networks. This proves the importance of those platforms. 
And that´s not where it ends. Another aspect Hispanics consider when choosing a brandis social responsibility. They take a special interest in those brands that have an active role in helping minorities and try to achieve a positive impact on social problems. In the same way, they find appealing brands that take reference in the Hispanic culture and incorporate characteristics of their traditions in merchandise. 
Remember that, as a multicultural audience, it would be smart to benefit from language preferences. English is actually the preferred language to Hispanics when using technology devices (there´s a 78% that choose to set their tech devices in English). Also, if you wonder how to obtain their trust as consumers, quality is what you need to be focused on because 62% of Hispanics say this is the factor that has the highest repercussion in brand loyalty.  
A tip you might find interesting is that 6 out of 10 Hispanics state that authenticity a must-have on any brand to be seen as appealing. So upgrade your message! Adding openness, honesty and creative output is a smart move so that it becomes transparent that your business decisions are 100% consumer-driven.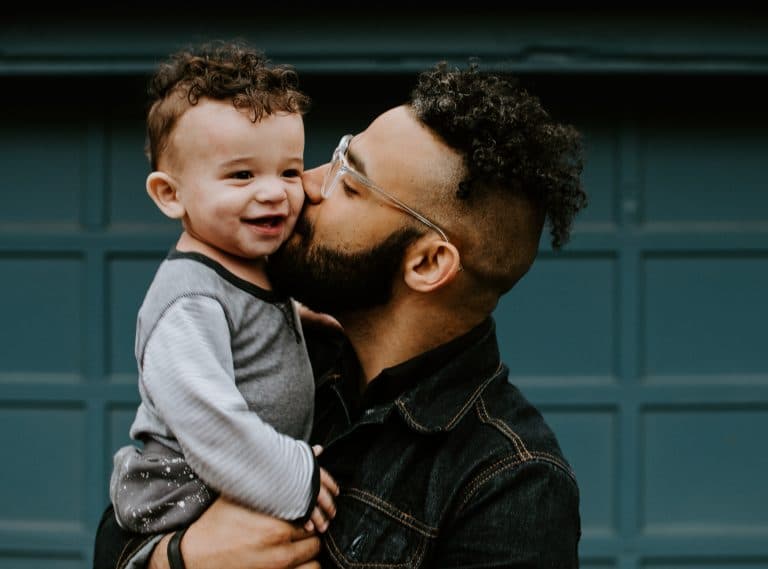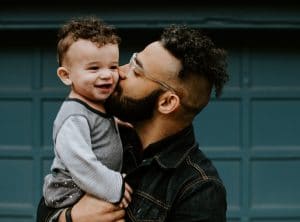 If you want to be one step ahead, cover two fronts. Hispanic consumers usually combine shopping in-store with researching online. From their perspective, shopping is almost a social experience. It´s not just going to a store to buy what they need. 
One last, but still important tip, is that the use of celebrities as ambassadors from your brand and products or service offer has proven to be a successful strategy among Hispanics to raise awareness (make them wonder what you sell and who you are, out of the influence of a character they might know). This will help establish a personal connection with the identity of your brand. 
If you´ve made up your mind about targeting this market, we offer outstanding localization services. Expanding your business and addressing another culture´s interests and needs is a challenging task, and we can guide you through your first steps to capture cultural nuances and apply them to your website, app, or any other digital platform you prefer.