With a growing number of companies going global and more markets opening their doors to international commerce, business owners are becoming more aware of the role of localization in their business' success, and starting to look for the best localization company to help them meet their goals.
There are thousands of language services companies in the world, although it is difficult to assess exactly how many companies and agencies serve the linguistic needs of clients worldwide. 
The translation industry comprises large, medium and small businesses. In 2012, the industry revenue estimate was $33.5 billion. The uptrend continued, and in 2018, it was around $37 billion. 
According to a Gala article, the translation industry's yearly revenue in 2021 will be approximately $56.18 billion. Europe gets the most significant slice of the market, followed closely by North America, where the United States has the most prominent industry share. Following these two regions are Asia, Oceania, Latin America and Africa.
The Future of Translation Services
There's going to be a higher demand for translation services in the near future. Incidentally, localization is a part of the offerings comprising the broader scope of translation services. Using English as a take-off point, the current demand is mostly for translation and localization into Spanish, French, German, Portuguese and Italian. These languages will continue to dominate. But there are requests for more languages, such as Chinese, Korean and Japanese, as well as Arabic and other tongues spoken in the Middle East, which, like Asia, is growing at amazing rates. 
In the next century, governments and companies will be communicating and publishing more frequently in several languages to reach their existing and potential business partners and consumers, as well as their multilingual employees around the globe. Thus it's important to keep the best localization company in mind.
What is Localization?
Localization is the process of adapting material (be it a website, a digital product, a marketing asset, or a manual) to engage a foreign audience.
When we localize, we have linguistic as well as cultural and technical aspects of the product in mind. For example, if we're localizating a website, we will carry out international search engine optimization (SEO), improving wider audience reach and helping increase web traffic conversion. Localization is concerned with making websites become more accessible to local users. Software products and video games also use localization to reach more users and generate more sales.  
Website localization includes adapting it to other cultures, ensuring all the elements (including web design) conform to the requirements of the target region. It covers the linguistic and cultural traits, and keyword trends as well as other elements, such as general terminology, measurement units and currency. Localization usually adapts sites to countries that speak various languages. However, it is also applicable to locations where one language has national or regional differences. For example, there are differences between American English and British English or European and South American Spanish.   
Best Localization Companies
Across businesses and corporations around the world, increasing demand for translation and localization exists, with the heightened need for languages other than English compelling the order. Moreover, there is an increasing number of products and services from non-English speaking countries reaching multilingual markets.
So now we have reached the decision stage. Which localization services provider are you going to choose if only two companies are in your shortlist: Day Translations and Lionbridge Technologies? Which one is the best localization company to meet your goals?
DAY TRANSLATIONS, INC. 
Day Translations is a global language services company founded in 2007. It's now on its 12th year of providing high-quality translation and interpreting services to numerous clients around the world. It is known for its accuracy, fast turnaround, excellent customer service, competitive pricing and its offer of multiple language-related services and solutions.
It is a member of the American Translators Association (ATA), Association of Translation Companies (ATC), National Association of Judicial Interpreters and Translators (NAJIT), New York Circle of Translators, Inc., Arabic Professional Translators Society, Asociación Colombiana de Traductores e Intérpretes and the Globalization and Localization Association GALA). 

The company operates in 28 key cities in the United States and maintains offices in 38 globally-important cities worldwide such as Tokyo, Seoul, Beijing, London, Qatar, Cape Town, Israel, Mumbai, Rome, Ho Chi Minh City, Quebec and Tel Aviv. 

Day Translations offers translation, localization and interpreting services in over 100 languages. 

It has more than 70 employees for its U.S. and global offices and works with over 20,000 native-speaking freelancers who are living in various locations worldwide. 

Day Translations has an impressive roster of top-ranked clients in the different industries it serves, including Tesla, Bank of America, American Red Cross, Global Maritime, H&M, Samsung, Legal Aid Society of Hawaii, Stanford University, Chicago Title Insurance Company, Turner Sports, and Fox News.
Day Translations aggressively markets its localization services for websites, video games and software. Each localization project undergoes meticulous analysis by its team of experts in different fields. The company is detail-oriented, giving special attention to brand names, colors, imagery, humor, metaphors and slogans that are tricky to translate and localize.
The localization process team conducts extensive research about the target location and internationalize all the assets in preparation for the localization process, which includes the following steps:
Content analysis

Content management

Translation

Desktop publishing

Back conversion

Quality assurance

Final in-content QA

Finalization
Day Translations' CEO, Sean Hopwood, emphasizes the company's policy to offer full service for every translation project it accepts. For localization, the scope of work is end-to-end, covering various localization-related processes, such as:
Technology support.

  For the right development approach

Content management.

 Retrieving all available content to be localized and managing updates

Transcreation.

 Identifying the core of your message and adapting them to the appropriate words and phrases in another language

Transcription.

 Documenting other materials into written form

Voice over and subtitling services.

 Providing suitable voice talents and subtitling specialists  

Client brief. 

Preparing client brief, extracting the right tone and intent of the document

Function and linguistic testing.

 Ensuring that users will have maximum user experience and checking the site for efficient and error-free performance
The company guarantees that the digital presence of your services and products is above par.
Among its localization-related services, Day Translation offers multilingual copywriting for off-page and on-page materials, from blogs, taglines to whitepapers, brochures and newsletters. The company provides multilingual marketing services, from global SEO services, PPC advertising services and solutions for international social media management (SMM).
LIONBRIDGE TECHNOLOGIES, INC. 
Lionbridge Technologies, Inc. is a global language services provider since 1996. It specializes in translation, internationalization, localization, interpreting, content development and software development and testing services.
Lionbridge provides language services to various industries, including banking and finance, gaming, industrial manufacturing, legal services, life services, retail, automotive, consumer packaged goods, technology, and hospitality and travel. 

It translates in over 350 languages and operates in 28 countries in Europe, North America, Asia and South America. According to Lionbridge, it employs 6,000 people and has a network of about half a million freelance linguists located around the world. 

Lionbridge serves over 2,000 prestigious clients worldwide, such as Johnson & Johnson, Credit Suisse, Lowe's, Nexon, Audi, Coca-Cola, Dell, Siemens, and Singapore Airlines. 
The company offers a wide array of services, including:
Content creation

Technical content services (technical content, including technical writing, training and e-learning, CAD and 3D modeling and media).

Specialty content services like financial reports, marketing documents, web content and scientific articles
Lionbridge ranked first in the Common Sense Advisory's Top 100 Language Service Providers for 2016 and 2017 and got the second spot in the 2018 survey of the same organization.
It offers translation, transcreation and localization services for global brands. It handles the translation of regulated content such as clinical trials, drug labels, medical devices, electronic clinical outcome assessments (ECOA) and financial reports.
Lionbridge has specialists for website localization, device, app and software localization and multimedia localization including audio/video production and subtitling. Services are available 24/7.
Multilingual marketing is another service Lionbridge offers to its global customers. The company's linguists translate marketing materials into culturally appropriate, targeted and relevant campaigns. Aside from written documents, Lionbridge likewise handles multilingual digital campaigns and website optimization for international SEO.
Localization Services
These two companies rank high when it comes to localization services. If you need to localize your website, brand information and software and video games into different target languages, see to it that you choose the best localization company. It should offer the right kind of services you need that fit your budget, your corporate culture and your marketing strategies. One way to help you make the right choice is to read industry-related reviews and those coming from trusted organizations, such as Comparably.com.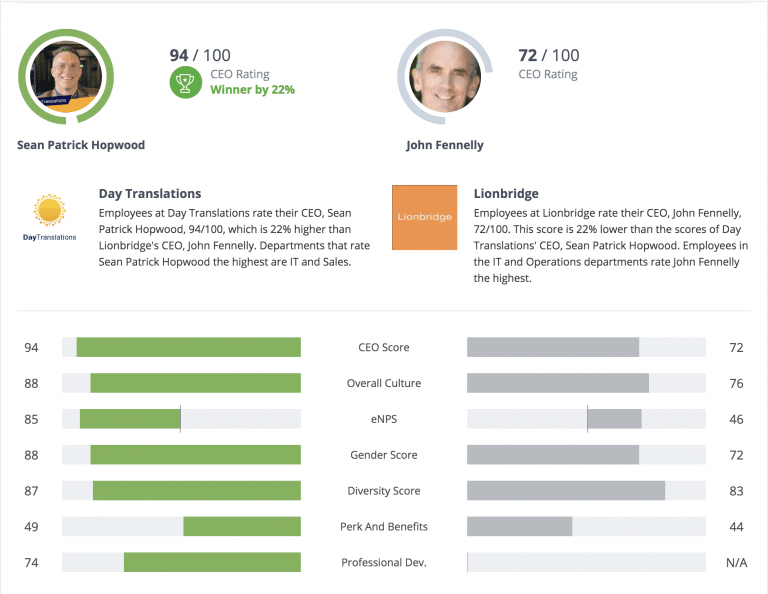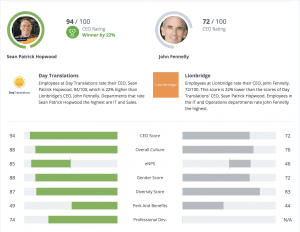 Partner with an International Localization Leader
Day Translations, Inc. is ranked as one of the industry's best localization companies, so you cannot go wrong in choosing Day Translations as your localization partner. Our language specialists are all native speakers and living in-country, which means that not only do they have full understanding of the nuances of the local language; they understand local culture as well. Plus, they are available 24/7 so you can give us a call anytime at 1-800-969-6853 or send us an email at Contact us, as we are open every day of the year.