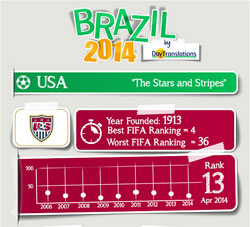 The United States could be forgiven for thinking an astrological alignment, or some other cosmic force, has influenced the course of its national team over the last decade, as Team USA seems destined to be placed in Germany's shadow, for better or worse. After impressively reaching the World Cup quarter-finals in 2002, it was Germany who sent the Americans home with a score of 1-0; Jürgen Klinsmann, a German, then joined the U.S. team in 2011 as coach, leading an American victory against Germany in a mid-2013 friendly game, 4-3; and now the American team faces not only Germany in Group G, but Portugal as well. The U.S. is currently ranked 13 on the Elo list, but the Guardian's consultation with "Brazilian superstar" Zico has led him to concede that the squad does not have the fast attacking players they need. However, Zico added that Klinsmann's knowledge of the Germans is an advantage and will form the basis of his on-field formation. In conclusion, Zico reminded fans that a friendly match and a World Cup finals match are two completely different events. America's football supporters will be hoping that Sunday's victory against "dark-horse" contenders, Nigeria, is a sign that will guide Team USA into the 16.

Embed the USA Full Infographic
Medium JPG – 600×2000 (946k)
Instruction: Please copy the code below and paste it on your website.