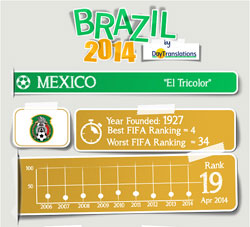 After host nation Brasil, the Mexican squad's matches sold out the fastest for this year's World Cup finals event. Having qualified for their sixth successive tournament, the El Tri is accompanied by a massive following "north of the border", as the "Pancho Villa's Army" fan club was founded in 2011 to accommodate the prodigious Mexican and Mexican-American population in the United States. However, while the team's fan base is considerable, Mexico does not have a comfortable path ahead of them as far as football is concerned. As members of Group A, Mexico not only stands in the immense shadow of Brasil, but the "indomitable lions" of Cameroon have also been considered superior by Bloomberg. Mexico's coach Miguel Herrera has only been with the team since last year, so the Army will be hoping that the stars can align in accordance with his preferred 5-3-2 formation.

Embed the Mexico Full Infographic
Medium JPG – 600×2000 (946k)
Instruction: Please copy the code below and paste it on your website.