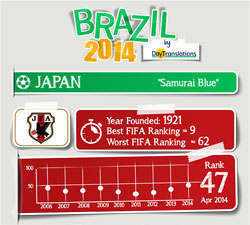 The Samurai Blue has been working with a new coach since South Africa's 2010 finals, as Japan selected former Milan and Juventus manager Alberto Zaccheroni to oversee their entrance into the quarter-finals in Brasil this year—a feat not yet achieved by a Japanese national team. To the delight of his new employers, Zaccheroni was quick to impress, after Japan beat Argentina—one of the top favorites for this year's finals—in 2010, with a final score of 1-0. Even though the media and data analysts, including financial giant Goldman Sachs, have not heralded the arrival of a promising Japanese "dark horse" next month (the Guardian's "Experts' Network" writes that the team is "weak in defense" and lacks a "top-class goalscorer"), the Samurai squad left Costa Rica in its wake after a 3-1 victory in Florida, U.S. earlier this week. Bloomberg Sports' "Power Ranking" of 20 may well be the advantage that Zaccheroni's young team needs to prove itself in Brasil this year.

Embed the Japan Full Infographic
Medium JPG – 600×2000 (946k)
Instruction: Please copy the code below and paste it on your website.