Thinking about a trip to Thailand? Or maybe you're already there and want to learn more about this beautiful country in Southeast Asia. Thailand is a country with a rich history and its language is a big part of that. 
In this article, you'll learn about the origins of the Thai language, influencing cultures, and see some examples of writing. So, let's get started with the origins of the language! 
What are the origins of the Thai language?
The Thai language originates from the Tai language family. This language family is distributed throughout Southern China, Southeast Asia, and Northeast India. That's why Thai shares many similarities and words with other languages in these areas. 
Written Thai was introduced in 1283 by the third Sukothai period king, Ramkamhaeng. Modern-day Thai people are still able to read the original language from 100s of years ago because it hasn't seen many changes since its inception. Naturally, this plays a major role in preserving old cultures and traditions. 
But everything could have been much different if the original Tai language script wasn't changed from Chinese characters. In the same century that the written Thai language was introduced, the older Tai written language was changed to Old Khmer script. Old Khmer had its own history which weaved aspects of Sanskrit and Pali into the Tai language.
Buddhism—usually associated with Thailand— came from these same origins as well. This is because the main religion of the Khmer people was Buddhism. That's why modern-day Thai shares words with many different languages from around the region.  
Previously Thai was known as Siamese because Thailand was called Siam. This name stuck around until about 1948 but ultimately changed to the name you know today. 
Influencing cultures
The Thai language has influences from the Tai language family that it originated from. But wars and the flux of conquering kingdoms were important reasons as well. 
In the past, Thailand was made up of many smaller kingdoms which were all vying to be the best. Local kingdoms weren't the only competition though. There was also opposition in the areas we know today as China, Cambodia, and Myanmar (Burma). 
Between the fighting of North against South and the rest of Southeast Asia getting involved, a melting pot of cultures was created. As kingdoms won, their languages became an influence on the local areas they occupied. So even if they tasted defeat in the future, their contribution was already made.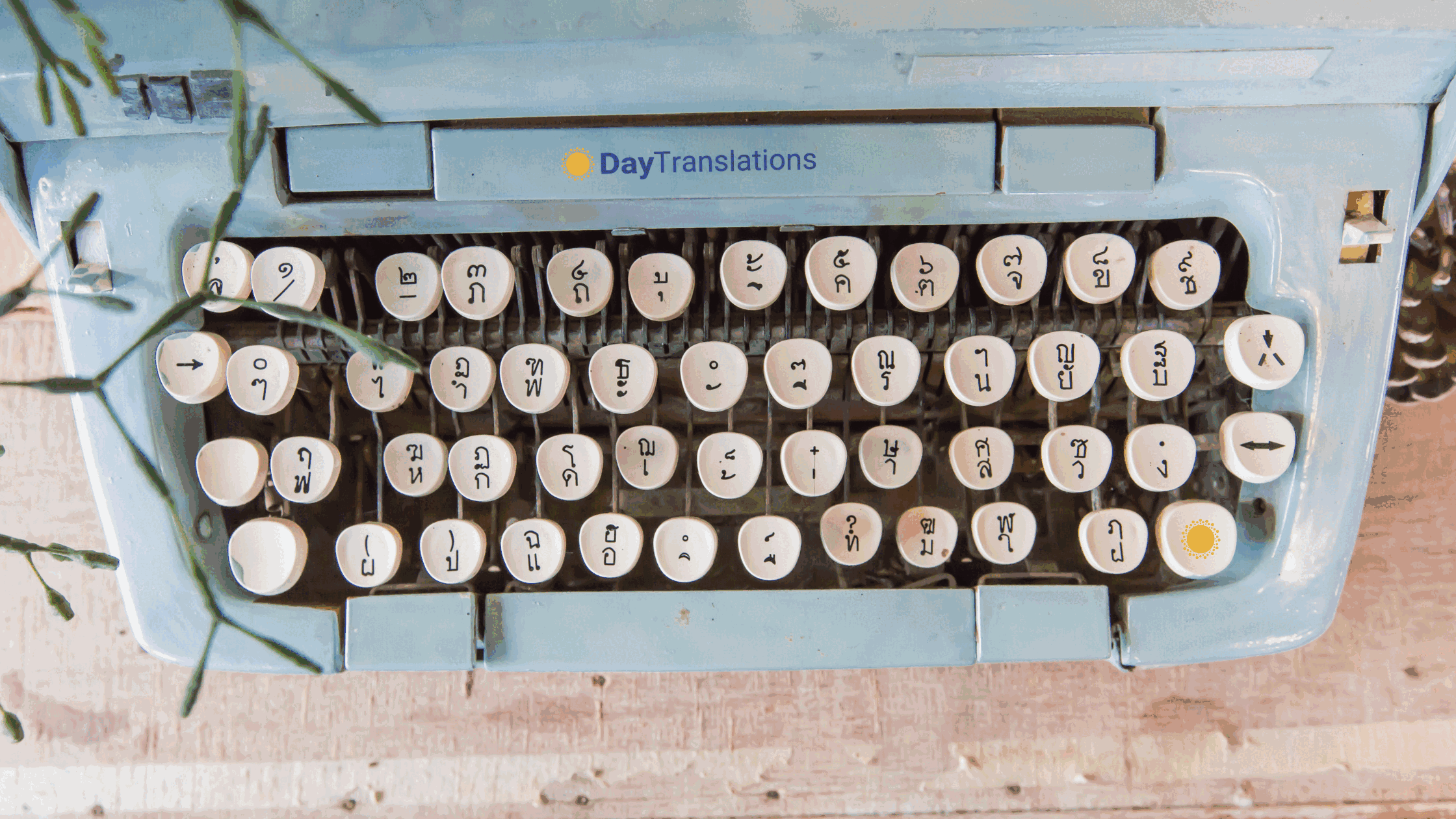 The Thai language and its dialects
In Thailand, there are still varieties of the language present. But there is an overarching variety that most people use. 
The first step in moving from Tai to the modern Thai language was for it to split into different dialects. These became Central, Northern, and Southwestern Tai. Through the past skirmishes and wars, Southwestern Tai split further into Lao, Thai, and many smaller variations. This was the beginning of the modern-day Thai language. 
In Thailand today, there are different dialects in the North, South, Central, and Northeastern parts of the country. The main dialect comes from Central Thailand and is also known as 'standard' or 'Bangkok' Thai. 
Besides Bangkok Thai, the Northeastern dialect known as Isaan is also prominent. This language is a mix between Bangkok Thai and Lao—the language that split from Southwestern Tai.
Alphabet and grammar
While the English alphabet consists of 26 characters, Thai has 44 consonants and 15 basic vowels. There are more but these aren't used much anymore—lucky for anyone that has to learn it! 
Like English, sentences are written from left to right. But vowels are written below, above, after, and before the consonant. 
A major difference from English is that it's a tonal language. This means that similar sounding words have different pitches. And it's these pitches that determine the meaning of the word. In Thai, there are 5 tones: high, low, mid, rising, and falling. 
Words and writing
Since Thai was derived from Chinese and Khmer script, the writing is much different from the Latin alphabet in English. And, although English is taught in all public schools, much of the population doesn't speak it. It's estimated that about one-quarter of the population can speak English, but most people speak it at a very basic level. 
So if you're looking to communicate with the 8th largest economy in Asia, making use of a translation and localization service is essential. The translation is the first step but localization goes a step further to ensure your content is optimized for your intended country. 
This is especially important in a country that has a different predominant culture and religion. Some expressions or ideas from the West have the potential to clash with Eastern cultures. So by making sure that your business adapts, you give yourself the best chance of success. 
Here are some examples of Thai words and writing.
Greetings
In the Thai language, the use of a polite participle is much more common than the equal in English. 
Here's an example of saying hello:
สวัสดี (sawatdee) + ครับ (khrup) / ค่ะ (kha)

– Sawatdee = Hello
– Khrup = Polite participle if you're male
– Kha = Polite participle if you're female
หวัดดี (watdee) + ครับ/ค่ะ (khrap/kha)
– Watdee = A less formal way to say hello

Modern-day Thailand
These days, Thailand is a melting pot of cultures and languages from all over the world. People fall in love with its relaxed lifestyle, unique cuisine, and idyllic beaches. If you haven't seen it yet, definitely add it to your bucket list. But make sure you learn some basic Thai language before you do. Or you might be stuck using Google Translate too often!