There's a wholesome story that goes a little like this: For years, shoppers would flood the malls after the celebrational dust of Thanksgiving had settled, and the surge of spending put many retailers "on the black" for the rest of the year. But the name Black Friday wasn't always used in this sense.
Every year, the famous sales weekend that follows Thanksgiving Day sees millions of shoppers head to high street stores and online brands to find the best deals. Big names like Amazon, Argos, and John Lewis all launch a range of offers with further discounts following until Cyber Monday. But much of the modern world has forgotten (or are oblivious to) the origins of Black Friday.
Before retail came up with a shiny spin to the event, the name Black Friday actually had a much more sinister meaning. Here's the real story of Black Friday!
Where Black Friday Started
Black is usually connected to bad events, and when we've had a bad day, we usually see it as a black day. There's a similar connotation to the origins of Black Friday. You see, the earliest records of the term Black Friday dates back to 1869, and to be frank, it had zilch to do with festive shopping cheer. It was actually the day that gold prices plummeted so much that it caused a market crash, and the effects of this catastrophe were felt for years afterward throughout the U.S. economy.
The idea of Black Friday that we're used to today was first implemented in the early 1950s or 60s in Philadelphia, and it was a traffic cop that dreaded the day that coined its name! Over in Philly, the Police Department used the term to describe the disastrous traffic jams and crazy crowding of downtown retail stores. To the Philadelphia Police Department, Black Friday is by no means a term of endearment. What it marks is the opening of the city center for Christmas shopping, drawing in massive crows that can easily cause chaos in the streets.
Glamourising a Dreadful Occasion
Retailers weren't loving the idea of using Black Friday in a gloomy light. After all, it was a day that would mark some of their most significant revenues. Naturally, they put a positive spin on a day that was classified by chaos.
In 1961, P.R. professionals tried to change the perception of Black Friday in the eyes of the public. They even attempted to call it Big Friday instead of Black Friday so it would signify a day of family fun and shopping. Needless to say, the term Big Friday didn't stick, but today, people don't view this day as dreadful at all. Retailers take full advantage of the event every year, and the rewards come in the form of a significant portion of their yearly sales!
In 2019 alone, online sales during Black Friday reached a record high of $7.2 billion, which was 14% higher than the 2018 event's figures.
Global Black Friday Expansion
From its gloomy origins, Black Friday emerged as a global shopping bonanza. Along with the USA and U.K., the concept of Black Friday spread to continents and countries across the globe, including Germany, Norway, Romania, India, Brazil, and South Africa, to name but a few.
The Mexican version of Black Friday is called "El Buen Fin," which translates to "the good end." In the UAE, bargains are on offer during this shopping event, but it's called "White Friday," not Black Friday. 
China also has its own version of the shopping event, called Single's Day (or Double Eleven Day), and it's held on the 11th of November every year. Established initially as an opposition to Valentine's Day celebrating single people in the 1990s, the day is now one of the world's most significant 24-hour shopping events!
Wrapping Up
Although it's a great event for retailers and shoppers alike, Black Friday is also a dark representation of consumerism. Violence and injuries have been common occurrences at Black Friday sales over the years. Although social distancing and life in a world that's slowly emerging from a pandemic might not see overcrowded stores being the norm again any time soon, the ripple effect of the pandemic might still cast an element of gloom over this event.
The good news is that technology has enabled us to shop from the comfort and safety of our own homes, so if you must participate in the shopping shenanigans, try doing so from behind your computer or smartphone screen. And importantly: if your budget doesn't allow you to indulge, don't break a sweat!
After all, Black Friday is much less cheerful than the retailers want you to believe!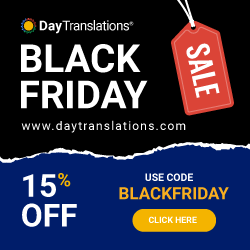 Use our Black Friday coupon to help you and your business – BLACKFRIDAY for a 15% off all our services.
Coupons are valid till Black Friday (26th of November of 2021) and are not accumulative with other offers from Day Translations.