It's possible to translate Google Ads campaigns, but for PPC (Pay Per Click) and SEO (Search Engine Optimization) purposes, it is better to not only translate the Google Ads but to localize them for the specific target audiences. Moreover, do work only with professional and native speaking translators to handle the translation and localization of Google Ads campaigns.
Basic Things to Do to Maximize the Use of Google Ads
1. Localize
Why should you localize Google Ads instead of just translating them? The answer is simple. People speaking other languages do not use the same terms English speakers use when searching. For example, an English speaker searches for "cake" while a Spanish speaker would be looking for "torta." But in Mexican Spanish, torta is a white bread sandwich with meat, avocado, egg, ham and vegetables. It doesn't mean that Mexicans do not search for cake. They do, but they use "pastel" instead.
In the Philippines, where many words are derived from Spanish, "torta" may be an egg omelette, fried eggplant dipped in eggs, fried eggplant with ground pork dipped in whisked eggs or scrambled eggs with minced potato and onion.
The examples above show you that you have to know the right terms that your potential audience in other countries use because they are not universal. Moreover, people who speak other languages tend to search using the terms they commonly use instead of the standard translation.
2. Consider the Length of Words
The length of your description lines and headlines matter, since translation into other languages often makes them 25% longer. Thus you always have to think of Google's the recommended length for Google Ads. Currently you can have the following:
· 3 headlines with 30 characters for each line
· 2 description lines with 90 characters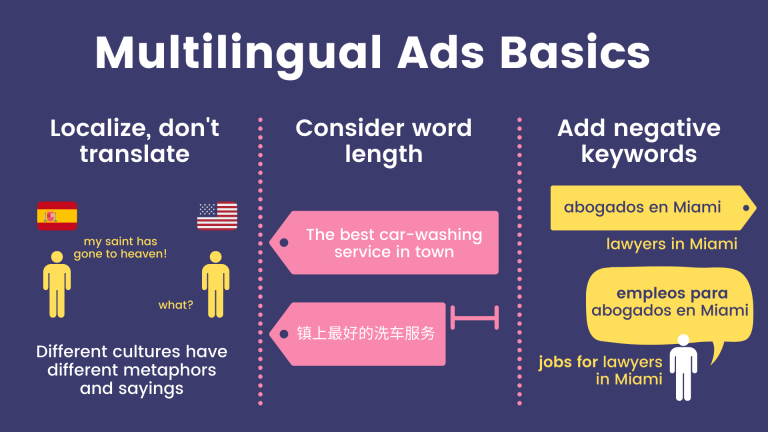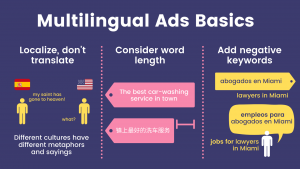 The Expanded Text Ads of Google allows you to have a maximum of 300 characters. Thus you have to always consider that the English keywords you use may not fit even the new character allocation. See to it that you work with a translator who has experience in SEO to ensure that your Google Ads are properly localized and your main keywords appear in the localized text.
3. Include Negative Keywords
Google explains that negative keywords allow you to exclude particular search terms from your Google Ads campaigns so you can focus on the specific keywords that relate to your consumers. This helps in better targeting since your ads will appear to users who are interested in your product. It means that you choose not to target other products that may be similar. If you are running a search campaign, for example, you should include some negative search terms that may be the same as your specific keywords, but actually, apply to other customers who are looking for another product.
For example, you are an optometrist and you sell eyeglasses aside from providing optical services. Some negative keywords you can add are drinking glasses and wine glasses.
Understanding Google Ads
Google offers an advertising service called Google Ads (formerly AdWords). The digital marketing firms utilize the service to set up the appearance of PPC ads that are included in the results page of Google. It's a great tool for global business expansion. It helps website owners and businesses to display targeted advertisements to potential customers who are searching for something using keywords that act as triggers for Google to display the ad in the resulting search page. The Google Ads appear on top of the search results, helping companies sell their services and products.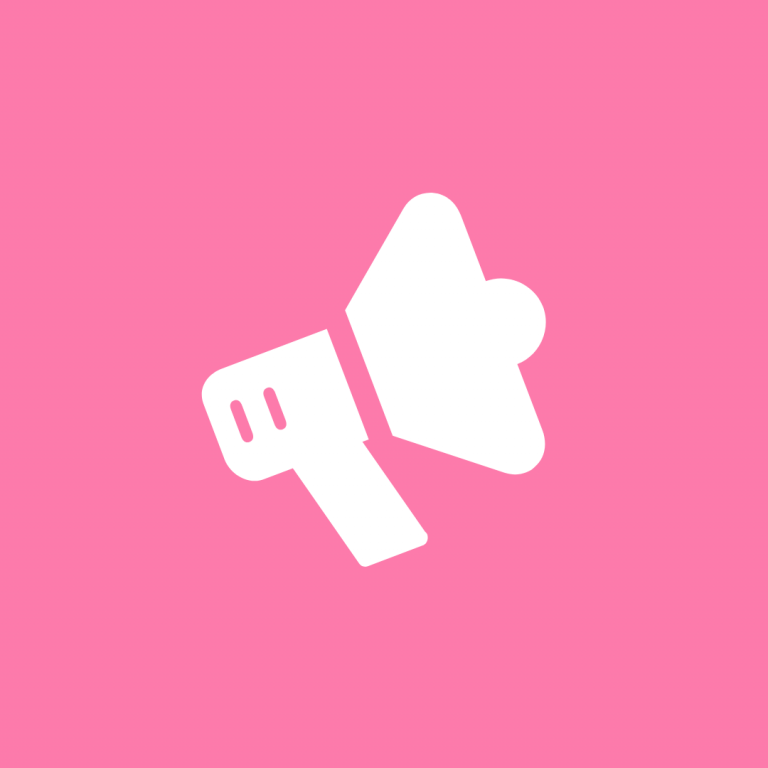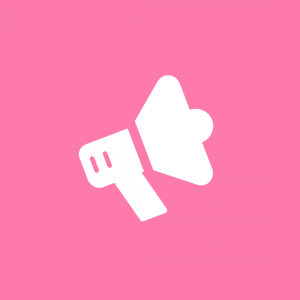 If the company is engaged in global expansion, professionally translated advertisements are necessary for a company's global marketing strategy.
Google Ad campaigns consist of two files. One file has the keywords that will activate your ads. The file may contain words and word combinations by the thousand. The other file has your advertising text, formatted to conform to the requirements and character allocation specified by Google.
Translation and Localization of Google Ads
It's vital to keep in mind that proper translation or rather; localization of your Google Ads will maximize conversions.
There's huge potential in Google Ads, which is why it is vital for companies to maximize its use. While you target English-speaking consumers, enjoy the potential of Google Ads to reach more customers by translating the content of your Google Ads.
________________________________________________________
We're so happy you're enjoying this article! Did you know this is only a small part of our full  Global Marketing guide? We suggest you check it out so you can have a more comprehensive understanding of what you need in order to go global.
________________________________________________________
How to Successfully Translate Google Ads
First thing you do is find a professional translator experienced in localization and has a solid background in SEO and knowledgeable in digital marketing.
1.You and your translation provider must discuss if you have to add more keywords for each of the market you are targeting. It's not only because many search terms have different meanings in other languages. Users in other countries may use different search terms. For example, German users may use the English word "trainers" to search for sports shoes. But they can also use the German term, "Sportschuhe" that means the same thing.
While translating the most relevant search terms in your list, the translator can help you eliminate spelling errors during the translation, especially when it comes to plural terms.
2. Another consideration would be the misspelt search terms, as typed by users. These have to be included in the list. The translator and you must decide if they are to be translated or the errors in spelling should be reproduced in the target languages.
3. It's vital to not miss those accented letters in specific keywords. The client should know that versions without the accents should also be included in the keyword list.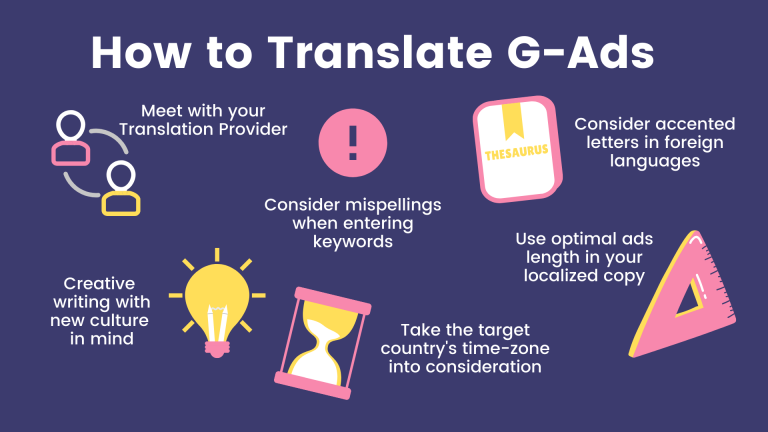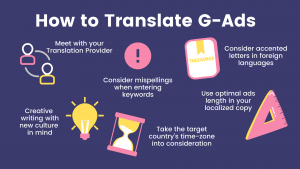 4. After translating the keywords, the advertising copy is next. This is the difficult and tricky part. The original copy may be appealing using a few words, but may require additional words when translated into another language. Aside from the restrictions on the number of characters Google Ads allows that must be strictly followed, the translator faces the challenge of the translation getting naturally lengthier than the original text.
5. The cost of translation will be a big factor in your Google Ads campaign budget, especially if you have thousands of keywords. For example, users can search for "trainer," "sports trainers" or "trainers." They are related but it's necessary to
include each search term.
Find a translation provider that can offer you different options to keep your translation costs down.
6. Other items that require attention are punctuation marks. They perform a particular function in Google Ads and have the potential to modify how your advertisement appears on the screen. If you have a full stop at the end of your first description line, it will cause the description line to move up and be part of the advertising text.
The original configuration of the Google Ad should be maintained, meaning the translator must not remove or add any punctuation mark to the translated text.
Localization Option
As mentioned earlier, translation of Google Ads may work, but in most cases, it is better to have the search terms and the advertising copy localized.
Something that's important is adapting the text to the local target, if the advertisement or the keyword list has geographical references.
If the ad copy exceeds Google Ads' character limits, it is vital for the translator to discuss the situation and propose a new copy with similar meaning that will fit into the requirements set by Google. Thus, the translator should also be a creative writer to come up with an alternative ad copy.
Translation of Your PPC Campaigns
The same process applies when you run PPC campaigns in Google Ads. It's a more effective and efficient way to reach more customers without spending too much. Some website and business owners use this option because they do not have the resources to have multiple versions of their websites.
Localization of the advertisement is important in order to communicate with the target audience appropriately. Do not attempt to translate your ad copy even if you are bilingual. The considerations are numerous and conforming to the requirements of Google Ads is difficult. You need to keep in mind that native speakers will quickly spot translation mistakes, which can lead to them ignoring your PPC ad.
You must employ a translator to ensure that your landing page conforms to the language of your PPC advertising text. Otherwise, you are going to confuse the customer.
Use these tips to translate and localize your Google Ads campaigns and be sure to work with a professional translation service provider to ensure the accuracy, adaptability and high quality of the translation.
Boost Your International Audience Reach
You're running Google Ads campaigns and traffic to your website is increasing. But you can improve and widen your audience reach by utilizing global ppc advertising services. Day Translations, Inc. can help you do that with our free translation tool to quickly check the right translation in any language. If you want a full-scale localization service, we can help as well. We offer a full suite of language services, professionally done by native speaking translators who are located in-country. It's an assurance that they fully understand the nuances of the language. Moreover, they know the local culture and the requirements of the local consumers. Give us a call anytime at 1-800-969-6853 or send us an email at Contact us. We are open 24/7, every day of the year so you can reach us immediately