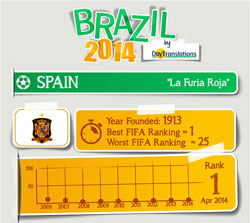 As the 2010 victors, it made sense that Spain was included in this week's World Cup squad announcements; of course, the final 23 will emerge on 25 May. Spain, in the past six years your national team has won back-to-back European Championships, as well as the World Cup, so Vicente del Bosque may be the person carrying the heaviest load of expectation at the colossal event next month. Interestingly, Real Madrid's Álvaro Arbeloa—a member of the 2010 squad, as well as the two European Championship teams—was not included in this week's provisional team. But, an even greater shame may be the knee injury sustained by Thiago Alcantara on Thursday—he will miss both the German Cup final and Brasil 2014! However, if any team can prove itself against adversity, it is Spain, so we wish the defending champions the very best!

Embed the Spain Full Infographic
Medium JPG – 600×2000 (946k)
Instruction: Please copy the code below and paste it on your website.