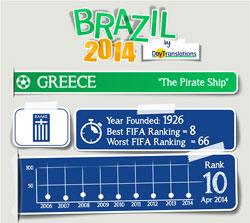 If you are looking for a national team that is truly battling the odds going into Brasil 2014, then Fernando Santos's Greek squad will most likely catch your eye. Against a backdrop in which a financial crisis deeply rattled the nation, Bloomberg Sports is predicting that Greece will only lose or draw within Group C, while also according the team a low 1.5 percent chance of winning the finals. Even the Euro 2004 victory was dampened by the Bleacher Report, who labeled the achievement a "shock of enormous proportions". However, Greek players have only been positive in the media over the last couple of weeks, reassuring fans that the team is "like family" and that they are seeking to bring "joy" to a dispirited population. Hopefully for Greece, the "safest choices" of Santos will be beneficial next month.

Embed the Greece Full Infographic
Medium JPG – 600×2000 (946k)
Instruction: Please copy the code below and paste it on your website.