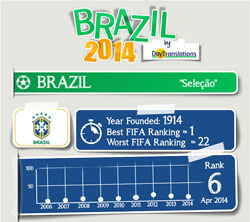 Under the direction of coach Luiz Felipe Scolari, the Seleção ("The Selection") has emerged victorious from 13 of its last 14 matches. While unrelated legal matters may be causing unhelpful stress for Solari, he has won the favor of Brasilian fans over the last 12 months, having also provided them with a Confederations Cup win last year. Deemed the favorite by Bloomberg to take home the Cup, the confidence of the team might be why a final squad is already known, while other nations continue to finalize; after all, the world's most successful World Cup nation—with five wins—was described last week by football writer Zico as having a team that will "go for the opposition's jugular." The rest of Group A may find that their Brasilian vacations are the briefest of the entire competition.

Embed the Brazil Full Infographic
Medium JPG – 600×2000 (946k)
Instruction: Please copy the code below and paste it on your website.