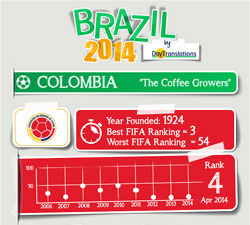 If there is a nation that will be participating in Brasil 2014 with an intensive weight on its shoulders from an almost unbelievable history, Colombia is the most likely contender. Following a 16-year drought since the Colombian national team last qualified in 1998, the historic event that will most heavily hang over the Group C team will be the own-goal from Colombian captain and center back Andrés Escobar in the 1994 World Cup against host nation, the United States—not only did Colombia lose the match, but Escobar was later shot dead over the costly (and deadly) mistake. However, similar to the outstanding form of the 1994 Colombian team, this year's squad finished with the best defensive record after the South American qualifiers, with 13 goals; so Bloomberg's placement of Colombia at the top of its group is warranted and the nation's demons may finally be laid to rest this year.

Embed the Colombia Full Infographic
Medium JPG – 600×2000 (946k)
Instruction: Please copy the code below and paste it on your website.