Chipotle Mexican Grill, one of the U.S.'s most successful and recognized chains of fast-casual restaurants in the market, is on a new strategy. Chipotle specializes in a wide menu of tacos, burritos, burrito bowls–a burrito without the tortilla–and salads. The brand's focus is on high- quality ingredients from which customers can choose to make up their orders themselves.  In this article, we'll do a brief review of this company's journey, and we'll then dive into Chipotle's international expansion, its main drivers, and the implications in the final product to be offered.
It all started as…
…a single restaurant in Denver, Colorado, in 1933. Steve Ells, the founder of the company, helped shape the world of quick-service restaurants. Even though the initial analysis concluded that the store would need a minimum amount of 107 burritos sold per day to be profitable, after its first month, the restaurant was selling around 1000 burritos a day.  
The Numbers Behind Chipotle's International Expansion
As of 2018, the company already operated across  2,452 restaurants throughout the U.S. and another 37 international locations. With over 73,000 employees, Chipotle was reaching a net income of 176.5US$ million. 
When running a SWOT analysis of the company, one of the current weaknesses of Chipotle is its recent rise in menu prices for some items, which lead to a loss of customers in favor of a competition that hasn't implemented premium pricing as of yet. Actually, competition in fast-casual restaurants has increased considerably–with the introduction of chains such as Shake Shack and Panera Bread–, and adding a new product line in efforts to not be left behind might jeopardize growth.  
One terrible threat to the company has been the series of foodborne illness outbreaks that occurred in the U.S. over the last few years. The value of Chipotle's stock has decreased by up to 50%. These are some of the reasons behind the decision of reaching out to new markets. 
Transparency, a market research company, states that the global fast-food market is projected to reach about $620 billion driven by increasing demand from the Asia Pacific. Chipotle is also preparing to grow in Europe since the current majority of its restaurants outside the U.S. are only in Canada. 
Chipotle's International Expansion Strategies
Recent official announcements run by the company suggest the decision to increase the company's  presence throughout the European continent. 
One of the main obstacles the restaurant is expected to face with this strategy is of cultural nature. Mexican food is simply unfamiliar to many european customers. This is why it would be vital for Chipotle to invest in marketing as an educational channel to help the public learn about the product, entice them to try it, and recommend it to others.
Now, this may be no news to some. Mexican food has always had a hard time gaining consumers in countries like the U.K. In the late 1980s when Taco Bell was launched with three stores in London and one in Birmingham, they couldn't find a profitable market and the outlets were closed by the mid-1990s. 
Experiences like these have encouraged Chipotle to invest in extensive customer research for different scenarios. In fact, to the point of considering and implementing radical changes in the menu and ingredients. Their future content, media, messaging and innovation strategies would be based on those observations. All in an effort to not go down the same route as Taco Bell. 
Food for thought
Why do these brands have no trouble succeeding within the US market? Especially if the culture resembles the U.K. more than it resembles Mexico? For one, we could take proximity as an influential factor. Given their geographic location, there are more Mexican immigrants in the U.S. than in any other European state. This way, Mexican food icons such as salsa, guacamole, and tacos have spread more easily in the former. There are cases where it wasn't even about the food, but the technique. In Y Taco Bell some customers in the U.K. would have basic questions on how to eat their order, thinking of unwrapping the burrito to eat it. 
To address this commercial concern, Chipotle's international expansion was packed with localization tactics, that went from the modification of prices and slogans, to the actual ingredients and presentation of the menu to customers.
Let's take a look!
1) Go Paris mode
One strategy to call attention to the product is its architectural composition. According to The Star Online, one of the four Paris's Chipotle locations  is a huge building, almost 7000 square feet high! Compare that with the  American Chipotles's standard measures of 2.2, or 2.500 square feet, and you can understand why the French would be enchanted. 
2) Online sales? Yes!
This is another expansion strategy the company has executed throughout its international locations. In a pandemic context, Chipotle will be able to take an efficient approach to reopen dining rooms based on the success of its online sales. Locations that have already reopened are seeing good margins of demand.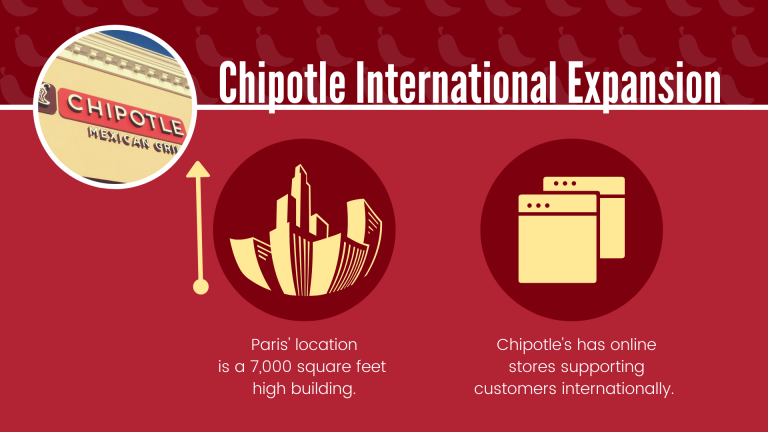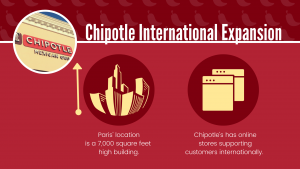 3) For the European market
When it comes to the UK and Germany, some of the names of Chipotle's dishes were changed.  Why? Well so it resonates better with consumers. For example, cilantro-lime rice in the UK is actually called coriander-lime rice.
4) Not THAT Spicy
For some cultures, most of the food included in a regular Chipotle menu is way too spicy. This is certainly the case for the UK. This is why some travelers might have noticed that European menus are less spicy than Americans. Makes you wanna put it to a test, doesn't it?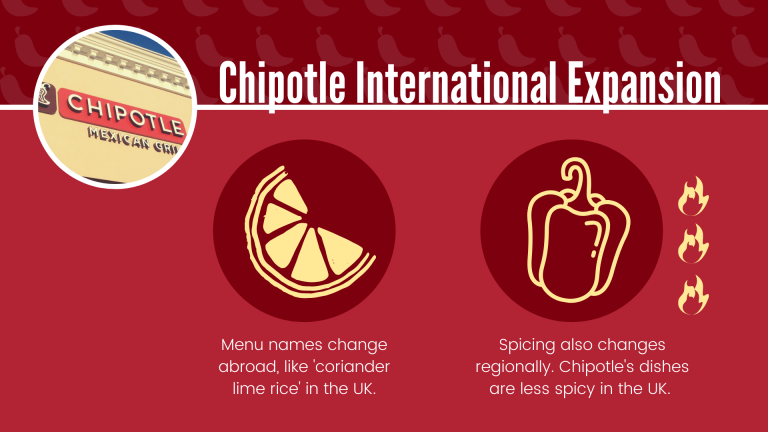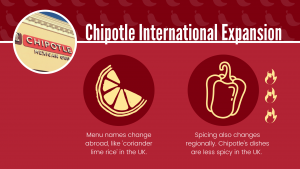 5) Premium prices?
The farther you get from the original ingredients, the harder it is to find them. And if they're more expensive, so will your order. There are some key components of Chipotle's menu that cost more abroad. And this turned the brand into a premium product within those markets.
6) Kid's meal, still to come
As of today, Chipotle's kids menu is only available within the US.  If we go back to the SWOT analysis, this could definitely be placed within the Opportunities quadrant. More options will mean more customers, and attracting the whole family is a smart investment in marketing resources. 
All of this accompanied by the use of multiple marketing channels, such as digital marketing or even national television, events, and social media will continue to help the brand expand abroad. In Day Translations we offer international marketing services of the best quality to ensure that doors that once seemed closed, become profitable opportunities.