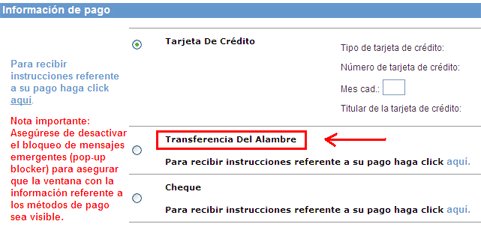 You Might Need An Electrician To Make Your Next Online Payment
Posted at 05:42 h on

12 Sep
I think we can all agree that the Internet has made life easier. It is now possible to search for information, do the shopping and pay our bills without needing to leave our comfortable chairs.
Speaking of online payments, the intention of our latest mistranslation was to display different payment options to Spanish-speaking customers. However, this e-commerce site not only accepts credit cards ("tarjetas de crédito") and checks ("cheques"), but also wires—actual pieces of wire. Contrary to what you might expect, those ordinary money transfers between bank accounts—commonly known as "wire transfers"—are apparently not an option on this website.
English-Spanish translators or Spanish speakers will notice that the English term "wire transfers" has been translated as "transferencia del alambre"—you will appreciate that this is a literal translation of "wire transfer." Needless to say, the term "transferencia del alambre" does not exist in the Spanish financial lexicon. Meanwhile, any of our translators at Day Translations could have provided the following correct translations: "transferencia bancaria," or "transferencia electronica."
At Day Translations, we have always emphasized the importance of relying solely upon professional translators to accurately convey a written message from a source to target language—it is "second nature" to us. It doesn't matter if an entire pamphlet or only a couple of words need to be translated: only language professionals can guarantee accuracy and clarity.
From inception, our mistranslations campaign was conceived of as a collaborative project with our readers, so we now want to hear from you. If you have ever come across any online mistranslations like this, then we invite you to share your findings with us!
Image credit: "Funny English Mistranslations! And MIZTAKES!" from http://funnyenmam.tumblr.com/.
Fair Use Disclaimer: This site may contain copyrighted material the use of which has not always been specifically authorized by the copyright owner. We believe this constitutes a 'fair use' of any such copyrighted material as provided for in section 107 of the US Copyright Law. In accordance with Title 17 U.S.C. Section 107, the material on this site is distributed without profit, to those who have expressed a prior interest in participating in a community of individuals interested in our methodologies, for comment and nonprofit educational purposes. For more information go to: http://www.copyright.gov/title17/92chap1.html#107. If you, as a member of the community, wish to use copyrighted material from this site for purposes of your own that go beyond 'fair use', you must obtain permission from the copyright owner.