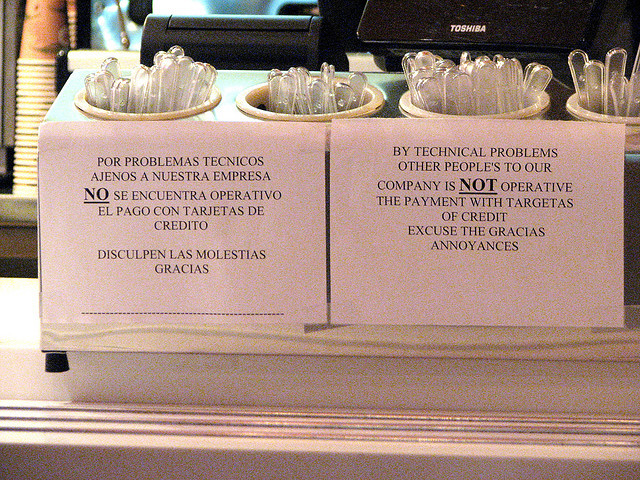 Posted at 18:51h
on
06 Aug
We have all been there: we enter a take-away café or bar, ask for something to eat or drink and, as we plan to make the payment with our debit or credit card, a written message on a wall or right on the cashier's desk informs us that they can only take cash at the moment. However, what has called our attention in this particular case is that this time the message appears not only in Spanish but also in English and that its English translated version is, to say the least, weird and incorrect.
While there's nothing wrong in the intention of letting English speaking clients know that their credit card is not currently accepted because of technical reasons the café or bar is not responsible of, it is definitely clear that whoever put up the message should have ensured first that it was written in correct English and that it accurately conveyed the idea included in the source text instead of relying in an automated translated text probably provided by Google or Bing.
As a translation agency expert in Spanish to English translations, we at Day Translations, Inc. know how important it is for business organizations, no matter their niche or size, to communicate effectively and efficiently with their employees and client.
That said, the Spanish text should have been translated as follows: "Due to technical problems we are not responsible of, we cannot accept payments with credit cards at the moment. Please excuse us for the inconvenience this may cause to you. Thank you."
Can you suggest any other way in which the Spanish text could be translated into English? Please share your suggestions with us in the comments section.
Image credit: Flickr photo by Javier Pedreira under Creative Commons Attribution-Share Alike 2.0 Generic license.