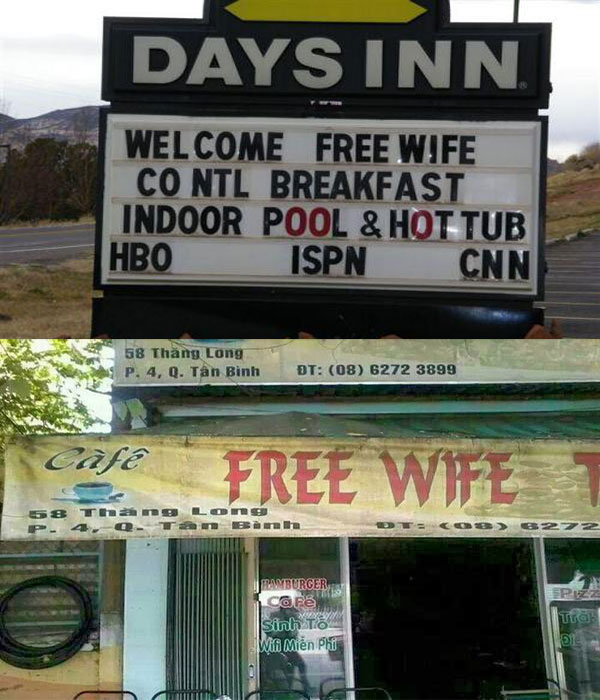 Posted at 17:22h
on
29 Aug
These inns and cafés seem to be using a new marketing technique to lure customers into their premises: they appear to be offering a "free wife" in addition to their continental breakfast. To most of us, the signs would have looked fishy from the start, but I really don't want to think about the broken hearts of customers who found out that free wireless-Internet access was the actual reason for the advertisements.
Examples such as these occur when inadequately trained people undertake translation attempts. Such actions lead to consequences, and sometimes, hilarious signs are displayed for the English-speaking public; however, mistranslations can also cause significant difficulties and dangerous misunderstandings.
If you need a translation, from and into any language, the hiring of a professional translation company is the safest way to go. At Day Translations, we only work with professional certified translators who typically possess many years of experience in the translation field. Our language professionals have shared their expertise with us, so we know that "Free Wi-Fi" is the proper translation here.
At Day Translations, we work with more than 100 languages, and we are committed to offering high-quality, reliable services that you can trust. We will also make sure you do not end up accidentally objectifying women while offering them for free!
Have you ever encountered a mistranslation such as the ones above? If so, share your story with us! Just leave a comment in the comment section below.
Image credit: A Days Inn sign and a Cafe banner in Vietnam.