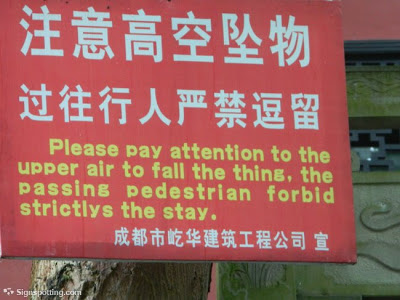 Posted at 12:48h
on
24 Oct
mistranslations
Well this mistranslation seems like a fairly simple one. While the sign may be misleading by having numerous Chinese characters and thus numerous English words, the sign itself is simply trying to say: No Loitering. Of course the sign offers more of a personal message to try and remind whoever reads it to be polite and please don't loiter, the terrible machine translation complicated the message by translating each character as an isolated word. Therefore, it did not leave any room for context. However, when one reads the phrase, "the passing pedestrian forbid strictly the stay," one can soon realize that the sign is asking for no loitering. Remember to always trust a professional translation company with your translations!
Image credit: Irish I's.
Fair Use Disclaimer: This site may contain copyrighted material the use of which has not always been specifically authorized by the copyright owner. We believe this constitutes a 'fair use' of any such copyrighted material as provided for in section 107 of the US Copyright Law. In accordance with Title 17 U.S.C. Section 107, the material on this site is distributed without profit, to those who have expressed a prior interest in participating in a community of individuals interested in our methodologies, for comment and nonprofit educational purposes. For more information go to: http://www.copyright.gov/title17/92chap1.html#107. If you, as a member of the community, wish to use copyrighted material from this site for purposes of your own that go beyond 'fair use', you must obtain permission from the copyright owner.