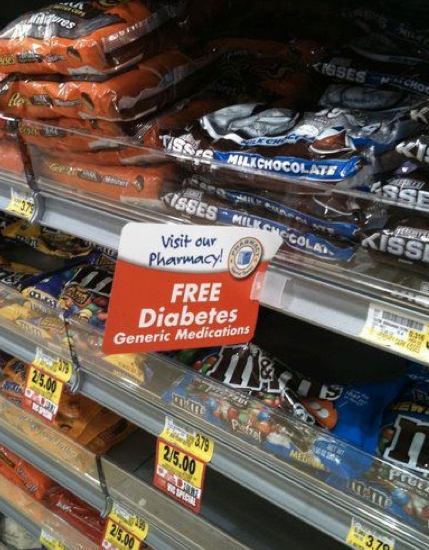 The Chocolates on the Shelves Go Well with the Diabetes Medications Ad
Posted at 19:00 h on

09 Jan
Some signs are considered mistakes; others are mistranslations, while some others are misplaced. To a non-English speaker, this sign may seem like a mistranslation, or it was incorrectly placed by someone who does not understand English.
However, this does not seem to be a mistranslation, as there are no indications that this is in a store in a non-English speaking country. It can be seen as a joke, a gentle reminder, or an ad for free diabetes medicines.
This is, however, culturally relevant. In any country, there are clues, which can be gathered regarding health, finance, culture, and cultural influences. This card is affixed to a plastic holder, which attaches to a shelf. You can put anything to this kind of plastic holder. The picture and the message have multiple layers of meaning. It is humorous, pathetic, and a warning as well.
First off, whoever put this sign in this place knows marketing. He may also be a diabetic himself or possibly related to a diabetic. The sign refers to the in-store pharmacy where they dispense free generic diabetes medications. The sign can be an advert for the pharmacy's services. At the same time, it can be a gentle reminder for those who suffer from diabetes, not to buy chocolates. The irony leads to the humor of the sign. One significant health data is that in the United States and in most developed countries, the incidence of type-2 diabetes is increasing dramatically.
For a foreigner, or someone who is not a native English-speaker, this can be confusing. Without understanding the context of the health risks for the country, especially the relationship between sweets and the incidence of diabetes, this sign would be perplexing. In most instances, the presence of a sign would be related to the item on the shelf. There is no cause for the supermarket to have a sign for diabetes medication prominently displayed in the chocolate section.
Image credit – 40 Most Bloodcurdling Chinese Mistranslations Ever via seenox.org
Fair Use Disclaimer: This site may contain copyrighted material the use of which has not always been specifically authorized by the copyright owner. We believe this constitutes a 'fair use' of any such copyrighted material as provided for in section 107 of the US Copyright Law. In accordance with Title 17 U.S.C. Section 107, the material on this site is distributed without profit, to those who have expressed a prior interest in participating in a community of individuals interested in our methodologies, for comment and nonprofit educational purposes. For more information go to: http://www.copyright.gov/title17/92chap1.html#107. If you, as a member of the community, wish to use copyrighted material from this site for purposes of your own that go beyond 'fair use', you must obtain permission from the copyright owner.