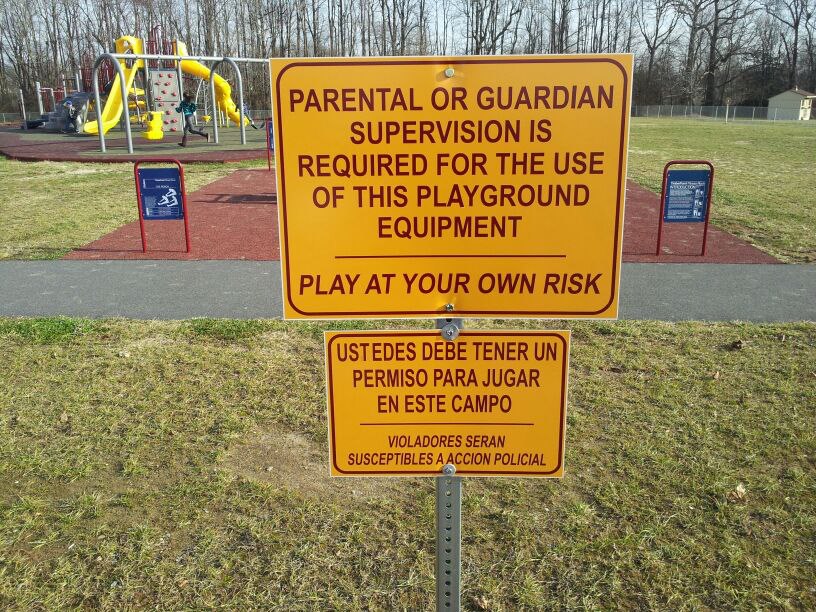 Say What? Children Need a Permit to Play in Delaware Playground
Posted at 12:06 h on

26 Nov
Spanish is the second most spoken language in the United States. As of 2012, 14 percent of the U.S. population are Spanish speakers, which translates to 38.3 million people. Spanish communities have been present in the United States since the 16th or 17th century.
But while Spanish is commonly spoken around the U.S. there are still English to Spanish translation fails, just like the sign above, which was discovered by Dan Gaffney, a talk-show host in Delaware. It is quite easy to understand the warning sign in English, which states that children using the playground equipment should be supervised by a parent or guardian. It is the translation of the English warning into Spanish that made all the difference. The warning in Spanish roughly means that children or whoever intend to use the playground should have a permit to play as violators may be subjected to police action.
Although Spanish is commonly spoken in the country, accurate translation of English to Spanish or Spanish to English is needed to ensure proper communication and dissemination, as in this case, of warnings and other signage that can have an adverse effect on the community. For professional translation work, it is always better to work with an expert translation service provider.
Fair Use Disclaimer: This site may contain copyrighted material the use of which has not always been specifically authorized by the copyright owner. We believe this constitutes a 'fair use' of any such copyrighted material as provided for in section 107 of the US Copyright Law. In accordance with Title 17 U.S.C. Section 107, the material on this site is distributed without profit, to those who have expressed a prior interest in participating in a community of individuals interested in our methodologies, for comment and nonprofit educational purposes. For more information go to: http://www.copyright.gov/title17/92chap1.html#107. If you, as a member of the community, wish to use copyrighted material from this site for purposes of your own that go beyond 'fair use', you must obtain permission from the copyright owner.