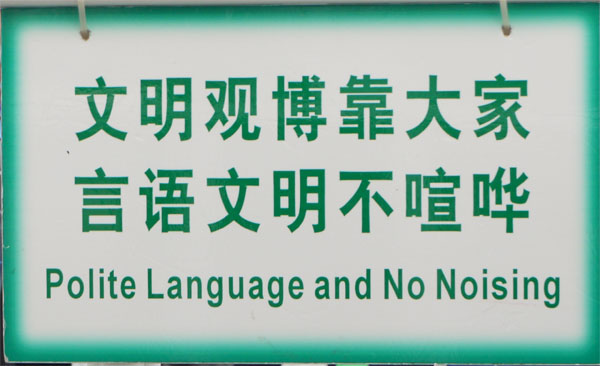 Posted at 06:11h
on
15 Oct
While the sign may not be too difficult for a Native English speaker (the sign is asking for us to avoid cursing and not be noisy?), trouble could arise if you had only just begun to learn English. What on earth does noising sound like?
This particular mistranslation could have been avoided had the text writer avoided using a computer aided translation (CAT). Unfortunately, "文明观博靠大家", the top line, was not translated. Because of this, the second line, "言语文明不喧哗" was translated into Polite Language and No Noising. The sign, once translated by a professional, reads: Civilized etiquette depends on everyone. Civilized language is not blatant. Of course, this could be changed to: Don't be rude. Act civilly and cordially.
Let this be a reminder of why it is important to double-check your work with a professional!