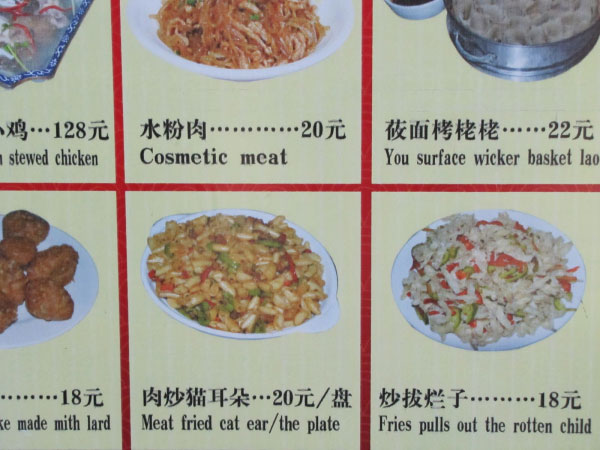 More Delectable Treats
Posted at 08:57 h on

17 Oct
Many authentic Chinese dishes have names that sound odd or bizarre to Westerners. These funny names often the cause of confusion or misconception. In China, it is normal for restaurants to give each dish its own unique name or mention the ingredients to give diners a hint of what the dish is like.
Like all computer-aided translations, the text is taken literally rather than figuratively, hence, the bizarre names. The proper translations are below.
• Cosmetic meat = Water boiled noodles. 粉 may also mean powder/cosmetics.
• Meat fried cat ear/ the plate = Stir fried orecchiette with minced meat, aka Cat's ear noodle. Cat's ear is a popular Hangzhou snack. It is a noodle that is shaped like a cat's ear.
• Your surface wicker basket = Oat noodles, aka "Kaolao lao". This is the name of a Shanxi snack. It is a bushel shaped noodle, hence the name.
• Fried pulls out the rotten child = Shanxi fried potatoes in salt and pepper. This is a popular Shanxi delicacy that is a mix of potatoes, flour, chives, oil, salt, and pepper.
Fair Use Disclaimer: This site may contain copyrighted material the use of which has not always been specifically authorized by the copyright owner. We believe this constitutes a 'fair use' of any such copyrighted material as provided for in section 107 of the US Copyright Law. In accordance with Title 17 U.S.C. Section 107, the material on this site is distributed without profit, to those who have expressed a prior interest in participating in a community of individuals interested in our methodologies, for comment and nonprofit educational purposes. For more information go to: http://www.copyright.gov/title17/92chap1.html#107. If you, as a member of the community, wish to use copyrighted material from this site for purposes of your own that go beyond 'fair use', you must obtain permission from the copyright owner.