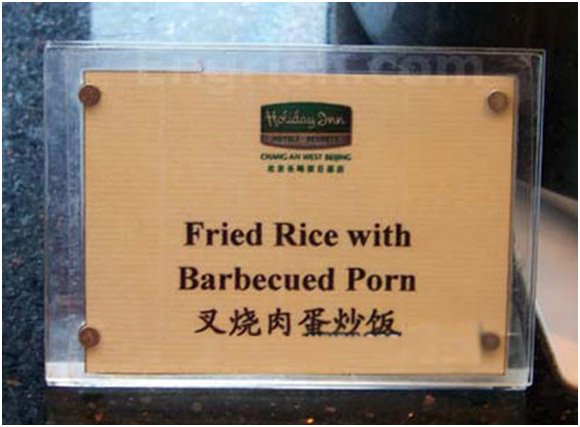 Posted at 18:03h
on
06 Oct
Imagine this, you're walking through your hotel over to the dining hall to enjoy some local flavor when you stumble across this lovely gem of a sign. "Ah," you think, "what a hilarious example of what happens when you alter one letter in the term pork". Now imagine you're with your child and they ask, "What's barbecue porn?" What started as a hilarious mistranslation turns into one of the more awkward conversations a person can have with one's own offspring.
Be sure to avoid the ruckus, and always trust your translation with a professional translator, or at least ask a native speaker if the sign is correct!
Have a mistranslation of your own? Be sure to share it either via email or in the comments below!
Image Credit: "20 WTF Food Fails That Will Ruin Any Appetite" byHeavy.