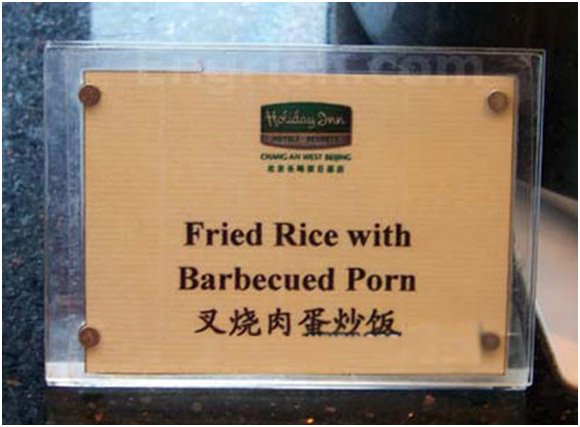 Posted at 18:03h
on
06 Oct
mistranslations
Imagine this, you're walking through your hotel over to the dining hall to enjoy some local flavor when you stumble across this lovely gem of a sign. "Ah," you think, "what a hilarious example of what happens when you alter one letter in the term pork". Now imagine you're with your child and they ask, "What's barbecue porn?" What started as a hilarious mistranslation turns into one of the more awkward conversations a person can have with one's own offspring.
Be sure to avoid the ruckus, and always trust your translation with a professional translator, or at least ask a native speaker if the sign is correct!
Have a mistranslation of your own? Be sure to share it either via email or in the comments below!
Image Credit: "20 WTF Food Fails That Will Ruin Any Appetite" byHeavy.
Fair Use Disclaimer: This site may contain copyrighted material the use of which has not always been specifically authorized by the copyright owner. We believe this constitutes a 'fair use' of any such copyrighted material as provided for in section 107 of the US Copyright Law. In accordance with Title 17 U.S.C. Section 107, the material on this site is distributed without profit, to those who have expressed a prior interest in participating in a community of individuals interested in our methodologies, for comment and nonprofit educational purposes. For more information go to: http://www.copyright.gov/title17/92chap1.html#107. If you, as a member of the community, wish to use copyrighted material from this site for purposes of your own that go beyond 'fair use', you must obtain permission from the copyright owner.