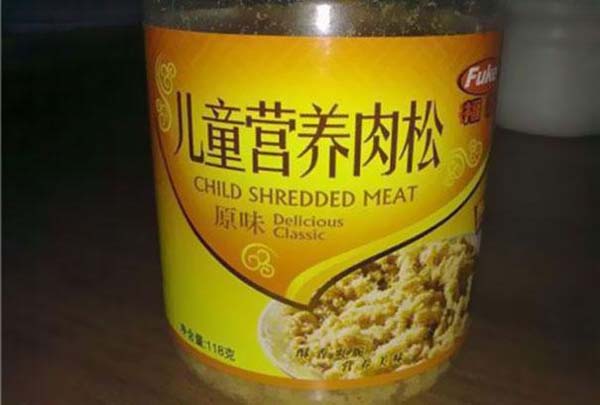 Posted at 17:15h
on
22 Sep
We have already been introduced to the complicated world of food-label translation—well, here is yet another sample from it. The product in the image appears to contain one of three possibilities: shredded meat for children; meat that has been shredded by a child; or shredded child meat. We don't know about you, but none of these options sound very appealing to us, and because the English text has been phrased oddly, the meaning is unclear.
The expert Chinese linguists at Day Translations provided the following translations of the original Chinese characters: "儿童" can be translated as "children"; "营养" can be translated as "nutritious"; and "肉松" can be translated as "pork floss," "pork sung" or "dried pork." "Pork floss" (also called bah-sang) is a light and fluffy dried meat product, which looks a lot like coarse cotton and originated in China.
Based on this information, we now know where the "child" part of the original mistranslation comes from, while the remnants in the image indicate that the pork in the jar is indeed shredded. However, the overall sentence structure does not make sense in English and this is where our expertise makes a difference.
As a professional translation company, Day Translations would deliver the following correct translations: "Nutritious Pork Floss for Children," or "Nutritious Dried Pork for Children." Our Chinese language experts removed the ambiguity, thereby making it very clear that children were not involved in the production process in any way whatsoever!
Have you encountered any food-label mistranslations lately? Feel free to share them with us in the comment section below, so that we can make sure that no children are harmed during the making of our next meal.
Image credit: "18 Food Products that Have Translated Poorly Into English" by Amplifying Glass.