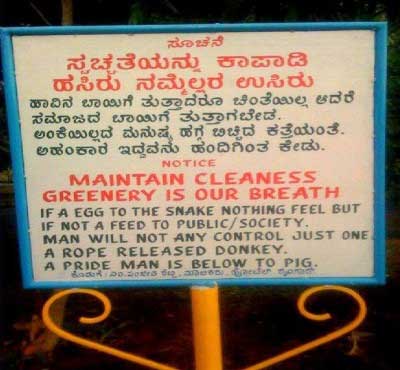 Posted at 16:32h
on
02 Dec
mistranslations
A sign is supposed to be of help to people. It could be a warning, a directional aid, an information tool or an announcement. However, if the translation is not good, then the sign is more of a hindrance rather than a helpful instrument. It can cause loads of laughter as well. For the sign creator though, it was done with good intention, and that is to help foreigners understand the sign that is written in the local language.
Take a look at this sign for example. As a tourist, the sign, in the local language would be "Greek to me" (I beg your pardon, Shakespeare). However, the English translation would cause you to shake your head in bewilderment. Since you cannot make heads or tails of it, would it suffice to say that this sign just probably wants you to love and take care of the environment, keep it clean and green, so that you will have fresh air to breathe?
Get perfect translations every time. Use a professional translation service for accurate translations that will clearly send you message across.
Image credit: Taken from Fun Signs
Fair Use Disclaimer: This site may contain copyrighted material the use of which has not always been specifically authorized by the copyright owner. We believe this constitutes a 'fair use' of any such copyrighted material as provided for in section 107 of the US Copyright Law. In accordance with Title 17 U.S.C. Section 107, the material on this site is distributed without profit, to those who have expressed a prior interest in participating in a community of individuals interested in our methodologies, for comment and nonprofit educational purposes. For more information go to: http://www.copyright.gov/title17/92chap1.html#107. If you, as a member of the community, wish to use copyrighted material from this site for purposes of your own that go beyond 'fair use', you must obtain permission from the copyright owner.