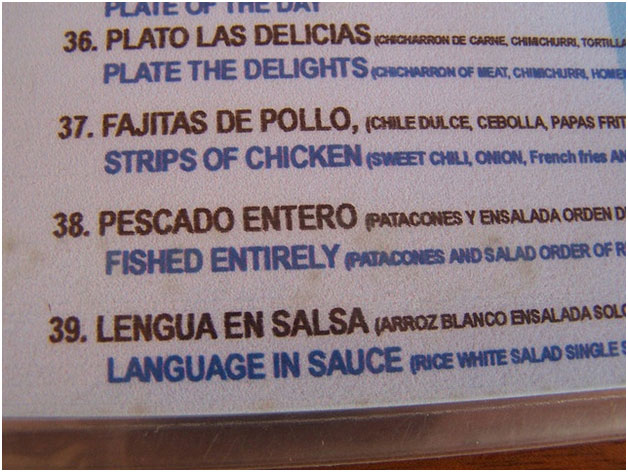 Posted at 03:56h
on
28 Nov
mistranslations
This was from a restaurant menu in Costa Rica. While it is a good thing to have the menu translated into English, the translation is quite literal, thereby creating some confusion and a lot of laughs among English speakers. We wonder what language tastes like when you put it in sauce.
Of course the translation of lengua is not entirely wrong. However since this is a menu, then the right word to use for the translation of lengua is "tongue," which in this case could be ox tongue.
It is not the only menu item that was translated literally. Item #38, Pescado Entero should have been "Whole Fish" if translated correctly rather than Fished Entirely as written on the menu. Something is off as well in item #36, Plato las Delicias, which was translated into Plate the Delights. If you look at the description, it is a serving of chicharron de carne (fried/grilled meat), tortillas and chimichurri, a green sauce made with parsley, oregano, minced garlic and red or white wine vinegar.
Still, the menu entries seem to be all mouth-watering despite the mistranslations. Are you getting hungry like we are?
Get the correct translation each and every time by working only with a professional translation company.
Image credit: Taken by Stew
Fair Use Disclaimer: This site may contain copyrighted material the use of which has not always been specifically authorized by the copyright owner. We believe this constitutes a 'fair use' of any such copyrighted material as provided for in section 107 of the US Copyright Law. In accordance with Title 17 U.S.C. Section 107, the material on this site is distributed without profit, to those who have expressed a prior interest in participating in a community of individuals interested in our methodologies, for comment and nonprofit educational purposes. For more information go to: http://www.copyright.gov/title17/92chap1.html#107. If you, as a member of the community, wish to use copyrighted material from this site for purposes of your own that go beyond 'fair use', you must obtain permission from the copyright owner.