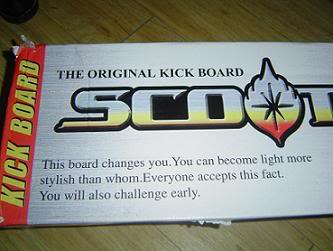 Posted at 03:34h
on
13 Oct
mistranslations
Mistranslations are common enough nowadays, and they can be very confusing. That's why we here at Day Translations are working on correcting these mistranslations so that we can improve communication. But of course, having both the original texts and the translated texts make the re-translating of the mistranslation much easier. Unfortunately for us, this is quite the doozy.
Chances are, this original board came from China—much like anything else that is manufactured nowadays. By kick board, the box is probably referring to either a skateboard or possibly a scooter. We're guessing that this was meant to appeal to the "radical" and "cool" skateboarder crowd. How could you not be impressed by the fact that this board can allow you to "become light more stylish than whom"? And everyone accepts this fact? This must be an incredible board!
A proper description might be: "You will be changed after using this board. You can travel lightly while still being stylish. It is an undisputed fact. The original kick board is ready for any challenge. Are you?" However, because we don't have the original text, we will never know just what on earth was the marketer trying to say in their description.
Image credit: Unknown Kick board manufacturer
Fair Use Disclaimer: This site may contain copyrighted material the use of which has not always been specifically authorized by the copyright owner. We believe this constitutes a 'fair use' of any such copyrighted material as provided for in section 107 of the US Copyright Law. In accordance with Title 17 U.S.C. Section 107, the material on this site is distributed without profit, to those who have expressed a prior interest in participating in a community of individuals interested in our methodologies, for comment and nonprofit educational purposes. For more information go to: http://www.copyright.gov/title17/92chap1.html#107. If you, as a member of the community, wish to use copyrighted material from this site for purposes of your own that go beyond 'fair use', you must obtain permission from the copyright owner.