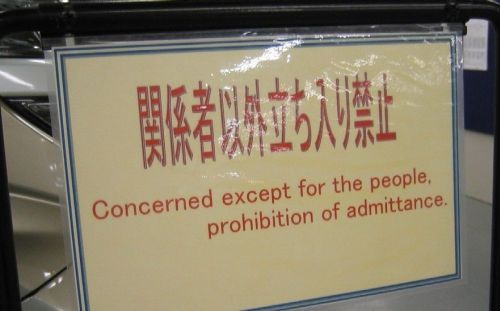 Posted at 12:00h
on
28 Oct
mistranslations
What this should read as: 関係者以外立ち入り禁止: Authorized personnel only.
This time on our mistranslations, we have a sign that someone found in a mall in Japan that has a very bizarre collection of phrases. Whoever tried to translate this jargon was either translating the definition of each Japanese word, or used a machine translation. It seems as though she/he did not comprehend the structure of the phrase in English. When translating signs, remember: keep it short and simple. Otherwise you might make a mess of a translation.
Fair Use Disclaimer: This site may contain copyrighted material the use of which has not always been specifically authorized by the copyright owner. We believe this constitutes a 'fair use' of any such copyrighted material as provided for in section 107 of the US Copyright Law. In accordance with Title 17 U.S.C. Section 107, the material on this site is distributed without profit, to those who have expressed a prior interest in participating in a community of individuals interested in our methodologies, for comment and nonprofit educational purposes. For more information go to: http://www.copyright.gov/title17/92chap1.html#107. If you, as a member of the community, wish to use copyrighted material from this site for purposes of your own that go beyond 'fair use', you must obtain permission from the copyright owner.