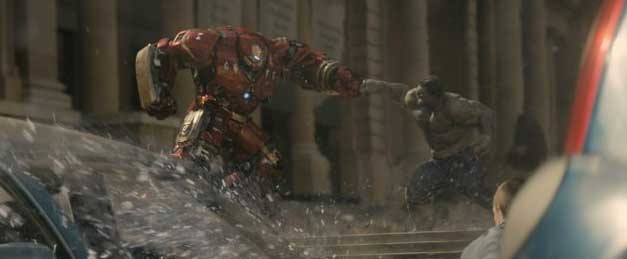 Age of Ultron: Initial Chinese Subtitles are Hilarious but Frustrating
Posted at 10:00 h on

01 Jun
Chinese-speaking fans of the Avengers recently witnessed how troublesome erroneous human judgment can be – and it's not about Tony Stark's error in judgment in secretly creating Ultron. Disgruntled and disappointed – this was how several cinemagoers in China felt after watching the opening of The Avengers: Age of Ultron.
Fans of the American film that features a multitude of Marvel superheroes were treated to an engaging storyline and impressive visual effects, but with horrible subtitles. According to reports, the audience was left collectively cringing or occasionally bursting in laughter over the less than accurate translations. If it weren't for the intricate action sequences and wonderfully shot scenes, the audience would have probably left. In fact, one Weibo user, Wo Jiao Sanzhiya, posted this comment online: "The woman in front me almost cried and said let's go home, I can't put up with it."
What Made the Translations Bad?
Too literal. This is how many of those who have viewed the movie described the subtitles. For instance, one line from Captain America that supposedly meant that he had to wait too long was translated as "I am very old." Cap's "I'm home" line was also wrongly interpreted as "I'm good." Similarly, the line "You get hurt, hurt 'em back…you get killed… walk it off," was given the subtitle "Run fast if someone tries to kill you."
Additionally, the translations were mired with incorrect concision or misguided translation nuances. For example, Iron Man's line that said "We may not make it out of this" was written out as "Let's back off now." The vulgar expression "son of a bitch" was translated as "my old, familiar partner." Many online commenters compared the subtitles to the translations supplied by Google Translate.
Who Was Responsible for the Translations?
Chinese exhibitors of international movies, logically, hire translators before they can have the movies publicly screened. However, apparently, they failed to hire a professional translator to properly get the job done for the newest Avengers film.
As reported on Baidu, the person responsible for the faulty translations is "veteran" Liu Dayong. He was responsible for the subtitles used on major international blockbusters like Titanic, Avatar, and The Hobbit: The Battle of Five Armies. Dayong is reportedly the tutor of another popular Chinese translator Jia Xiuyan, who took on the job of subtitling the 2014 blockbuster Guardians of the Galaxy.
Xiuyan similarly frustrated cinemagoers with his work on Guardians of the Galaxy. His subtitles solicited strong viewer reactions because of the overly literal translations. The movie's title was even translated as "Interplanetary Unusual Attacking Team."
According to a number of reports from the Chinese media, the disappointing subtitles have already been rectified.
Image Copyright – © 2015 Marvel
Fair Use Disclaimer: This site may contain copyrighted material the use of which has not always been specifically authorized by the copyright owner. We believe this constitutes a 'fair use' of any such copyrighted material as provided for in section 107 of the US Copyright Law. In accordance with Title 17 U.S.C. Section 107, the material on this site is distributed without profit, to those who have expressed a prior interest in participating in a community of individuals interested in our methodologies, for comment and nonprofit educational purposes. For more information go to: http://www.copyright.gov/title17/92chap1.html#107. If you, as a member of the community, wish to use copyrighted material from this site for purposes of your own that go beyond 'fair use', you must obtain permission from the copyright owner.