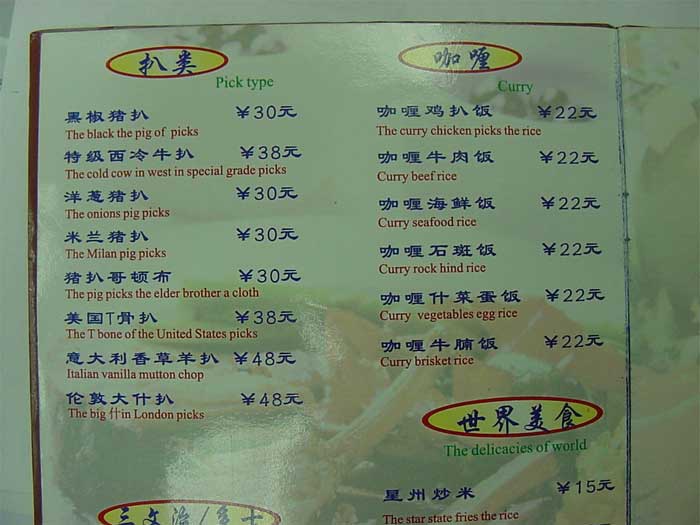 Posted at 13:16h
on
22 Oct
mistranslations
As you can probably tell, this is another example of an improper machine translation. Here is what they were really trying to say!
扒类
Grilled Recipes
黑椒猪排
Black Pepper Pork Chops
特级西冷牛扒
Premium Sirloin Steak
洋葱猪扒
Grilled Pork Chops with Onions
米兰猪扒
Milan Pork Chops
猪扒哥顿步
Cordon Bleu Pork Chops
美国T骨扒
US T-bone steak
意大利香草羊扒
Italian Vanilla Lamb Chops
伦敦大什扒
London Mixed Grilled
咖喱
Curried Recipes
咖喱鸡扒饭
Curried Chicken with Rice
咖喱牛肉饭
Curried Beef with Rice
咖喱海鲜饭
Curried Seafood with Rice
咖喱石斑饭
Curried Grouper with Rice
咖喱什菜蛋饭
Curried Mixed Vegetable & Egg with Rice
咖喱牛腩饭
Curried Beef Brisket with rice
世界美食
Global Cuisine
星洲炒饭
Sin Chew Fried Rice
Image credit: jonathanfun.com.
Fair Use Disclaimer: This site may contain copyrighted material the use of which has not always been specifically authorized by the copyright owner. We believe this constitutes a 'fair use' of any such copyrighted material as provided for in section 107 of the US Copyright Law. In accordance with Title 17 U.S.C. Section 107, the material on this site is distributed without profit, to those who have expressed a prior interest in participating in a community of individuals interested in our methodologies, for comment and nonprofit educational purposes. For more information go to: http://www.copyright.gov/title17/92chap1.html#107. If you, as a member of the community, wish to use copyrighted material from this site for purposes of your own that go beyond 'fair use', you must obtain permission from the copyright owner.