We are living longer. This is an unquestionable fact when we look at historical records of the last century when life expectancy was lower. And not to mention the 19th or the 18th century. It's become undeniable that now people can reach elder ages, and this phenomenon has multiple causes. But we believe at Day Translations that asking the question 'Where do people live the longest' we're not fully addressing the causes of a higher life expectancy, and what we can do to recreate these circumstances in other regions as well.
In this article, yes, we'll take you through those countries and cities around the globe where people live the longest. But we'll use these places as an ideal observation scenario to figure out what are the reasons behind this increase in life expectancy numbers. 
Oldies but goodies
To make sure we count with accurate classification, there are several factors that need to be considered when explaining why people live longer in certain locations. With this in our mind, health care systems appear to be a determining factor. 
Historically, when upgraded health measures were introduced during the 19th century, the number of casualties in early/middle life began to drop. Countries with policies that pointed to better sanitation, the widespread use of vaccines, and even the cleaning of drinking water resulted in healthier lives. This way, adults could now reach an advanced age with better conditions than previous generations. 
The following list includes 12 destinations where people live longer. We've included the smoking rate and the expense in health as some of the main aspects that probably contributed to the desired effect.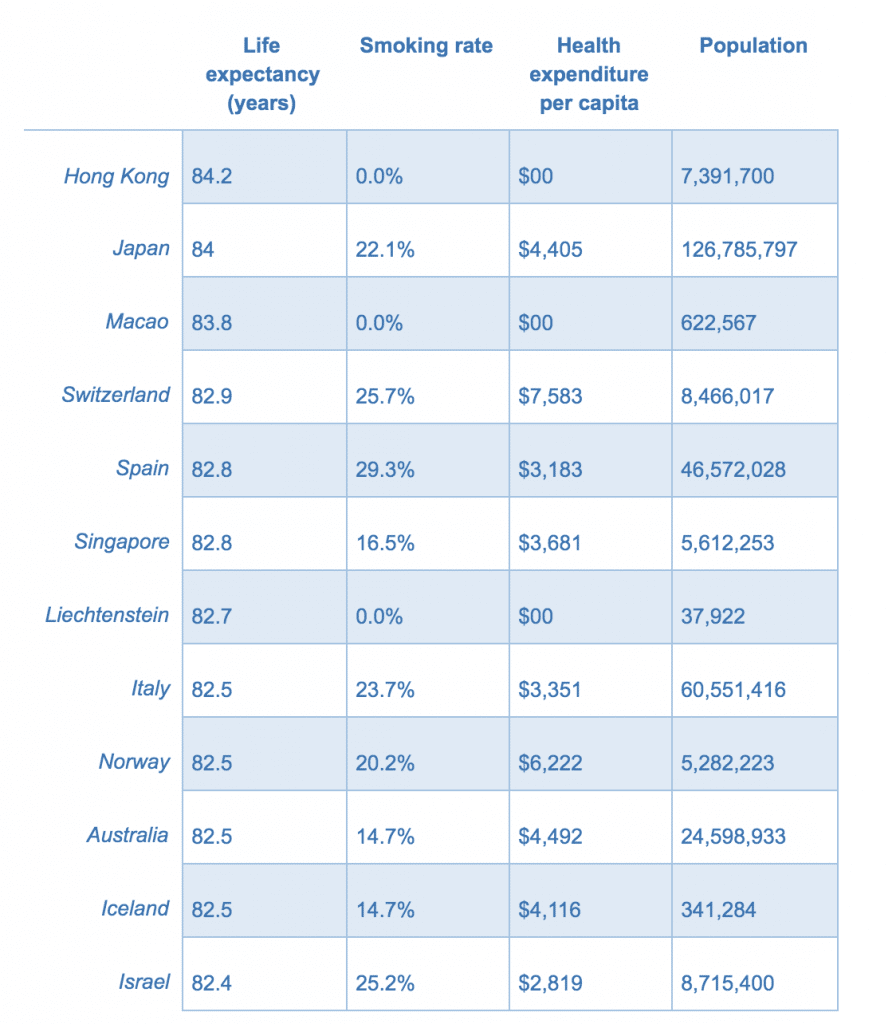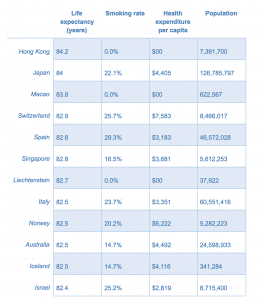 Before we continue, there´s an important point that needs to be made. There´s no unique way to accomplish the insurance of a longer life expectancy for every population. Each case is particular. 
Some strategies and policies that worked in some countries haven't yielded the same results in other places. Public health expenditure is the perfect example. We can find countries where people reach high life expectancy levels while having substantial public health expenditure, and countries where the same thing happens with a fully private healthcare system. 
Now, this proves that it's not all about healthcare, just as it's not all about smoking, or security, or climate. It is the conjunction of these factors, among others, that have direct and indirect impacts on people's lives. 
Where Do People Live the Longest?
Anguilla, a self-governing British Overseas Territory in the Eastern Caribbean has a population of nearly 13,572. The National life expectancy average? 81.5 years. One could argue that easy access to the sea and white-sanded beaches are vital since they allow the citizen to be relaxed and the weather encourages them to lead a more active lifestyle. But the Netherlands, with an 81.4 average definitely doesn't count with any of those. 
Austria has an 81.6 years average. Sure. The second-wealthiest country in the European Union, right? Also, the third safest country in the world. The wellbeing of their citizens is not hard to believe. And now, we can consider socioeconomic factors and security as fundamental to conditionate life expectancy. Conditionate, not determinate. 
Greece has an 80.7 average on national life expectancy. They don´t count on significant economic growth like Austria, and criminal activity rates are higher. Even so, the Mediterranean diet is remarkably healthier and it actually decreases predisposition to cardiovascular diseases. And some other cultural practices, such as making time to socialize with loved ones, walking in the sun, napping, even drinking a local herbal tea with nutrients and antioxidants are crucial hints for personal sanity. 
It´s not just about living forever, Jackie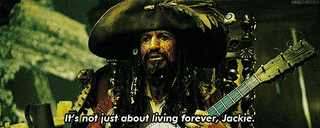 Aging has countless and variable trajectories. As we've seen so far, even though genetics is considered to account for about 25% of how we age, other factors such as lifestyle, nutrition, socioeconomic status, and our environment play an important role too. And this makes extending the healthspan (the period of time that a person remains free of significant disease or disability) a complicated issue. 
A long healthspan implies aging, since it implies living with generally good health. This exposes an individual to severe conditions such as cancer, heart disease, diabetes, osteoporosis, or macular degeneration, among others. 
The implications of longevity are still being discovered and it will take a lot of research to fully grasp. The lack of records from the elder centuries is understandable since it was not foreseen we'd reach the standards we meet today. 
Maintaining good health is no easy task. It's important to request professional aid when needed. The countries we've mentioned above all count with well-developed medical assistance, not only for the national population but for foreign visitors and travelers. 
Doctors and nurses should, therefore, count on a reliable translation service to offer high-quality medical attention. Healthcare translation services make the whole difference to elder patients who are not native and probably haven't been able or interested in learning a different language to communicate.
Today, when medical surgery options are available abroad, medical translation is fundamental. Not only so that professionals may access to translated healthcare records, but for the patients who should understand the benefits of surgical procedures and repercussions. Also, during the treatment process, patients are subject to sign several documents that need to be professionally translated so that both parts understand what's being authorized and why. 
Countries where people live the longest have these considerations in the highest regard, to the point of verifying new controls and warning indications in the pharmaceutical industry.  
Seems evident that there's more to living longer that misses the eye.