The much-awaited Spring Festival or the Chinese New Year is dawning upon the world, whether you are Chinese or not. This year, the Chinese New Year falls on February 5, which also begins the year of the new Chinese zodiac sign, the Pig.
You can just imagine how grand the Chinese New Year celebration is. It's a tradition that has 4,000 years of history behind it. The event is the longest holiday for the Chinese. It is interesting to know that traditionally, there is something happening each day during the entire festival, which lasts for 15 days.
Although the Chinese have already switched to the Western calendar, they still closely adhere to their traditions and follow the dates on the lunar calendar, which is why the date of the Chinese New Year, along with their other cultural events, is variable.
What to expect
On the first five days of Chinese New Year, all stores in China are closed, which is why people stock up on supplies for the coming event. Many households start preparing preserved food, including salted fish and cured meat.
While the Chinese New Year festivities encompass 15 days, they also have pre-New Year festivals.
The Laba Festival for example is the traditional start of the Spring Festival. It occurs on the Lunar December on the Chinese calendar, which falls on January 13, 2019. The festival involves offering prayers to different gods and ancestors for a successful harvest and good fortune.
The main food served for the Laba Festival is Làbā zhōu or Laba porridge. It uses seven types of grains, including husked rice, red fates and red beans. The festival teaches the lesson of being grateful and not taking the things given to you for granted.
Other food items served on this day are Làbā miàn (noodles), Mài rén fàn (wheat kernel rice) and Làbā dòufu (Laba tofu).
The Little Year ushers in the Spring Festival celebrations, which happens on January 28, 2019. The official start of the Spring Festival is on February 5, 2019. The entire holiday ends on February 19, 2019 with the Lantern Festival.
Do you want to know what happens each day of the Spring Festival?
January 28 (Little Year or xiǎo nián)
This is a day of prayer and memorial ceremonies. People clean their houses to drive bad luck away. They also pray to jì zào or the stove god. They eat sugar melons or stove candy, tofu soup and baked wheat cakes.
February 4 (New Year's Eve or chúxì)
This is the time for the reunion dinner, where all the special and favorite food items are served. Red envelopes are distributed to children and they wait for the New Year's Eve celebrations to start.
February 5 (Spring Festival or chūn jié)
Firecrackers start the day. People will do whatever they want to do to enjoy New Year's Day. Cleaning and sweeping are forbidden.
February 6 (to the in-laws or yíng xù rì)
Married daughters should bring their husbands and children to their parents' home, along with a gift of candies and crackers.
February 7 (Day of the Rat or shǔ rì)
People share their harvest by leaving crackers and grains for the rats. They sleep early as well so as not to disturb them, so the rats will not bother them throughout the year.
February 8 (Day of the Sheep or yáng rì)
People pray to the god of wealth, offering kumquats and sugar canes (first table), cakes on the second table and a whole pig, whole fish, soup and whole chicken on the third table.
February 9 (Break Five or pò wǔ)
Stores start to open and dumplings are traditionally eaten.
February 10 (Day of the Horse or mǎ rì)
People go back to work and drive away the spirit of poverty by offering banana boat candles and burning scraps.
February 11 (Day of the Human or rén rì)
Time to honor humans, pasting colorful cutouts and gold engravings of people and flowers on screens. Special food includes the Seven Gem Porridge with thick leaf vegetables, spring vegetables, garlic, celery, mustard leaves, leeks and kale.
February 12 (Day of the Millet or gǔ rì jié)
People who keep fish and birds as pets release them back to the wild.
February 13 (Providence Health or tiān gōng shēng)
People bring offerings to the Jade Emperor
February 14 (Stone Festival or shí tou jié)
February 15 (Son-in-law Day or zǐ xù rì)
February 16-18 (preparations for the Lantern Festival)
February 19 (Lantern Festival or yuán xiāo jié)
People will create their lanterns, which they will light later. All over China and other areas where the Chinese New Year is celebrated, colorful lanterns are hung almost everywhere. When lit in the evening, the lanterns provide a wonderful and warm glow.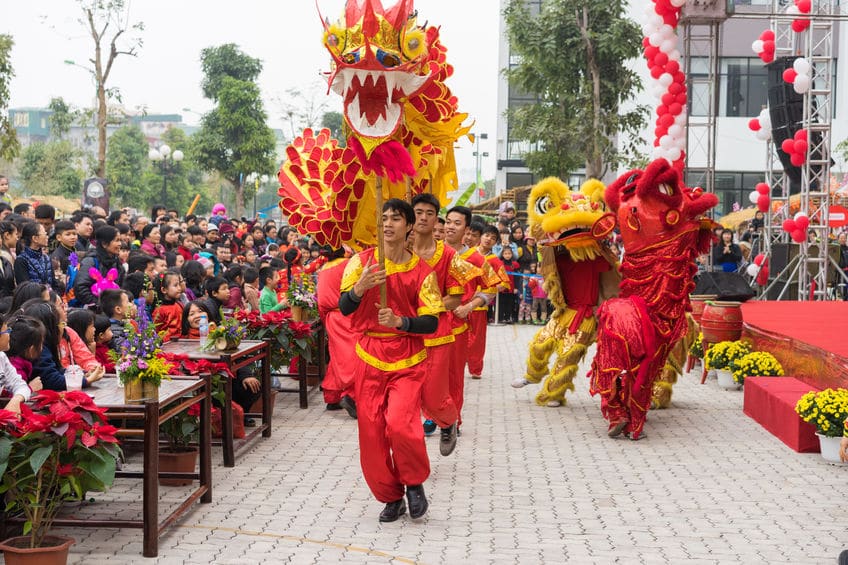 Chinese New Year around the world
In all Chinese diaspora communities around the world, Chinese New Year festivities will be observed. Some may be on a grand scale while others will have a mini version of the traditional Chinese holiday events. Wherever the event is celebrated, expect it to have plenty of Chinese delicacies, special menus, red packets, lanterns, dragon dances and fireworks. All of the activities are done to ensure another prosperous, peaceful and healthy year.
Here are some of the places where you can join observe the Chinese New Year activities:
Malaysia
Singapore
Philippines
Thailand
Indonesia
Australia
New Zealand
United States
Mexico
Canada
London
Paris
India
Pakistan
Taiwan
Hong Kong
Myanmar
Cambodia
Mauritius
Greetings for Chinese New Year
We at Day Translations, Inc. wish all our Chinese friends all over the world a Happy Chinese New Year. Here is how to give a Happy Chinese New Year greeting in different dialects.
Generally, you can say xīn nián kuài lè or Happy New Year. You can greet people with Happy Spring Festival or chūn jiē kuài lè in Mandarin.
In Cantonese, it's chūn jiē yú kuài which is more formal. However, in many Cantonese regions, they exchange gung hei faat coi to greet one another a Happy New Year. The phrase, with some variations, is also used in other regions. For the Mandarin-speaking areas, they say gong xǐ fā cái. This particular greeting is more about giving someone a blessing of wealth and prosperity.
Some people say gōng hè xīn xǐ, which translates to Congratulation on the New Year that is a respectful way to greet people.
Whatever Chinese variant you speak, we wish you Happy Chinese New Year! May the Year of the Pig bring everyone all over the world lasting peace, good health, prosperity and many opportunities to succeed.
Image Copyright:
Wattana Langkapayom / 123RF Stock Photo
hanoiphotography / 123RF Stock Photo