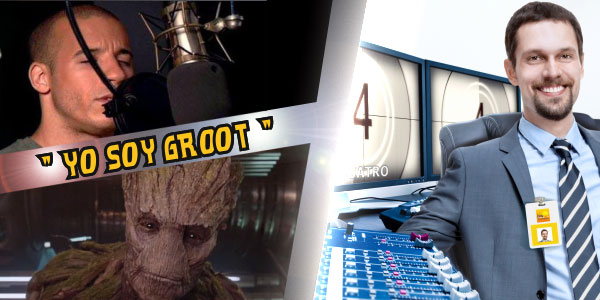 A recently released Youtube video of Vin Diesel has called the attention of linguists, translators, interpreters and language lovers around the world and this time, not because of his muscles. In the video, the popular and muscular actor, who portrays the character of Groot in the latest version of Marvel and Disney's Guardians of the Galaxy, is shown improving the English lines of his character and then dubbing them in Spanish, Portuguese, Mandarin Chinese, French and Russian.
Translating film scripts and dubbing films in foreign languages is a challenging endeavor that only professional translators should do. It is not only important to accurately translate the message in the source language into the target language but also to master the art of conveying the exact feelings and emotions that the film script writer and director intended. Film script translators are highly skilled in that art and are able to provide rich and meaningful versions of each line of the text in different languages so that dubbing professionals can then do their job without major problems.
What's So Special About Vin Diesel's Dubbing Experience?
In the first place, it has brought to the attention of many of us that Vin Diesel has something more to offer than his six-pack abs and his muscular body to the film industry: he has a clear passion for languages and is willing to put it to the service of the characters he interprets.
In the second place, this video shows for the first time the same actor dubbing his character into different languages. Traditionally, the actor that plays a role in a film is then dubbed by different actors, usually experienced dubbing professionals, so that foreign audiences can also understand the dialogues if the film is not going to be subtitled. Having the original actor playing his role in different languages is something really unique as it contributes greatly to provide an amazing movie-going experience to all audiences.
That said, Portuguese, Spanish or Mandarin Chinese spectators of Guardians of the Galaxy will be able to listen and enjoy Vin Diesel's personification of Groot in their own language.
Vin Diesel's love for languages has led him to interpret Groot with the same passion in English, Spanish, Portuguese, French, Russian and Mandarin Chinese. Even though his lines may not be too long or complicated, his willingness to run the extra mile and provide foreign audiences with a great movie experience has led many language lovers around the world to look at him with pride.